Business trips are both a welcome break from conventional routine and an administrative headache. Whether you are planning a business trip for your employees or simply going on one yourself, it is imperative that you create an easy-to-follow action plan in order to ensure it is a success.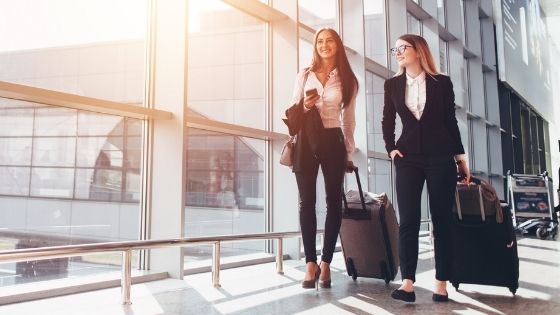 While this is important for your stress levels and your peace of mind, it is also critical for the success of your business. These trips can create important commercial relationships with clients, future colleagues, or investors, which can change the course of your company's prosperity.
In order to plan for a successful business trip, you need to consider all the most important factors. These include organizing transport connections, making sure you are prepared for your meetings or presentations and allowing enough time to rest and recover after your flight. This is how to prepare for a successful business trip:
Arrange an airport shuttle
Firstly, you need to get to the business meeting in the first place. This requires a series of travel connections that are both time-efficient and cost-efficient. If you are traveling abroad, this may mean catching a flight, which involves its own series of challenges.
For instance, you or your employees will need to travel to the airport, which is not as simple as it sounds. While you can drive your own car there, you may not want to pay for expensive long stay parking. If it is your employees traveling, you may not trust them to arrive at the airport on time. This is where booking an airport shuttle can come in handy. You can then use it on the other side too when returning home. For example, if you are heading to the UK, book a British airport transfer with 247 Airport Ride to transport you or your employees back to the airport after your trip. You can choose from a variety of different vehicles, depending on how many of you are going, and you can be picked up from your door.
Get some rest before any meetings
After a long journey, the last thing you will want to do is enter a meeting or lead a presentation. You will be mentally drained, physically tired, and likely dazed after changing time zones. This is not the condition you want to find yourself in when you are greeting important clients or investors, so it is wise to rest before partaking in any meetings.
Organize this extra time in advance, whether that means booking an earlier flight or telling the people you are meeting that you will need a day of rest before you meet them. This will prevent any bad first impressions or mistakes during your business trip.
Explore the local area
Another way to create a successful business trip is to explore the local area – if possible before your meetings. Although you could argue that this sounds suspiciously like a vacation, the benefits are stark.
Firstly, it will help you acclimate yourself to the local time zone and general pace of life. This is crucial after a long journey and will boost your performance when you are in meetings and presentations. Secondly, if the people you are meeting are from the region you are visiting, then learning more about the local area will give you topics to discuss. Everyone likes to feel respected and considered, and learning about someone's country of origin is the ideal way of doing this.