Are you a food lover visiting Tokyo and looking for the ultimate Tokyo food guide in 2019?
People often ask us at Washoku Club: where should we go for good food? Do you have any suggestions for conventional Japanese cuisines to try in Tokyo? Can you just explain to us about the Japanese food history?
Well, let us guide you. You do not need to waste any more of your precious time researching. Today at Washoku Club, we will give you the list of the must-try dishes in Tokyo at the time of your trip to Japan. Make sure you check out other posts as well.
Tokyo Food Guide – Top 5 Japanese Foods
1. Sushi
You cannot just overlook sushi when you tour Tokyo. The seafood market (Tsukiji seafood market) produces loads of fresh and various types of seafood. It is the largest seafood market in the world!
Not mentioning that there are nearly 30 Michelin-starred sushi restaurants in Tokyo alone. However, sushi can be a significantly expensive dish. That's why we at Washoku Club have listed the best affordable places to eat delicious and fresh sushi in our 2018 Tokyo food guide.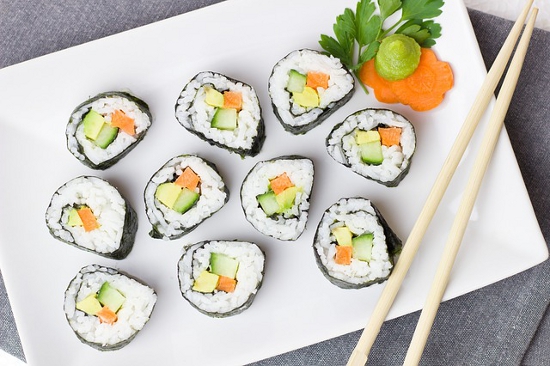 Tokyo Food Guide -Sushi
• Sushi no Midori: pretty big sushi restaurant with various branches in Tokyo. They serve excellent sushi at inexpensive prices, and you have to make reservations otherwise you'll have to wait in line. Avoid the busy hours like 12 pm and 7 pm as well as weekends.
• Mantenzushi: they serve 24 sushi pieces and other small side dishes with just 6,800 JPY. Booking is advised. It will be less difficult to book a table at the Nihonbashi branch.
Here are some points when you travel to Japan for the best food experience: how to get the taste of sushi the right way. There is no rule of thumb here as for how to properly eat sushi. However, there are some things to keep in mind.
• Eat using chopsticks or your hand
• Do not dip them in soy sauce before asking if they are pre-seasoned.
• Don't mix wasabi with soy sauce. It is regarded as a bad way of eating in Japan, as it'll ruin the tastes of the soy sauce as well as the wasabi.
• Only eat fresh sushi right from the chef's hand.
• Flip your sushi upside down so as to taste the flavor of the fish first, not only the rice.
2. Yakitori
This is basically grilled chicken skewers. It is one of the conventional Japanese recipes. You probably have tried it already back home or at least have noticed it on another Tokyo food guide.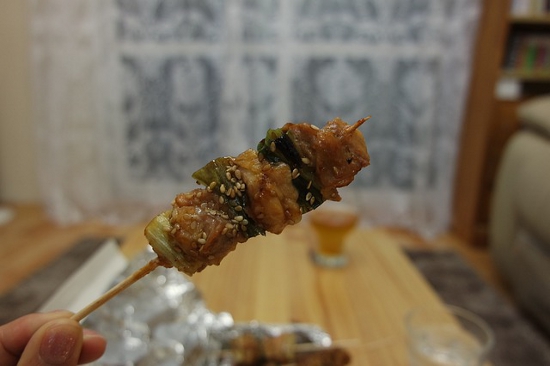 Tokyo food guide – yakitori
Japanese prefer to eat yakitori alongside with beer or sake for supper. There are a lot of Izakaya sites that serve excellent yakitori in Tokyo. Here are some suggestions:
• Doromamire: they offer high-quality chicken and freshly picked vegetables. The restaurant is regularly packed with local. It's a very cozy place with barely 30 seatings. The medium cost will be 5,000+ JPY per guest.
• Torimitsu: you will be astonished that there is this secret pearl in the heart of bustling Shinjuku. There are hardly 10 seats. They serve excellent yakitori dishes. The cost is inexpensive and they have a broad range of varieties of poultry meals including chicken neckline meat (Seseri) and some other things you have never thought about eating in your life
3. Ramen noodles
Needless to talk about how many ramen restaurants are there in Tokyo. The Japanese people really love their ramen dish. It is inexpensive in which with only about 500 JPY or 600 JPY you can get a filling bowl of tasty ramen noodles. There's actually an entire street called Tokyo ramen street where you can go and try different types and variations of this famous Japanese dish.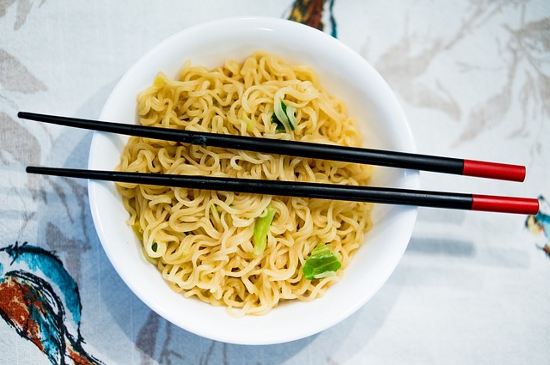 Tokyo Food Guide: Ramen Noodles
It is a complex issue as there are numerous excellent choices in Tokyo itself! So Washoku Club will give you some options, to begin with, and let us know what you conceive by dropping a comment below.
• Ichiran: you may previously have heard or noticed Ichiran on different Tokyo food guide earlier. Basically, from Fukuoka district, this pork ramen restaurant has been highlighted on by Forbes. They serve a genuine Hakata-technique ramen with a special booth for each customer to help you concentrate on tasting and enjoying your ramen dish.
• Nakamoto: this restaurant serves a spicy ramen that is to die for. They give a broad variety of ramen sorted according to their spiciness on a scale from 0 points up to 10 pints for extremely hot Ramens.
• Aburagumi: most people do not know regarding the oil-based ramen with no soup. This may seem pretty fatty and difficult to digest. However, Washoku Club highly recommends you experience this for one time at least once whilst in Japan. Home-made ramen oil is added to the ramen noodles with some additional topping variations such as roasted pork, scallions, or seaweed.
4. Okonomiyaki
These Japanese salty pancakes are very popular in Japan, and people even prepare them at home regularly. The Okonomiyaki dish includes wheat-meal, cabbage, scallions, and pork belly wedges. It is made in a large hot casserole and served with a sweet and savory soy sauce.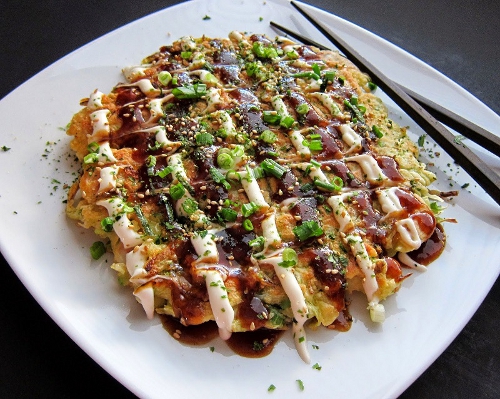 There are various kinds of Okonomiyaki depending on the area:
• Negiyaki: extra scallion portion is combined with the pancakes.
• Hiroshimayaki: components are put in layers instead of mixing them. Plus, shallow-fried noodles are put above cabbage and meats in Hiroshima district.
• Monjayaki: alike Okonomiyaki, different ingredients (cabbage, pork or other meats) are diced and stirred together. The key distinction is adding a dash of either water or broth to make it moister and a little runnier than the regular it a pancake.
Tokyo Food Guide – Okonomiyaki
• Kiji: this popular Okonomiyaki place has a forever long wait line to get in especially at busy lunch hours. Each set has a separate grill to keep your food hot.
• Monja Kura: in Tsukishima area in the Tokyo harbor region, there is Monja Street. Kura is probably on the list of the most famous restaurants serving outstanding Okonomiyaki dish.
5. Soba noodles
Cold soba noodle is one of the things we recommend you to try while in Japan. It basically is buckwheat flour with smooth and refreshing broth. Soba is traditionally served with other main courses or some toppings may be added on top of it. You may like to try it aside with tempura.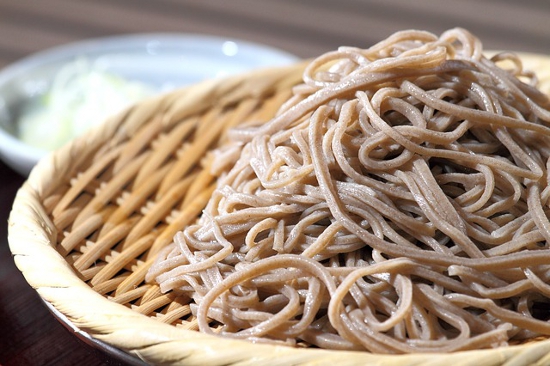 Tokyo Food Guide – Soba Noodles
• Yabu soba: Yabu soba is not simply popular for their handmade soba noodles only; it's famous for their exquisite side dishes as well such as rolled eggs, tempura, and much more.
• Fuji soba: if you are on a tight budget, you have to try this soba noodles place. You can have a filling bowl of tasty soba noodles starting from only 300 JPY.