This article is all about finding the best international cuisine in London right now. If you're looking for a delicious and unique culinary experience, then you're going to love these top establishments! From French bistros to Asian street food, each one offers something different – so whether you're an adventurous eater or simply wanting to try something new, there's bound to be a restaurant that tickles your taste buds. Let's explore some of London's most popular eateries from around the world – let's go on a global tour of culture and delights!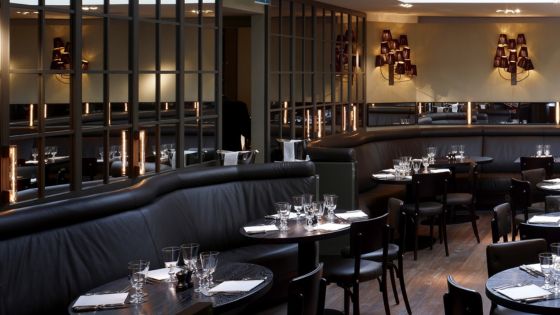 1. Hutong, The Shard
Discover London's must-visit restaurant, Hutong at the Shard. Embark on a culinary journey of authentic northern Chinese Cuisine while taking in breathtaking views of the city skyline in one of London's best rooftop restaurants. From the food to the ambiance, every aspect of Hutong exceeds expectations. As one of London's top rooftop restaurants, it delivers a truly unforgettable experience. For a sophisticated meal that boasts elegance and exceptional views, Hutong is the ultimate destination. Don't miss out on this spectacular dining experience.
2. Tia Maria, Vauxhall
If you're searching for an international dining experience, look no further than Tia Maria in Vauxhall. This Brazilian restaurant and live music bar is quickly becoming one of the best destinations in London for flavourful food, exciting entertainment, and an unforgettable atmosphere. From the moment you step through the doors, you'll be transported to a world of vibrant colours, tantalising aromas, and lively rhythms. Be sure to try the classic Brazilian dish, Feijoada, a hearty stew traditionally made with black beans, beef, and pork. With its friendly staff and energetic crowd, Tia Maria is a must-visit for anyone seeking a taste of Brazil and a resounding good time.
3. Phat Phuc Noodle Bar, Chelsea
Nestled in Chelsea lies a dining gem that's quickly become a go-to spot for foodies and locals alike. The Phat Phuc Noodle Bar has made a splash on London's culinary scene, and it's no surprise why. Offering an authentic Vietnamese experience, every dish is bursting with bold flavours that transport your taste buds across Asia. From their mouthwatering Phat Phuc 'BúnChả' to their indulgent homemade Vietnamese ice cream, each carefully crafted dish showcases the freshest ingredients for an unforgettable dining experience. If you're a lover of Southeast Asian cuisine, or simply seeking a new culinary adventure, a visit to the Phat Phuc Noodle Bar is an absolute must.
4. Margaux, London
Margaux, a top international restaurant in London, stands out in the city's vibrant food scene. Its chic decor sets the stage for a sensory adventure in French cuisine with a creative twist. Indulge in a mouthwatering array of dishes made with only the finest seasonal ingredients, from classic Provencal fish soup to contemporary venison tartar with truffle shavings. Margaux's passion and expertise are evident in every dish, creating a truly unforgettable gastronomic experience for any occasion. Don't miss out on the chance to indulge in the ultimate culinary journey. Book a reservation at Margaux in London today.
5. Otto's, London
When it comes to finding an international restaurant that truly wows, Otto's French restaurant in London is simply unbeatable. The combination of exquisite French cuisine, faultless service, and an elegant, sophisticated atmosphere make this eatery shine above the rest. From the moment you step through the door, you'll be transported to a world of gastronomic delights, as you embark on a taste journey that will leave you wanting more. In short, if you're looking for the ultimate dining experience in the capital, Otto's should be at the top of your list.
6. Frantoio, Chelsea
Located in Chelsea, Frantoio restaurant is a culinary gem that is taking the international dining scene in London by storm. This upscale restaurant boasts an impressive menu that features some of the most delectable dishes from around the world, seamlessly blending together different cuisines for a truly unforgettable dining experience. Whether you're in the mood for Italian pasta, Japanese sushi, or Moroccan tagines, there is something for everyone at Frantoio. The restaurant's knowledgeable and attentive staff will guide you through a range of flavourful options, including vegetarian and gluten-free dishes. With its welcoming atmosphere and mouth-watering dishes, it's no wonder that Frantoio is quickly becoming one of the best international restaurants in London.
All in all, there are plenty of excellent international restaurants in London that are worth a visit. With so many delicious cuisines and unique dining experiences to choose from, you're sure to find something that suits your taste –whether it's traditional British fare or a delicacy from the other side of the world. Keep in mind too that the restaurants listed here have achieved this distinction for a reason: their chefs take great care to use quality ingredients and create flavorful dishes that keep customers coming back for more. If you're looking for an unforgettable meal, any of these top-notch places will do the trick! So, go on – explore all of London's diverse culinary scene!