Just because you are heading out on the trail for a few days doesn't mean you should have to give up healthy and delicious food. Eating well in the wilderness can be the difference between having an amazing trip and being miserable. A proper diet will give you the energy you need to conquer those rapids or climb the highest mountain! And in a survival situation, having enough nutritious food and easily portable food on hand is more than just a matter of comfort, but the difference between life and death.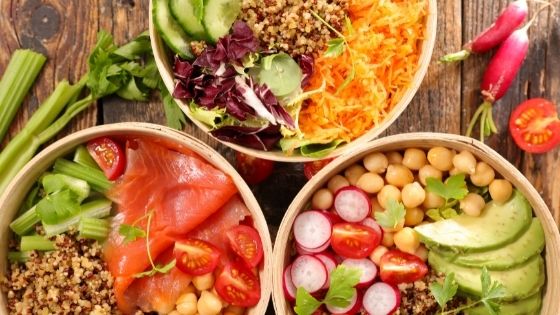 That's why we came up with a list of 15 of our favorite vegetarian meals for camping and survival situations. But even if you are not a vegetarian, you will definitely want to explore these meat-free options! There are a lot of advantages to stocking up on vegetarian meals.
Vegetarian food:
Allows vegetarians and non-vegetarians to share the same food, meaning you will carry less.
Adheres to several religious dietary restrictions for a more inclusive experience.
Has tons of fiber, no one wants to feel "backed up."
Tastes amazing and is good for you after all that is what it's all about.
Freeze-Dried Vegetarian Meals for Camping & Survival
For convenience and taste it is hard to beat freeze-dried vegetarian meals. Not only are these types of camping meals pre-portioned, lightweight, and nutritious, but they are super easy to prepare. All you need is a way to boil water, and in a few minutes, you have a meal that can rival anything you make at home.
Freeze-dried meals keep almost all the nutritional content of their fresh ingredients while other popular methods of preserving may extend the ingredients' shelf-life, but at the expense of nutrition, particularly vitamins and minerals. For a long-term food survival plan, freeze-dried food is without a doubt the way to go.
Check out these ten freeze-dried vegetarian food options everyone loves from EMP Provisions:
Bengali Rice: This fluffy rice dish is loaded with veggies, exotic Indian spices and topped with slivers of pistachios for a bit of extra crunch. This is the perfect vegetarian meal for non-vegetarians. It's so good you will want to pack a few extra!
Mom's Dried Tomato and Cheese Macaroni: Don't confuse this home-style macaroni casserole with ordinary boxed mac 'n cheese. Mom's Dried Tomato and Cheese Macaroni is full of real Parmesan cheese, chunking tomatoes, and soy protein to keep you full and satisfied.
Vegetarian Taco or Tortilla Mix: Anyone obsessed with Tex-Mex will immediately fall in love with the flavors of this versatile filling. Made with red bean, corn, peppers, and soy protein, this is perfect whether you wrap it in your own tortillas or serve it over rice.
Apple Crisp: You deserve a little sweetness in your life, and this irresistible treat blends crunchy granola and apple puree with just a touch of brown sugar. Enjoy a wholesome cup of Apple Crisp as a snack or even for breakfast guilt-free!
Merry Berry Couscous: Couscous for breakfast, sure, why not? It may sound odd, but Merry Berry Couscous is a wonderful way to start the day. This recipe is more sweet than savory, combining couscous with cranberries, vanilla, and a touch of brown sugar.
7-Flavour Consommé: When the mercury dips and the wind blows, you will be glad you packed this hearty Asian-inspired soup. The rich broth is chock-full of rice noodles, soy protein, and veggies, it is perfect as a light meal or for a starter.
Chia Delight with Almonds and Cranberries: Enjoy this creamy porridge either hot on blustery mornings or cold in the heat of the summer. If you haven't gotten on board the chia seed train yet, this definitely should be your first stop!
Spanish Scrambled Eggs (Vegetarian): Who doesn't love waking up to a plateful of eggs? Bring these Spanish Scrambled Eggs along with you can whip up fluffy scrambles or even omelets any time you want!
Cheese and Mushroom Risotto: You might even attempt to tackle risotto at home, but this freeze-dried recipe makes it easy. Enjoy a creamy blend of three cheese, white wine, and mushrooms in this classic Italian dish.
Moroccan Feast: Bring the taste of northern Africa with you on your next adventure. Moroccan Feast is fit for a king with its mixture of lentils and couscous studded with sweet, dried apricots and raisins and crunchy almonds.
Freshly Made Vegetarian Meals for Camping
While freeze-dried meals are your best choice for camping, and your only actual option for survival situations, adding a bit of variety to your diet isn't a bad thing. If you have an established base camp with all the modern conveniences or are spending a weekend car camping, you can try a couple of these vegetarian recipes that require a bit more equipment and cooking time.
REI's One-Skillet Pasta Primavera: Pasta dishes are a favorite for camping, but most of them rely on using pre-made sauces and a bunch of pans for cooking. This recipe needs just one pan and has tons of fresh veggies and goat cheese. Just be sure you have a way to keep the goat cheese from spoiling.
Foil Packet Loaded Nachos: Bring your favorite shareable snack to the woods with this foil packet recipe from Camperville. If you spent any in the scouts, you probably are aware of Foil Packet Meals, a way of cooking meals directly in the campfire. It may take a few tries before getting a hang of foiling packet cooking.
Grilled Tofu and Soba Noodles: This Japanese-inspired dish is definitely gourmet for cooking outdoors. If you are spending just a single night away from home, save yourself a lot of prep time by pre-cooking as many components as possible at home.
BBQ Baked Black Eyed Peas: There is just something about cooking beans on a campfire that makes them even more delicious than normal. Do yourself a favor and pre-measure the seasoning at home to make it easier for you when you get to your campsite. Don't forget your Dutch oven and of course skip the bacon part of the recipe!
Campfire Cake: This recipe may seem a little odd the first time you try it, but yes, it is possible to cook a cake inside an orange rind. You can use any flavor of cake mix you want, but chocolate goes amazingly well with the orange. More of a novelty than a serious dessert, it's still a welcomed treat at the end of a long day.
With so many vegetarian meals available to you, you have no more excuses for boring food on your next overnight camping trip.