Designing a kitchen involves detailed planning, especially that it is one of the areas that experience a lot of traffic. More than just cooking and cleaning, it also becomes a place of social interaction within the family and even guests. A good kitchen design can ensure a multi-functional space for your home.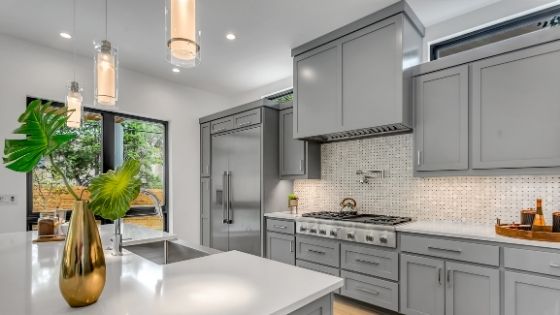 Many factors go into planning a kitchen design. Two of those are the layout and cabinets. Choosing the best floor plan can help maximize efficiency in the kitchen, while choosing the right cupboards can help greatly in organization. They also make up a large part of your kitchen. It's why knowing how to pick the best kitchen cabinets in Michigan can affect the overall aesthetics of your kitchen space.
Choose an Effective Kitchen Layout
There are several kitchen layout options to choose from. This depends on the amount of floor area you have and what your priorities are for your kitchen experience. It can range from sufficient storage, enough space for multiple cooks, or a comfortable kitchen where family members can socialize.
Taking these points into consideration helps you find the ideal layout for your kitchen. Here are some of your options:
L-shaped – This layout creates an open space that makes for a great place for socialization. You can add a kitchen island or a table and some chairs to accommodate family members or guests. Since it only uses two walls, it is also compatible with smaller homes or apartments.
Galley – This is one of the most functional layout designs. It is perfect for those who want to work seamlessly in the kitchen. With this layout, cupboards are easily accessible, and appliances can be integrated into countertops.
U-shaped – As its name suggests, the u-shaped layout utilizes 3 walls. This provides a good amount of storage and countertop space for you and your family. This can work as a separate area or an open area layout.
Know Your Kitchen Cabinets
Cabinets are essential to any kitchen. They serve as your storage and help greatly in keeping things organized. Plus, it also adds to the beauty of your space with the many designs and finishes it can have. Because of that, choosing a cabinet is a crucial decision.
There are different types of kitchen cabinets with specific storage purposes. The three most common ones are base, wall, and tall cabinets. They can be customized to hold more items, and their design can be personalized.
Base Kitchen Cabinets
Base cabinets are the ones placed directly on the floor and support your countertops. They are a large part of kitchens, so they set the footprint of the area's overall layout. It is also the most utilized among the cabinets since it can serve many important purposes. It can be installed with drawers, pull-outs, or racks that can serve as storage for big pots or pans as well as cutlery and other cooking utensils.
These types of kitchen cabinets can also be installed with appliances like a sink or a dishwasher. It can even store items such as trash cans or recycling bins. Because of the variety of its uses, base cabinets can become the most expensive type of cabinets you can purchase.
Wall Kitchen Cabinets
Wall kitchen cabinets, as their name suggests, are mounted on walls. They contribute significantly to the design and appeal of your kitchen as they occupy a large visual space. They can also be extended to the ceiling for a bigger storage area.
These cabinets are also versatile. You can integrate a pull-down spice rack, wall easy-access storage, appliance garage, and a corner wall cabinet. You can store appliances, dishware, and other items that are not used frequently in these spaces.
Tall Kitchen Cabinets
These are also called utility or pantry cabinets. A tall cabinet can span from the floor to the ceiling or be freestanding, depending on your preference. It is perfect for organizing groceries, food supplies, and even cleaning items that you want to be readily available in the kitchen.
Tall kitchen cabinets can also be modified for more functionality. You can install racks or pull-out shelves to increase your storage space. With enough room, you can easily store appliances like microwaves or ovens.
Build Your Perfect Kitchen Space
Designing or remodeling a kitchen can be tough work. By knowing some of the things to consider, you can create a better vision for your dream kitchen. But having a professional to help you in the process can save you a lot of time and effort. You can reach out to many kitchen designers and businesses that offer installation for kitchen cabinets in Michigan.