Christmas is the time to celebrate togetherness and enjoy having fun with family. This holiday get relax and spend quality time with love one at home. Christmas celebration is incomplete without smoky food. So here we take you to the introduction of food fingers that are instant and easy. You can enjoy all the good times with your family by preparing such nice appetizer to enjoy the Christmas party at home.
Christmas gift delivery gives you a reason remember them very close to your heart but living far from you.
1] Festive Guacamole Appetizers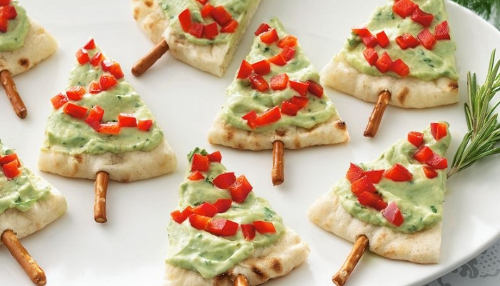 Guacamole appetizer is a quick snack ready in short span of time. Get the pizza tough cut into rectangular shape with added taco seasoning. Bake it for 375 degrees for 10 to 15 minutes. Now cut the tree shape and use pretzel to stick on base to give a complete tree look. Beat crème cheese and guacamole and spread on trees. Use raw veggies to make star shape and refrigerate it.
2] Holiday Appetizer Meatballs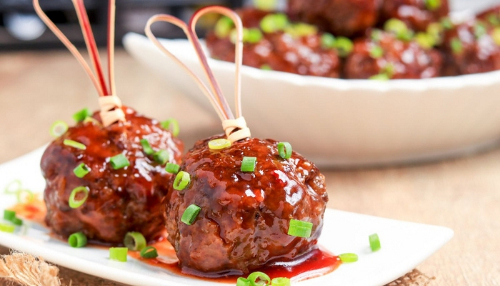 This holiday appetizer best runs for spice food lovers. The smoky food sausage balls can be baked or fried. The smoky and juicy cheese filled sausage balls are the perfect snack to enjoy with sip of red wine. You can half fry this cheese balls refrigerate for next day celebration. Quickly fry and serve this sausage balls in Christmas party.
3] Santa Deviled Eggs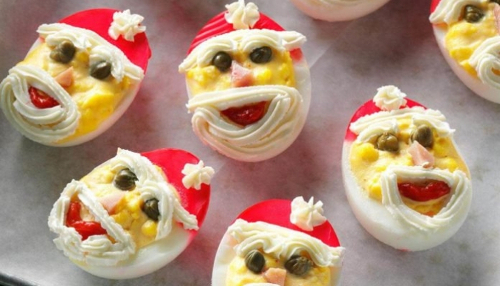 When you are in a mood to celebrate Christmas you must have plan the food customized in the scheme. Here is the spectacular recipe that displays joy of Christmas on food table. Eggs are boiled and half cut and then decorated with Santa face. Whipped crème and meat cuts are used to make Santa deviled egg.
4] Cranberry Brie Bites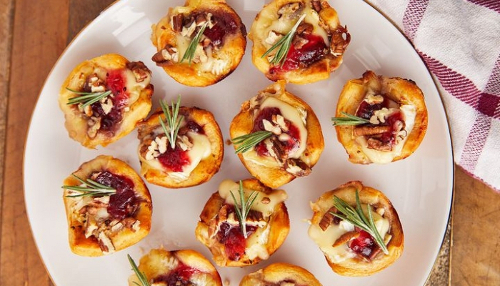 Kids would love to take bite of tiny bites of Cranberry Brie. Whole dough is divided into a crescent shape and sit into muffin baking sheet. Use cranberry sauce some chopped pecans and little pinch of rosemary to top on the crescent dough pieces. Now bake it for 15 minutes at 375 degree. This would be an ideal snack for the kids who love sweet pastry.
5] Pizza Wreath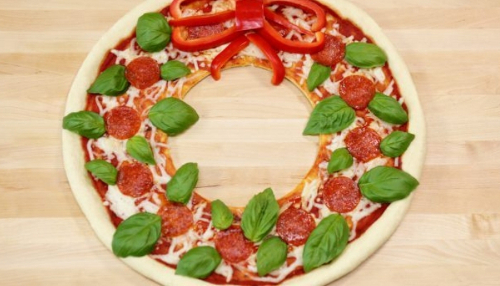 You can get the Christmas spirit in house by baking pizza in wreath shape. You need the rolled dough. Now cut the triangles with pizza cutter. Now spread sauce and bacon and some cheddar cheese on this. Now cover the triangles and make wreath shape. Use melted eggs spread on the wreath and bake it for 20 to 30 minutes until golden crisp. Pizza wreath is ready to amaze guests.
6] Sweet Potato Dessert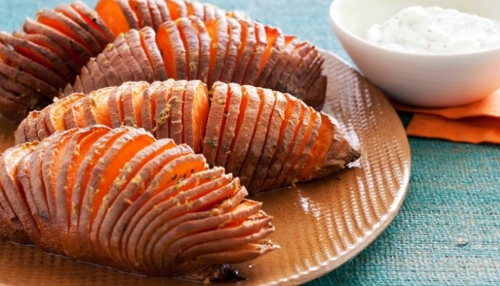 Tickle the kid's mood by adoring their food table with sweet potato bites. This eye-catching dessert is quick and simple to make. Peeled and round thick pieces of potatoes are buttered and baked in 400degree for 20 minutes in oven. Let them come to room temperature and top marshmallow and bake it for 1 minute again until marshmallow is not puffed. Now pull it out from the oven and decorate the marshmallow with candies and small cookies. The sweet dessert is ready to decorate the dessert table for your little guests.
7] Wine-Poached Figs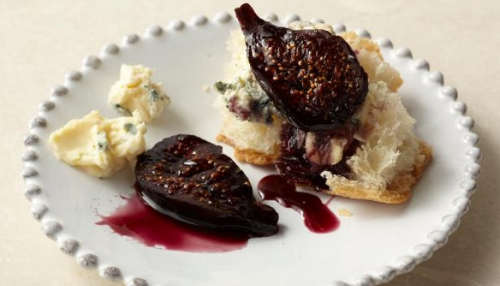 Wine and fig both compliments each other and tastes great. It is an ultimate recipe you can make in any time of the day. cut figs and dip into the boiling water mixed with wine, sugar, salt and pepper. Let it boil until the water doesn't evaporate from fig. when fig is slightly thickened take it out from the pan. Now top it with the flavor and toppings you have.
All snacks are complimentary for wine addicts. So buy wine online if you have still not ordered it. Instead of insisting on heavy meals use these finger foods to avoid food wastage. They can be well prepared in advance so you can utilize this time by spending quality time with family. So use these finger licking foods and enjoy sharing treasures of memories with your family members at home.