When organizing your home library, you can organize the books according to color, or you can place them in order of subject. It will be easier to find the books you are looking for and make it easier to organize them.
You can stack paperbacks vertically or horizontally. If you have space on the higher shelves, you can even install rolling library ladders, and it will take up less space. It can give a home library a classy look as well.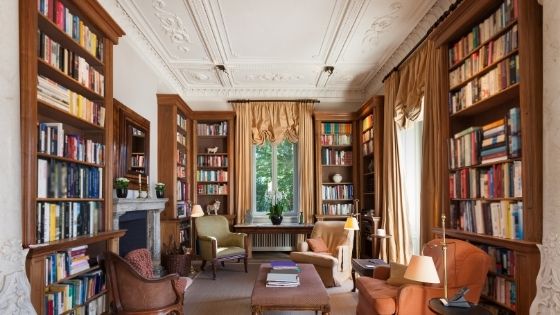 Using different objects such as paperweights and bookends can help separate the books and make it easier to find them. This will also keep the entire collection more appealing and less intimidating. Here are some organizational tips for your home library:
Create a Book Organization System
Creating a hierarchy for your books is another great way to keep your home library organized. For instance, you can organize them alphabetically using genre, author, or size. You can also categorize your books by color. You can sort them by their cover, genre, or size, as long as they're organized. If you're a moody reader, this can be a great way to organize your books.
Use a Home Library App
Using a home library app to organize your books can help you stay organized and find books faster. It is a great way to keep track of your collection and find what you've already read. Some apps let you search for specific titles or authors, and others let you see reviews of the same book.
Some of the Home Library Catalog Apps will let you sort your books by genre and author a bit fast. It will also let you browse online databases like Amazon and GoodReads, and it can also add thumbnails to your book collection.
Some of the excellent home library apps include Book Catalogue and Book Crawler. With these apps, you can find reviews and opinions about books that you have read. You can also add thumbnails and add comments about the books you've read. This makes it easier to compare what others have said about a book. You will be able to locate what you're looking for and find it.
Declutter Your Library
Open up your library by creating some healthy space in it. Make a list of all your books and decide which you want to keep and which you want to donate. Toss out any books that are worn, faded, or otherwise damaged.
If you have duplicate copies of books, you can donate them. If you have a lot of books, consider editing your collection. To organize your home library, remove all books from tables, nightstands, and shelves. Put books you plan to read and those with sentimental value on lower shelves.
Pay Attention to Your Lighting
Lighting is essential for your home library, and it should provide ample light to help you read without straining your eyes. You may want to use floor lamps near your reading area or interior shelf rope lighting.
According to The Architectural Digest, the overall purpose of home library lighting is to increase focus and productivity. However, task and accent lighting should always be included in the overall lighting plan.
Comfortable Sitting
Your seating should feel inviting and comfortable. The materials you use for the chairs and sofas should be soft and inviting. You should also add a throw or a cozy blanket so you can wrap up while reading. Your seating should also fit in with the rest of the room and your personality.
Installing a window-facing seat or a cozy corner will help you create a reading nook. Place the seating near bookshelves so you can easily see it when you're looking for a book.
You'll be more likely to read for longer periods if you're seated comfortably. If you don't have a lot of space, consider building a bench or a chair with an ottoman.
Organizing your home library has numerous advantages. An organized library will have a nice look and feel, and it will also be easier to browse. An organized home library will make it easier to enjoy the world of books. Most home libraries contain books that don't serve a purpose, and it is often a matter of personal preference. However, organizing your home library for ease of access and aesthetic appeal is essential.