As is commonly known, a master's degree in the arts can help you broaden your knowledge and expertise while increasing your chances of being employed or promoted by an organization. However, more than 70% of the population enroll in Master's degrees to expand on their knowledge and abilities, as well as to learn new, extremely beneficial ones like researching, writing, and analyzing. Additionally, you improve your problem-solving skills and have an easier time taking on challenging undertakings.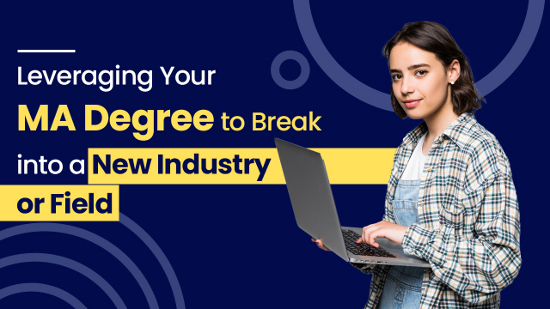 Are you, however, unsure about whether an MA degree can help you enter a different industry from the one in which you received your education? If so, you can refer to our blog, which in addition to discussing the effects of an MA program will also discuss how the MA colleges in Bhopal equip you to start a different career.
Know about a Master of Arts
A Master of Arts degree assists students to deepen their understanding of the discipline they have chosen while also improving their subject-specific knowledge with a master of arts degree. Additionally, students participating in this program have the chance to attend guest lectures and seminars given by academic and business specialists. Furthermore, postgraduate courses have a wider curriculum and are more autonomous, thus students are expected to put up more effort into mastering the complete process by picking up new abilities.
MA Course Details
Level of Course
Postgraduate
Duration
2 Years
Eligibility Criteria
● Bachelor's degree (preferably arts) from an institution that is recognized by the UGC (University Grants Commission) of India.

● A minimum of 50% aggregate at the Graduation level. But, applicants belonging to the reserved category are eligible for a 5% relaxation.
Important Specializations
Economics, History, Political Science, Public Administration, Sanskrit, English, Geography, Sociology, Social Work, etc.
Trending Job Profiles
Social Worker, Teacher, Writer, Photographer, Journalist, etc.
Average Salary Offered
Ranges between INR 3-5 LPA
In what ways will an MA degree help you break into a new profession or sector?
A Master's degree might open up a variety of professional options. Moreover, in the majority of cases, the benefits of this degree will allow you to transition into a new profession. You must carefully read the pointers below in detail if you want to learn more about them.
1. Enhances your knowledge
You can further your understanding of the desired subject by earning an MA. Along with studying the topics you are passionate about, you can get involved in research projects to get a better understanding of the career options available in that field. Additionally, the chance to conduct independent study and develop your ideas on a topic of profound interest at the MA colleges in Bhopal will give you practical experience, which will ultimately enhance your CV and future chances.
2. Creates excellent connections for potential opportunities
One of the best things to have when you start working or looking for a decent job is a solid network of individuals you know. Therefore, a Master's degree will ultimately help you become more familiar with other industries and job options by allowing you to connect with more individuals. Additionally, you will interact with academics, visitors, and business people who might be able to help you find employment in a different field or industry.
3. Improves Personal Development
Masters' students must put in more independent effort and engagement in the learning process because postgraduate courses are more autonomous. However, this will help you gain new abilities for both your personal and professional life, including independence, self-motivation, and time management. Even if you decide to pursue a different job, those skills will be useful in both your career and personal life.
4. Accelerates the progress of your career
With simply a Bachelor's degree, you can find it difficult to advance once you enter a field that is unrelated to your educational background. In this situation, a Master's degree can significantly upgrade your career by equipping you to compete for more senior jobs, earn greater salaries, and contribute more to your company. Furthermore, if you have a degree from one of the best arts colleges in Bhopal, your job stability will be increased, and you will already be in a better position than your co-workers who only have a Bachelor's degree and no experience.
Best University in India for MA courses
The Mansarovar Global University in Bhopal is one of the amazing universities in India with a campus that spans 51 acres in Bilkisganj Sehore (M.P.). It was, however, founded in 2018 with the intention of providing students with a stress-free learning atmosphere that fosters creativity and critical thinking.
Reasons to choose Mansarovar Global University
● Its teaching unit consists of professors with substantial real-world experience who want to help students become better researchers by providing them with thorough technique training.
● As the best university in MP, it provides competency-based education, which rejects the idea that there is a single best method for teaching and learning and instead aims to gradually build students' capacities at their rate.
● You can seek help from the Career Development Cell, which provides complete support to the students as well as to the companies at every stage of the placement process. Mostly, it arranges for pre-placement talks, written tests, interviews, and group discussions.
Final Thoughts
Gaining a Master of Arts degree can provide a variety of advantages, including better employment possibilities and greater problem-solving and decision-making abilities, as well as lead to Ph.D. studies. As a result, the MA Colleges in Bhopal make an effort to cultivate in young minds the capacities for inquiry, logical reasoning, and critical analysis.
FAQs
1. Is it possible to change your field of study during the Master's level?
You can obtain any Master's degree you desire if you have a bachelor's degree and have finished the necessary coursework. However, it is often advised to pick a branch that is somewhat related to your bachelor's degree because most schools are quite clear that transferring regions is permitted if the majors are related.
2. What work opportunities are there after an MA?
Following an MA program, numerous job options are available, including those as an Administrative Manager, Research Scientist, Professor, Learning and Development Consultant, etc. As a whole, candidates are equipped and trained with the skills and knowledge necessary for the profession overall by the syllabus and courses followed at MA Colleges in Bhopal.
3. What is the biggest advantage of pursuing an arts degree?
The major benefit of taking an arts course is that you will get the opportunity to read a variety of topics, including Hindi, English, Political Science, Sociology, and Environmental Science, all of which are quite relevant to our daily lives. And, after reading those topics, your human side and way of seeing things are far superior to others in any sector.
4. What is the typical course cost at MA Psychology Colleges in Bhopal?
The MA Psychology Colleges in Bhopal typically charge between INR 80,000 and INR 90,000 per course. Nevertheless, this two-year degree also teaches conflict resolution methods, responses, mental processes, experimental psychology, human development, etc in addition to human behavior and psychology.