Design has been an integral part of our human experience, ever since we learned how to see for the first time. Even though our brains don't follow any standard yet, infants will always pick up something they see for the first time out of curiosity. And even with kids, the design of a plaything can be uninteresting after the first few minutes of playing with it.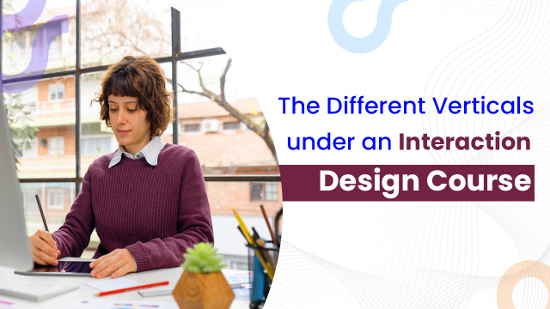 This thing, our subconscious appreciation for all things beautiful, in form, interactiveness, usability, etc., is what most design courses tap into. Interaction design is gaining new appreciation these days – because of its focus on the user experience from the user's perspective.
There are not a lot of interaction design colleges in India yet, but the institutions that do offer this course are usually the best of the best. In this blog, we talk more about interaction design, courses in interaction design, and the different verticals that form the core of interaction design philosophy.
What is Interaction Design?
Interaction design, commonly referred to as IxD, refers to the design of interactive products, systems, and services where the focus is placed more on the way users interact with it than just the product itself. In today's world, this especially applies to the design of applications, websites, and interfaces that people interact with on a daily basis. A cluttered, janky, or confusing navigation experience with any of the above only results in us getting turned off and looking for an alternative, does it not?
This is not exactly the same as UX or user experience though there are overlaps between the two. Interaction design also branches into areas like content strategy, information architecture, and visual design.
B. Des in Interaction Design: An Overview
There are a lot of interaction design courses available in India, from the certificate level to even the Doctoral level. If you think this is contradicting what we said earlier about there not being enough colleges offering interaction design courses in India, let us explain. While there are not a lot of colleges that offer Interaction Design as a separate course of its own, there are plenty of Bachelor of Design University that offer their B. Des course with a specialization in IxD or include Interaction Design in their other design courses.
We have picked the B. Des in Interaction Design since it is the most common undergraduate option for you if you are specifically interested in interaction design itself. Take a look at the table below to get an overview of what a Bachelor of Design degree in Interaction Design typically entails.
| Course Name | B. Des IxD |
| --- | --- |
| Full Form | Bachelor of Design in Interaction Design |
| Level | Undergraduate |
| Type | Full-time |
| Duration | 4 years |
| Mode of Examination | Semester System |
| Eligibility Criteria | 10+2 with a minimum of 50% marks |
| Average Fees | INR 2 - 4 Lakhs |
| Common Jobs | Interaction designer, Multimedia Designer, Web Designer, UX Designer, etc. |
| Average Salary Range | INR 2 - 45 LPA |
The Different Verticals in an Interaction Design Course
The concept of an "interaction design language" was first introduced by an academic in interaction design named Gillian Crapton Smith at the Royal College of Art in London. This concept was based on 4 principles that make up the communication between the user and the screen:
Words (1D)
Visual Representation (2D)
Physical Objects/Space (3D)
Time (4D)
Later, a senior interaction designer at IDEXX Labs, Kevin Silver, added a fifth dimension – behavior.
1D: Words
While most people think that all it takes to write is putting words together, it is not easy. B Des colleges in Gujarat like Anant National University teach students the importance of restraint in design, especially with words. Ideally, words on a website should be easy to understand, legible, targeted toward the right demographic, and concise. It's also important to avoid fluff as much as possible.
2D: Visual Representations
Visual representation refers to anything that isn't a word in the digital space – pictures, icons, typography, diagrams, and other graphical elements. These are usually the hook that attracts the user's attention first, as people rarely read things on the internet unless they find the pictures grabbing their attention.
3D: Physical Objects or Space
Space refers to the spacing between elements when it comes to web design. A website with a lot of features (cluttered) usually turns most users off. The IxD course at Anant's Design X also stresses the importance of using different designs for different scales of screens, as the spacing of elements will differ a lot on a mobile screen as compared to a traditional computer screen.
Physical objects refer to the point of input for the user interaction, like a mouse/trackpad and keyboard for desktops and laptops and fingers for touchscreens. Interaction designers have to take these into consideration as well, to fulfill their obligation of designing for the customer's needs.
4D: Time
Time refers to the amount of time spent by the user in interacting with the product (website), and involves media that changes over time – sound, animations, and videos. This can be a useful metric to gauge the success of your design choices.
5D: Behavior
This latest addition to the principles of interaction design is concerned with how the first 4 elements work together to drive a user's interaction with the product. It gauges the emotions that a user might feel when interacting with the website and also takes into account user reviews and feedback.
Conclusion
The different verticals, or as design professionals would say, dimensions of interaction design work together to form a cohesive experience for the end user. While Interaction Design colleges in India are in short supply, with most design colleges including this subject in their general B. Des Syllabus, Anant University offers a full-time B. Des course specializing in Interaction Design.
At AnantU Gujarat, the B Des in interaction design is a good way to get into this exciting field in design, which focuses more on the utility and customer experience of the design rather than the more programming-inclined field of UX.
FAQs
1. How many semesters are there in a B. Des Interaction Design course?
There are 8 semesters in a full-time B. Des in Interaction Design course. These courses have 2 semesters each year.
2. What is the average salary of an Interaction Designer in India?
In India, the average salary of an Interaction Designer ranges from INR 10 LPA – INR 45 LPA.
3. Do interaction design colleges in India offer M Des in Interaction Design?
Yes. However, a college that may offer a B Des in interaction design may not have an M Des program with a specialization in interaction design too. One of the most famous M Des in Interaction Design is offered by IIT Bombay.
4. Are there any other principles of Interaction design?
Yes. Other than the five dimensions, interaction design also taps into the philosophies of goal-driven design, usability, cognitive psychology, and human interface guidelines.