Are you looking to gain more Instagram engagement? Do you wonder how to grow and get more Instagram live audiences? If yes, then you are at the right place. This article is about how you can get more people to watch your Instagram live stream. Instagram plays a significant role in brand building, and with time people are prone to watch videos and stay connected to the brand. So if you do Instagram live stream properly, you will be able to gain a more reliable audience base. So without further delay, let's start with the article.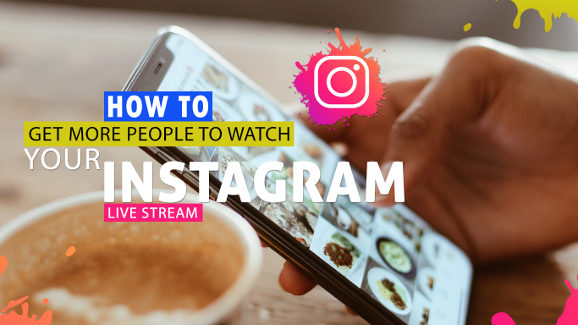 1. Choose Interesting and Engaging Instagram Live Topics:
If you think of talking with your viewers directly using Instagram Live, you must have a good and authentic reason to ask them to tune in. As a result, it is very much crucial for you to have a goal each time you go on live. Therefore, here are some exciting and engaging topic ideas for your Instagram Live Stream.
Share the news of a product launch.
Host a question and answer session with your audience
Explain how you use a particular product or a service
You can use the add a friend feature and interview a reputed person
Review a specific product or service
Do a live tutorial or share a hack or tips
2. Promote Live Stream in Advance:
Now that you have decided on the date and time you want to come live on your Instagram page, it is time for you to promote the same. Yes! It would be best to keep your audience aware of when you will conduct your Instagram Live so they can keep that time free to watch.
Instagram Story can be a great way to let your audience know about your live stream and do a pre-live promotion. As a result, viewers and followers are more likely to check the brand's story section for a quick update. To build a buzz for your live stream on Instagram, we recommend you promote it on other similar social media platforms.
3. Pin Your Video's Title:
One thing that you must keep in mind is that your audience base will grow as the video progresses. But, there is an option for you to stay a little bit of content briefing to the late joiners. Yes! You can pin your video's title so the late joiners can gain some knowledge.
Here is how you can pin the title of your Live Stream:
Start doing your IG live
Now go to the pin comment option and then type the title of your video in that comment section.
You will see a pin option, tap on that comment and pin it.
4. Try to Add a Question Sticker:
Another important thing you can do is add a "Question Sticker" on your Instagram Story post. This will allow the viewers to type a question they want to ask you. Then you can answer all the questions you have received while having a live Q&A with your followers.
It will be an interactive session with your followers, and this will help you build a more reliable audience base. Try to explain the features of your product or the service you sell, or you can conduct interviews.
5. See Who's Watching Your Live Stream:
It is very important to check who all are watching your Live stream. You can do that by tapping on the eye icon right at the top of your screen. As you go live more often, you will be able to see some specific followers. This is the time for you to nurture your relationships with the most engaging viewers. You can talk to them by taking their names directly or giving them a shoutout.
Another option is to ask them questions and try to engage more with them. This will make them feel special and will help you retain your viewers.
6. Take Suggestions From Audiences:
A great way to gain ideas about what to cover in the following Instagram Live is to take suggestions from your followers. Yes! You can add a poll sticker to your story and ask them or give them options to choose from and let them vote.
Related Post:
7 Ways to Get More Instagram Followers
A live stream on your Instagram page covering the topic suggested by your followers will give you more engaging viewers. This is because they will feel more wanted and know they can learn from you for what they desire.
7. Save Your Instagram Live:
You need to save your Instagram Live to replay the entire session. This will let you know how you can improve in your next session. In addition, you should design a template for your cover photos to have a similar feel and look. It would be best to have a description or a caption for the IGTV video ready beforehand.