Australian food culture can be described in one word – exotic. Along with the diverse, bright animals the continent has been enriched with, their food is one of the most varied and unique, thanks to years of colonisation and migration.
Being blessed with rich ancestry, heritage, architecture, wildlife, and landscapes, you will likely experience eerie but mouth-watering food spread over different parts of the continent. And one such exquisite dish is the scotch fillet. A delicious scotch fillet recipe is bound to take you to nirvana.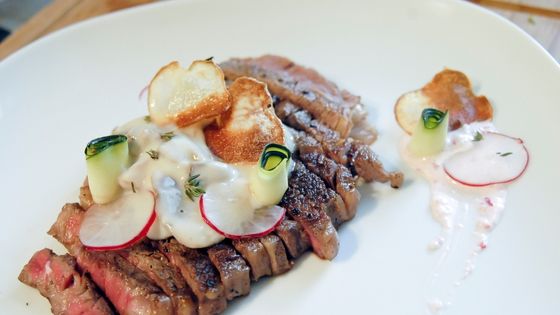 What Is The Scotch Fillet Dish?
This Australian dish is essentially a beef steak cut. With a calorie count of 985 per serving, the fat marbling effect creates a speedy cooking process. The neat part is that this dish can be cooked in several different ways, and every single version is as delicious as any other form. Today, three of these versions will be discussed, along with some tips to execute them like a pro!
Scotch Fillet With Rosemary And Mashed Butter
Ingredients For The Main Portion
4 Scotch fillet steaks
800 gm potatoes (preferably the Sebago kind)
60 gm butter
150 ml beef stock
¼ cup of olive oil
100 ml cream
2 finely chopped garlic cloves
1 tbsp rosemary, finely chopped
70 ml red wine
Ingredients For Rosemary Butter
120 gm butter kept at room temperature
1 tbsp rosemary chopped finely
1 garlic clove
2 tsp mustard
Procedure
Step 1: Start with the potato placed on a heated pan. Soak the potato in salt water, and bring it to a boil for about 15-20 minutes. Drain the potatoes
Step 2: Use the same pan to mash the butter, and pour cream into it. Add some seasoning.
Step 3: Put steak with garlic, olive oil, and rosemary while simmering. Pour half of the wine bottle, season it, and turn it over. Make sure you use a non-reactive vessel.
Step 4: Add all the rosemary butter. Season the dish and set them aside.
Step 5: Take a large pan and add the fillet contents over high heat. Cook until the meat turns medium-rare. To do that, cook each side for about 3-5 minutes. Remove the steak and wrap them up in aluminium foil.
Step 6: Add the remaining wine and beef stock to the pan and let it simmer until turned to a shiny texture. Now, this dish is ready to serve!
Scotch Fillet With Peppercorn Sauce And Herb Mash
Ingredients
750g potatoes
1/2 cup cream (about 125 ml)
70g butter
4 beef scotch fillet steaks (200 g each)
Regular seasoning
1 tbsp olive oil
1/4 cup red wine
1 and a 1/2 tbsp peppercorns
1 crushed garlic clove
1/3 cup cream
1/4 cup mint leaves
1/4 chives
Procedure
Step 1: Preheat the oven to 190°C.
Step 2: Soak the potatoes in boiling salt water until soft. Drain, add cream and butter to a pan, and mash until a smooth texture is formed.
Step 3: Season the fillet and place it over a heated pan. After cooking for 2-3 minutes on each side, set it aside in a baking tray. Place it in the oven and roast for precisely 12 mins.
Step 4: Melt the butter in a pan and add wine. Let it turn into a glaze. Add your peppercorns, garlic and fresh cream. Let it cook until thick. Your dish is ready to be served.
Scotch Fillet Steak In A Red Wine And Cream Base
Ingredients
5 slices of Scotch Fillet
4 tbsp butter
3 tbsp olive oil
½ cup cream
2 tbsp black pepper, crushed finely
1 cup red wine
Seasoning to taste
5 potatoes
Procedure
Step 1: Put the steak on a tray, and drizzle oil and seasoning. Peel and cut the potatoes into fine chunks. Let them boil in seasoned water for about 8 minutes and drain.
Step 2: Place the potatoes on a dish, and add butter and cream. Mash and cover.
Step 3: Place the steak on a hot grill skillet and sear for about 2-3 minutes. Keep flipping it 3 times until medium rare. Set aside after covering it with foil.
Step 4: Add red wine to a large stove and some cream. Add finely crushed pepper to the mixture. Let it simmer until turned into a sauce. Your dish is ready to be served.
Some Tips
This fillet recipe is unfinished without following these tips:
Make sure the thickness of the meat stays around 2-2.5 cm.
Pat them with tissues before seasoning to remove excess moisture.
If you want the meat to be medium rare, touch it and see if it is soft. If it is hard, it is well done. If it feels springy, the meat is medium.
A ten-minute rest after the searing process is a must.
Conclusion
The dish is served with a type of pasta known as pappardelle. It is a ribbon pasta and is best when combined with medium-rare meat. Chefs worldwide greatly appreciate it, and all these versions of the same dish are great meals by themselves. This delicacy is a must-try no matter where you are from!