Social Media can be considered as a large open-source market to start spreading a word about your business. Most of the businesses today have an active business profile page followed by a mass. Resources say that 82% of the small businesses take an aid of social media platforms like LinkedIn, Facebook, Pinterest, Twitter, and Instagram to boost their business growth.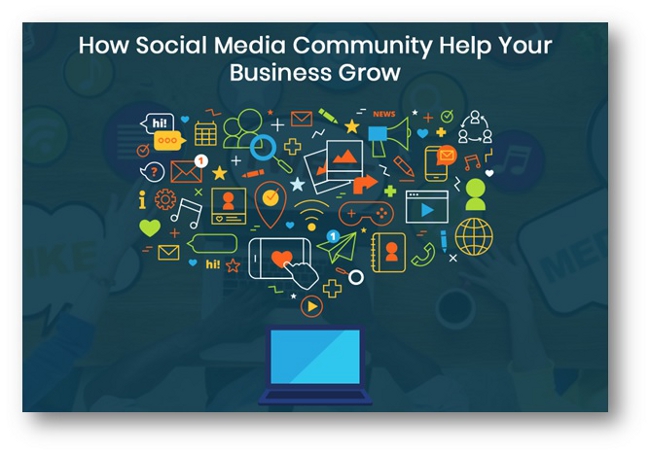 If you are still in a dilemma on whether or not to take the help of social media community for your business, here is a list to help you decide. Here is how social media can help your business grow:
1. Building Business Relationships:
Today platforms like Facebook have billions of active users and when it comes to online marketing, this is a huge source of audience readily available to market your products or services. Apart from a wide exposure, such platforms can help you target a relevant audience and grow business relationships with them. The followers and connections are the people who know about your business or have done business with you in the past. Such an audience is likely to recommend your business to others.
2. Cost-effective advertising:
Social Media platforms allow businesses to create business profiles. For most of the platforms, creating a business profile is free of cost. However, advertisements through such platforms are not free, but they offer several options to choose a budget for small to large scale business enterprises. For instance, Facebook allows choosing a budget for a business ad campaign and a business pays only for the clicks it receives. This is called Pay Per Click. On the contrary, traditional advertising is comparatively costly and sometimes it becomes difficult to rely on its effectiveness.
3. Reaching all Demographics:
Social Media covers almost all age groups and demographics. This means, no matter what your business is about and what you sell, there will always be an audience available to suit your business products and services. Since 2005, the usage of social media platforms amongst the age group of 30 to 49 has increased up to 77%. This shows that not only the young generation but adults also appreciate such platforms and a business can leverage that advantage.
4. Better Communication with Customers:
In this modern age, customer demands are rising. With this rising demand, it becomes necessary for a business to understand their customer's interests, likings, and feedbacks. Also, businesses that indulge in two-way communication stand a better chance to outperform their competitors. And when it comes down to communication, what can be a better option than social media channels? These platforms exist for connecting different people around the world and improving their communication process. For example, your customers may share their experiences and grievances on Twitter and you can reply within a fraction of seconds pointing out their concerns.
5. Sharing Information about Business:
Customer engagement is vital for sustaining any business. Social media platforms offer a good medium to keep your audience engaged with updated information about your business. You can share the latest business news, articles, products and services in the market and it goes straight into the customer's feeds. Sharing information is that easy! When business information is readily available through such social media channels, it also becomes easier for your potential clients and customers to trace down your business and approach it.
6. Boost your Email Marketing:
We all know that email is a vital aspect of digital marketing. With social media platforms, a business can accelerate its email marketing efforts. For example, a business page on Facebook can have 'Join Our Newsletter' option. One does not have to hunt down the subscribers for sending emails. You can fetch a list of email subscribers automatically. With this feature, connecting with existing customers and reaching out to potential customers through emails becomes easier than ever.
Also you can try Crixnews for latest updates of Cricket and more.
Social Media is a Vital Business Asset
This ends up the list of how social media community can help your business grow, but they also have several other advantages for your business. If you haven't considered about taking your business over social media platforms, it is now the right time to think over it. It can boost your online presence to a considerable amount. These platforms form a vital asset for your business and its growth.
If you still have any doubts, leave comments about your social media questions.