Planning for your summer holidays? Are you thinking about where you should be planning your trip to? Well then when it comes to India, you will be spoilt for choices. There is one thing about the summers and that is the mountains are the best places to visit when it comes to the summer months! So, if you are hoping for a summer vacation with your friends or your family, then it is important to remember that when you plan your trip, plan it to the hills always! So where in the hills can you visit? If it comes to the Eastern part of the country and if you want to ensure that you have a great time experiencing the joy of the hilly terrain and lovely scenery, then there is actually no better place than Gangtok!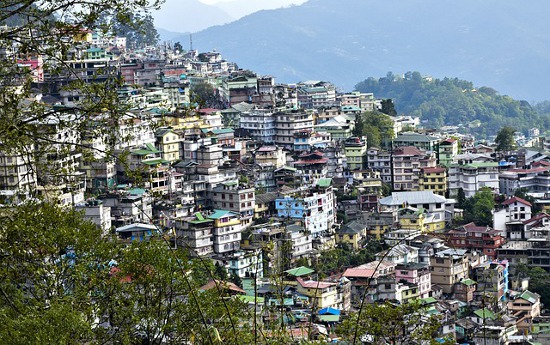 A little something about Gangtok
So, what are the things that you have to know about Gangtok? To begin with, it is the capital of Sikkim. It is also one of the most famous tourist destinations in the country and is especially a popular haunt during the summer months. Gangtok has a rather interesting history. If you visit this place, you will run into Buddhist monasteries in probably every turn of the hilly roads of this city. Gangtok used to be a pilgrimage for Buddhists, when it was set up sometime during the 1840s. It was not always the capital of an Indian state. It used to be the capital of an independent monarchy, right after the British Government had collapsed in India in 1947. It maintained this status for quite some time and finally became a part of India in 1975! Thus, you can say that it is a rather recent addition to the Indian territories. Today it is a thriving Buddhist pilgrimage, which draws tourists and pilgrims alike from all across the world. If you are thinking about planning a trip to Gangtok, then always keep in mind that this place is welcoming towards it tourists and you will never have a problem finding a good accommodation from all the Gangtok Hotels.
Places to visit in Gangtok
Like any other good tourist destination, Gangtok too has some of the most beautiful places to visit. In fact there are quite a lot of places nearby which you can visit from Gangtok. Many tourists set up their base at Gangtok and tour the neighbouring areas. So which one are these places? Let's take a look:
Nathula Pass and Tsomgo Lake: Want to visit a really beautiful and politically significant place? Well then you have to visit Nathula Pass. This used to be a major route for the Sikkim-Tibet trade and was once also a passage for the historic Silk Route! In fact, if one wishes to visit this place, a permission which will be granted by the Zonal Office will be necessary. Don't worry, it is quite easy to get the permission, provided all your citizenship documents are in order and you can show it to them. So, carry those documents with you when you are travelling. Leaving the technicalities aside, what grabs one attention at the Nathula Pass is the Tsomgo Lake. Beautiful, calm and serene, this is one place you cannot miss. Though it is located at a lofty height of about almost 15000ft, it has a motorable road and hence accessing it is easy. You will find small stalls there, selling hot thukpa, and trust us, you will love it!
Rumtek Monastery: One of the first few things that you will hear about when planning a trip to Gangtok is the Rumtek Monastery. Kagyu is the name of a sect of Buddhists, to whom this monastery belongs. It resembles one which is there in Tibet and is certainly one of the finest examples of monastic architecture. Vibrant colours and a serene atmosphere are what dominate this monastery and it is definitely a must visit on your Gangtok tour itinerary.
Hanuman Tok: Well just because Gangtok happens to be a popular Buddhist pilgrimage, does not mean that it doesn't have Hindu architectures in it as well. The Hanuman Tok is a perfect example for that. But keeping the religious aspect aside, the main point of attraction is the height at which it is located – 7500ft! The view that you get from here is a breath-taking one and the entire atmosphere here exudes peace, which inadvertently makes it one of the favourite haunts for tourists who are looking forward to spending some quiet time by themselves.
Kabi Town: Want to try out something different? Then do visit this small settlement which is located a few kilometres away from Gangtok. The locals here will greet you with a lot of warmth and affection and if you really like the place, you will also find one or two homestays! Sounds breath-taking right?
BanjhakriFalls: Located near the Ranka Monastery, this falls is an ideal destination for those who are looking forward to spending some quality time relaxing with their friends and family. This is definitely worth a visit.
These are just some of the few places that Gangtok has to offer. To know more, you will really need to visit this place once!
Getting ready for Gangtok
First things first, you will have to get your Gangtok Hotels bookings done as soon as possible, particularly if you are planning to travel during the peak tourist season, i.e. the summer months. Check for good hotels and compare the prices online to find the one which will be ideally suited for your kind of stay.
Once you are done with the hotel booking, pay attention to the packing. Gangtok is going to be cold, particularly if you are planning on visiting Nathula Pass. So make sure that you have your woollens with you, because you will need them.
Do try out the local cuisine here, because the food is something that you will enjoy!
Now that you know about Gangtok as a tourist destination, why wait? Start planning for your trip as soon as you can!