When you buy a new home, you hope that you made the perfect choice. Yet, even though you love your new home, there are things that you'd love to change about it. Curb appeal is one of these things.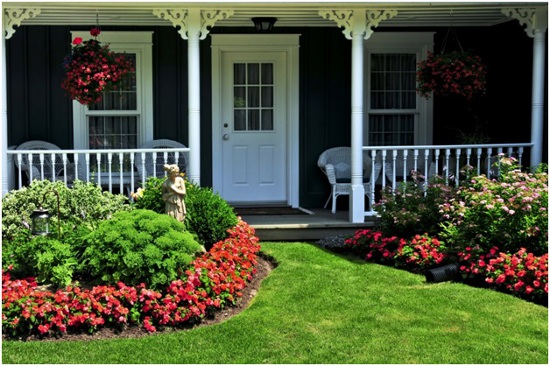 Many people replace their front doors after they purchase their homes, but others need a little more than that. That's where these tips to boost curb appeal come in.
If you're looking to amp up the curb appeal of your home, then keep reading. We have several unique curb appeal ideas you can use to spruce up your home. Read on to find out more.
Landscaping
Adding a few bushy shrubs such as lavender, boxwood, and jasmine can help define the edges of your home and create a pleasant atmosphere. Installing a water feature such as a fountain or a small pond with water lilies can add a magical and peaceful quality.
If you have a small front yard, consider putting in a rock garden with succulents or annuals. A colorful blooming tree in the center will draw attention to the exterior of your home. If you have a fence, brighten it up with some vines of clematis or wisteria.
Front Door
Check for any damaged wood that needs to be replaced. Once your door is in good condition, you can start to make it look more inviting. Painting the door a vibrant color, such as red or blue, is a great way to add a punch of personality to the front of your house.
Adding a kick plate, door knocker, and a mail slot are small additions that make a big impact. Weather stripping and door seals should also be checked and replaced if needed. Installing a new doorknob that matches your hardware can also create a dramatic effect.
Outdoor Lighting
Path lights can be used to line a driveway or walkway, giving visitors a clear path and a sense of security. Adding wall lights around the entrance or front of the home can provide a warm, welcoming look. Spotlights or washing lights can show off the beauty of your home, shrubs, trees, and decorations.
Accent lighting for outdoor features such as a pond or statue can emphasize the unique aspects of your home. Make sure your exterior lights are correctly installed and secure, and use lighting fixtures that reflect the style of your home.
Window Boxes and Planters
Window boxes and planters can be used to soften hard edges on the exterior of your home, such as stone or brick siding. They can also add color or texture to a façade. Window boxes and planters can easily be installed with hooks, brackets, or holders, and you can find a variety of designs and colors to match the aesthetic of your home.
Planting them with seasonal flowers and plants is a great way to liven up the front of the house. Window boxes can be bought in a variety of sizes and materials, so you can tailor them to fit perfectly in your windows. Planters can come in different styles, from old terra cotta pottery to modern metal planters. You can find help to make your own planters if desired.
Fencing and Gates
If a fence and gate system is done properly, it can act as a beautiful canvas that highlights the house's architecture and landscaping. The common materials for fencing and gates, such as wood, vinyl, and wrought iron, are durable, long-lasting, and easy to maintain.
Having a fence and gate in place gives homeowners peace of mind that their home and family are more secure. Choosing fence and gate designs are surefire ways how to boost curb appeal.
Outdoor Furniture
A comfortable patio set or bistro table with colorful chairs can make the front yard inviting and attractive. You can also use outdoor furniture pieces to create engaging seating areas around the house. Place a few chairs and tables along a garden walkway, around a pond, or near a seating area.
A balcony or deck can be made even more inviting with a hammock, outdoor swing, or cozy loveseat. For those with larger spaces, a sofa or sectional with plenty of colorful pillows can be a great way to make your home stand out from the rest. An outdoor daybed can be a great way to relax and enjoy the views from your home.
Upgrade the Mailbox
While you have the freedom to pick almost any style and color you desire, some popular options include streamlined metal designs, whimsical stone designs, dark wooden cases, and even solar-powered mailboxes. No matter the style, be sure the mailbox compliments the overall look of your home and neighborhood.
Replacement of the box itself is a DIY job, although you may want to hire a professional for installation. Consider adding an address plaque to the post, lights around the mailbox, or even painting the post for added visuals.
Add a Focal Point
A focal point can be anything from a stunning painting house job, like the ones shown in the Totalpropainters.com portfolio, to an elaborate window display. They should be eye-catching and subtle enough to draw attention without standing out like a sore thumb. You can bring in a professional or try the project yourself.
Refresh the Driveway
Consider adding pavers or stones to the driveway to give it a more modern look. If you have a gravel driveway, freshen it up by power washing it or adding a new layer of gravel. You can also add a border of bricks or stones along the edges of the driveway for a more customized look.
Try adding some outdoor accent lighting to give the driveway an added touch of sophistication. Lastly, be sure to trim the grass and trees along the driveway to ensure a neat and polished look.
Plan Today With These Curb Appeal Ideas
Curb appeal is important, as it can drastically improve the performance of your home in the real estate market. With these curb appeal ideas, you can quickly and inexpensively spruce up the face of your home. Don't hesitate to enlist the help of an experienced contractor if the job is too big for you to take on yourself.
Start planning now and take your home's curb appeal to the next level!
Looking for more design tips like this? Check out our blog for similar reads.