No one can resist long shiny hair with full volume and a lustrous glow. Due to the external and internal factors found in the environment these days, it has become increasingly difficult to keep up with our haircare routine. Pollution, work stress and poor diet can cause hair fall and dullness. One of the best-kept secrets of haircare and skincare is found in Ayurveda. Many herbs and ingredients found in Ayurveda, such as Bringharaj, Amla, Coconut Oil, Goat Milk, etc., are great for hair care. Neelibringadi hair oil is another concoction of herbs in a base of oil that can improve the blood circulation in the scalp and aid hair growth.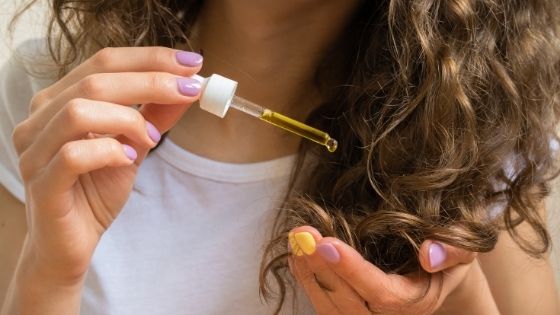 Hair Care Ingredients in Ayurveda
Ayurveda is a way of living and science that is preserved by generations of ancestors in India. Ayurveda advocates living with nature and synchronizing our day to day life with the sun, weather and the herbs and trees around us. There are some very potent ingredients in Ayurveda that are used in hair oils. These ingredients can help with all the following benefits:
Shiny Hair
Reduce Hair Fall
Reduces dullness
Improves Blood circulation
Improves Hair Texture
Neelibringadi Hair Oil is one of the most potent hair care oils with a mix of potent ingredients. These herbs help in improving hair condition and help in improving hair texture. It also helps in hair fall and helps new hair growth.
Benefits of Neelibringadi Hair Oil
Neelibringadi hair oil has amazing benefits for the hair. It strengthens the hair follicle and helps improve blood circulation. This ayurvedic medicine is very rich in antifungal and antibacterial properties and helps in keeping scalp infections away. The oil can even help in treating premature hair loss and balding in men. The ingredients in this hair oil are known to strengthen the hair shaft and prevent it from breakage so that hair remains strong and healthy.
Coconut oil is the base of this hair oil; the name of this hair oil is derived from its key ingredients: Neeli, which is indigo and Bringadhi, which is Bhringraj. Both these ingredients are known to improve hair health by promoting hair growth and help grow hair faster. Neeli or the Indigo plant also helps naturally color premature grey hairs. The Bringaraj extracts help in repairing damaged and dull hair, making it stronger and healthier.
Ingredients in Neelibringadi Hair Oil
1. Neeli – Indigo Plant
The Neeli extracts in the hair oil give a unique dark color. This indigo plant is potent enough to naturally dye the hair and make it stronger from within by preventing hair fall. This Ayurvedic medicine is known to relieve itching in the scalp, thereby improving scalp health.
2. Bhringraj
The king of the hair elixirs, Bhringraj, is known for its hair restorative properties. This herb is considered to be an anti-aging herb and controls premature greys and hair loss in men and women. Bhringraj is exclusively great for improving hair growth, promoting faster hair generation in the scalp.
Winter Cherry is referred to as Karnasphota in Ayurveda. This is especially great for improving scalp health as it controls spot baldness, also known as Alopecia. It also helps relieve signs of itching and flakiness in the scalp.
4. Amla
Amla or the Indian Gooseberry is one of the best-kept secrets for hair care for generations. Rich in Vitamin C—this fruit is helpful in controlling greys, improving and conditioning the hair and is a natural anti-inflammatory and anti-aging agent. Amla improves silkiness and smoothness in hair and makes hair look fresher and more youthful.
5. Anjana – Turmeric
The Tree Turmeric, known as Anjana in Ayurveda, is an amazing medicine for the scalp. It eliminates scalp diseases such as fungus infections and inflammation of the skin as tree turmeric is a natural anti-inflammatory, antifungal and antibacterial agent.
6. Coconut oil
Coconut oil is the base of this elixir. Pure coconut oil is brewed with the extracts of these potent herbs and then refined for usage. Coconut oil helps in cooling the scalp and makes hair shinier; it also conditions the hair and makes it look voluminous.
7. Goat Milk, Cow and Buffalo Milk
One of the unique ingredients in this hair oil is goat milk, cow milk and buffalo milk extracts. Goat milk is rich in protein which are the building blocks of hair shafts. Buffalo milk is also a great source of protein for improving hair texture and volume. Cow's milk is great for the scalp as it cools the scalp down and enriches it from within.