Tumblr was the go-to network of the early 2010s, but after a tempestuous period that saw it sold to Yahoo, some of its content censored and mass desertions, it fell from favor. Most digital marketers discount Tumblr as a way to advertise, but the platform is undergoing a renaissance of sorts and there are plenty of opportunities.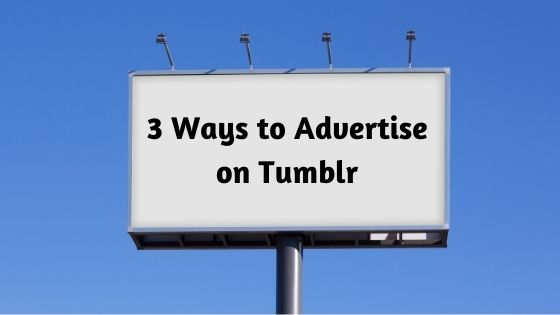 #1 Affiliate advertising
Affiliate is one of the oldest marketing techniques in the book. It's simple to set up, requires no initial cash outlay and can be lucrative if you have a large enough following. Affiliate marketers simply select a product, receive a custom link and then advertise that product on their blog. Whenever somebody clicks on the link you'll receive a percentage of the sale. This process can be repeated, so it's possible to earn a healthy amount if you identify the right niche.
Tumblr is the perfect place for affiliate because it fuses traditional blogging with social media. It's officially classed as a "microblogging" site, making it ideal for product reviews, endorsements and photos, which are then disseminated widely via the newsfeed. For effective digital marketing Manchester agencies recommend Tumblr as a way to reach a new audience outside the Facebook and Instagram bubble. Tumblr has a unique demographic that are fiercely loyal to the platform and trust what appears on the feed.
#2 Run adverts
Unlike Facebook and Instagram, Tumblr supports traditional adverts from platforms like Google Adsense. Tumblr's highly customizable themes are perfect for adding banners and sidebar ads, and if your blog enjoys large amounts of traffic these can be lucrative. And since the platform is designed to be user friendly, it couldn't be any easier simply to copy and paste advert codes into your blog's theme.
Unlike affiliate advertising (where the product is the focus of a piece of writing), traditional adverts require lots of traffic. Share your posts across other social networks including Facebook, Twitter and Instagram. Interact with other blogs in your niche, leave comments and likes and follow them. They'll probably follow you back, growing your audience and revenue.
#3 Pay for a sponsored post
Much like the other big social networks, Tumblr gives users the option to pay for sponsored posts. These take several forms, but they'll all put your post in front of a bigger audience, generating click throughs and leads. Intriguingly, sponsored web and mobile posts are paid for separately. This ensures that you can target a specific demographic, although it does mean that you'll need good awareness of your audience before you begin.
You can also pay to be a trending blog, which has the benefit of including three of your posts. These will be displayed on the Tumblr mobile app and labelled "trending," drawing customers towards not just the advert, but your whole blog. Finally, and perhaps the most visible type of advert, is the sponsored radar post. This appears near the top of the feed, making it hard to miss. Whatever you choose, sponsored posts are a fantastic way to tap into Tumblr's user base.