We are currently living in a technology-driven era where everything has been digitized. From maintaining books to sending invitations, everything has now moved to the online platform. Businesses have started abandoning papers and files, and have started using the virtual format of everything. But even in this era of virtualization, few of the traditional business materials have not lost their value and letterheads are one of them.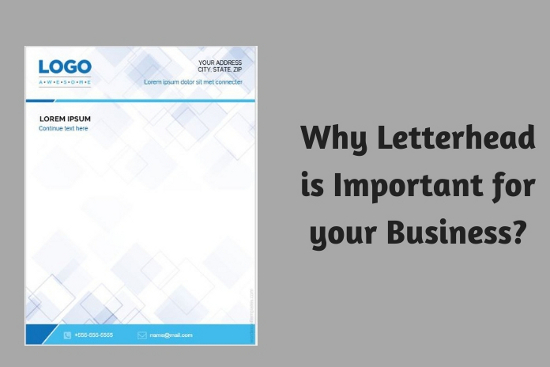 Letterheads in businesses are as old as time and it has never lost its value even when people started using a digital format for every business procedure. Letterhead is one of the most vital printing collaterals in any type of business. Many people consider letterheads as just a means of correspondence but you should know that letterheads are much more than that. A good letterhead can act as a physical representation of a business. This is why it's important to devote time and effort in its design.
So, let's go through the importance of letterhead for businesses and understand why you should devote time and effort in its design.
Increase brand awareness
Letterheads enhance brand awareness and that's why they are so important for every kind of business. Modern day firms spend huge amounts of money in boosting their brand awareness but 4 color letterhead is an economical yet effective brand awareness tool. According to the experts, letterheads act as one of the most valuable printed marketing materials that give a sense of credibility to your firm. You get the chance to put your brand, logo ideas, tagline, and information about your company through letterheads. In addition to this, the more you get your name out there, the sooner you will be able to enhance your brand awareness.
Promotes a sense of professionalism
Another great advantage of using letterhead is it creates a sense of professionalism to whoever receives it. Most of the firms still use letterheads because it allows them to offer a sense of credibility, which is almost impossible to achieve through any other form of traditional communication. Through letterheads, you can show trustworthiness towards a client that is not sure about your company. It has been seen that businesses using letterheads are considered to be more professional than those who use blank paper or any other form of communication. If you want to give a sense of realism and trustworthiness, then you should definitely use letterheads.
An economical advertising
Advertising is one of the biggest expenses for any company. The digital advertising modes might have lowered down the advertising budget but using the traditional methods of advertising is still very costly. But that is not the case with letterheads. Even after being one of the oldest forms of communication, letterheads acts as a great advertising tool since you are putting your company name and logo on it. Nowadays, companies have started putting their website address on the letterhead as well. All this information gives others a chance to further search about your company and that's how letterheads act as an economical yet effective advertising tool.
Gives you a competitive edge
As discussed in the outset of the article, now companies have started abandoning old mediums of communication and that creates an opportunity for you. If you start using letterheads for your company, then people will be able to recognize your brand much easier. While others will be communicating through digital mediums, your nicely designed 4 color letterhead will create a good impression on the client. This, in turn, helps you gain a competitive edge in the market. This is why, in many cases, letterheads can be the difference between you and other players of the industry.
Letterheads are still very important for businesses and it acts as trustworthy, legitimate and professional mediums of communication. From acting as an advertising tool for giving you a competitive edge, letterheads can enhance your business in many ways. So, choose the best letterhead design, get it printed on good quality paper and use it as the main source of communication for your business.