Humans tend to excel in every field of life whether it be a relationship, friendship, or business.The best way to reach the peaks in business needs great ideas, ideas need execution, and that needs communication. So, communication plays a vital role in every career option.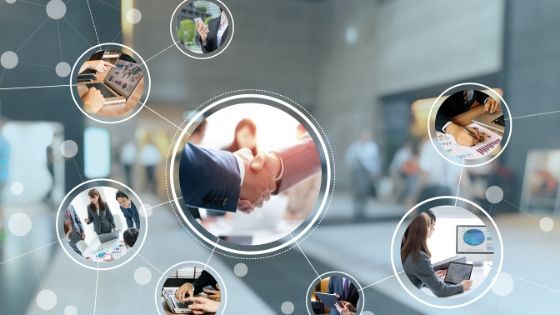 An individual with a combination of a technical mind and good communication is a great asset. The basis of business is STEM stands for science, technology, education, and maths. As business requires good communication we can use the science of understanding other person's thinking, technology to mold those ideas, education for an organization, and maths to use observation on correct timings.
These all are needed to run a business and achieve goals. In the era of the global expansion of business, we require marketing, advertising, investor relations, public relations, etc.. These all required corporate communication.
To climb the ladder in a strategic form we need to step planning, organization, staffing, directing, controlling along with good communication.
If you want to take your company to a global level you must master the skills of marketing and it can only be achieved by effective business communication skills.
Factors of business communication
It encircles 4 types.
1. Lower to subordinate level – this is internal business communication. It may or may not be formal. It involves a lower level of top management.
For instance- a report was submitted on an increased electricity bill so it helps the HR manager to understand the root cause and problem of the increasing bill.
It comprises feedbacks, reports, complaints, or any other issues. Hence, nature is inclusive.
2. Superior to the lower level – It imparts information from top-level management to lower level.
For instance- there is a vital announcement regarding working from home and office hours. This information has to be communicated by the top-level by notice board, e-mail, or any other method which is suitable for the office.
Nature is instructive.
The goal is to direct employees in the same vision.
It can be written as well as oral. Written communication includes e-mail, notice boards, manuals, etc. oral communication includes meetings, telephonic conversations, etc.
3. Lateral communication – it is a type of communication between employees of the same branch or may be of a different branch.
For instance- a company is involved in diverse business portfolios and HR needs to be updated with every department hence HR works with interdepartmental heads.
It is more common among employees
It increases a sense of belongingness and further increases productivity
Communication methods are e-mail, chats, messaging, etc.
4. External communication – is the most important type of communication as it carries the business image. External communication happens with the people who don't belong to the company.
For instance-a marketing department communicates with the sales department about the trends, people's choices, market prices, prospects.
These people are venders, shareholders, partners, suppliers, etc.
A satisfied customer will always increase sales for a company so better the communication better the sales and the company's reputation.
Goodwill and performance of the company will enhance.
Importance of Business Communication
• The flow of creative ideas – employees are free to communicate their ideas. Engagement with the employees led to the flow of creative ideas.
For example – according to a survey conducted by Gallup a highly engaged business is more likely to have 21% higher profits.
Engaged employees are loyal, focused, enthusiastic, and committed to personal and organizational goals.
• Makes objective clear – effectivebusiness communication makes the objective clear and understandable. The more an employee involves in business the more he gets knowledge and business practices.
For example- if business mission and vision are clear to all the members of a business then it will facilitate an organization to achieve by not neglecting the personal goals of employees.
• Teamwork – Good business communication helps to build team spirit and cooperation among employees at various levels.
Open communication builds trust among employees and team leaders.
Less burden on an individual
Always follow the pragmatic approach
Easy in getting regular feedback and working on the gaps.
• Two- way communication – customer satisfaction is the main motive of every business because the market revolves around the customer. If a business has poor communication, then the business will never come to know about what customer wants therefore it will increase low morality among customer and will greatly affect the business corporate image.
• Networking in business – it is a social-economic activity for the expansion of the current business.
For example – a persuasive speaker is needed to deal with the clients to attract them towards the organization.
• Employee productivity – according to a survey conducted in various organizations it is to be believed that 90% of the employees agree that business communication has enhanced their productivity
Effective communication saves employees time because employees will have easy accessibility to the information.
It will evade misunderstandings and confusion.
• Increases transparency – A good communication outcast the transparency in communication at various levels. It revolves around good presentation skills. Presentation skills are wholesome of skills, intelligence, and personality. Every employee should get a chance to present.
• Planning: Communication with employees can bring up new ideas and could help in a successful business. It includes SWOT-strengths, weakness, opportunities; threats by all co-workers can help in less possibility of roadblocks. Communication ensures that the objective is clear and creates engagement and a higher level of creativity. it makes sure the contribution of each stakeholder in the project.
• Fair workload – Time management is the key to achieve success. Good communication motivates employees to better dedicate to their work which in turns leaves ample time and resources
Tips to improve Business Communication
Follow 5C's approach – It includes clear, concise, consistent, complete, and considerate of employee's knowledge.
Clear vision – employees should get acquainted with the mission and vision of the company.
Good listener – it is the 'must-have' skill for every business organization. As I have mentioned earlier that communication is a two-way process so one should listen to others and try to empathize.
Try to engage everyone from top to bottom level because it develops a sense of belongingness.
Make sure the delivered message is clear to everyone so choosing the right medium is necessary.
Use one Digital Platform: Many SMEs operate on different softwares that either overlap or produce a gap between functional areas.As a result there is a lack in communication between teams.Data from department to department then is not always transferable in raw form and must be "translated", or converted, for useful analysis. To overcome this problem, using one platform to manage business processes from customer inquiry to dispatch is advised.
Jessica Rector is one of the best corporate keynote speakers in the world who will motivate your employees to be their best. She has spoken at over 100 events, and her clients include Google, Apple, Facebook and more.
If everyone is leading the same path, then successes will surely come. Good communication fosters productivity and efficiency by limiting the wastage of resources and at the same time increases the employee's productivity. For instance, a manager must communicate with new employees to boost their morale. Better the communication lower will be the turnover rates. When marketing and selling go hand in hand we can see significant growth in business.