When it comes to game development, a top-notch gaming engine is a must. These powerful software tools enable developers to reduce coding efforts and deliver highly immersive gameplay experiences.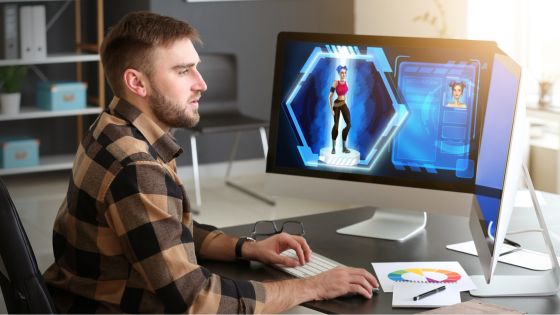 Unreal Engine, developed by Epic Games, is the choice of AAA game studios and indie teams alike. It provides industry-leading rendering speeds and offers superior graphics quality.
1. Unity
Unity has a low entry barrier, allowing indie devs to create games that can be sold on multiple platforms. It's also great at adapting games to lower-grade hardware, which is essential for mobile gaming.
It has a lot of user-friendly assets and a large community that is always ready to help. Its 3D graphics tools are scalable and come with options for different physics systems.
2. GameMaker Studio
GameMaker Studio is a 2D game engine designed primarily for people who want to make 2D video games. It's the engine behind games like Hotline Miami, Levelhead, and Crashlands.
It's particularly adept at handling pixel games and is beginner-friendly. It's also one of the few engines that supports cross-platform development and play. It's also stable and fast. This is especially important when building big, complex games.
3. Unreal Engine
Developed by video game and software developer Epic Games, Unreal Engine is one of the most powerful 3D computer graphics game engines. First introduced with 1998's first-person shooter (FPS), it's largely used for video games but also in other graphics-heavy industries like film and architecture.
It allows developers to construct UI with editable Blueprint widgets. It also has advanced gameplay frameworks such as MassEntity for large AI systems; State Tree, a general-purpose hierarchical state machine; and Gameplay Ability System.
4. GameSalad
GameSalad is a game creation software company that provides non-programmers with tools to create 2D games for Apple's iOS mobile devices and HTML5 games. Unlike other engines, GameSalad allows users to test their constructed games instantly, without the need for an export or porting process.
It also has drag and drop abilities and supports a variety of programming languages. New features have been released regularly.
5. Phaser
Phaser is a 2D game framework that simplifies the process of creating web and mobile games. It uses HTML5 Canvas and WebGL for rendering, allowing developers to create visually stunning games that are responsive on multiple platforms.
This engine has a great community and it's easy for anyone to use with JavaScript knowledge. It features a scalable scene system with state and transitions, an arcade physics engine, and more.
6. Enigma
Game engine software centralizes the many aspects of making video games. This allows developers to code a single game without having to individually edit each function. This makes the development process faster and easier.
This framework is a great choice for beginners as it has a friendly learning curve. It offers physics and other features that are usually only available in more powerful stand-alone game engines.
7. Solar2D
Solar2D, previously known as Corona SDK, is a free open source platform for developing 2D mobile best uk casino games. It features an intuitive blueprint system for non-programmers and a marketplace with free assets.
This engine is popular for its ability to render high-detailed graphics. It's used to create next-generation games that look photorealistic. It also supports VR and advanced visual effects. It's available on Linux, Windows, and Mac.
8. BuildBox
Kwalee is one of the best-known hyper-casual mobile publishers, and his new partnership with codeless game development platform Buildbox offers an intriguing opportunity for indie developers. Standout games made with Buildbox will appear on Kwalee's radar, and he may offer a publishing deal.
Buildbox features drag and drop interfaces that make it easy to create 2D or 3D games without coding. It also includes presets, smart assets and advanced features.
9. Cafu Engine
Cafu Engine is an all-purpose, modern 3D graphics engine and game development kit. It is feature complete and is actively developed.
Game engines reduce production costs and foster innovation by sparing developers the chore of reinventing the wheel with each new game they create. They also enable developers to meet the increasingly harsh annual release schedules for many major titles.
Drag-and-drop GameSalad makes it possible for 10-year olds to create games, while platforms such as Unity and Corona offer easy deployment across multiple devices.
10. Enigma
Enigma is great for beginners since it's easy to learn and comes with a huge suite of different tools. It also has a passionate community.
Phaser is a HTML5 game framework and focuses on 2D games. It offers physics and all the features you'd expect from a www.casinoadvice.io good game engine. It's a great choice for anyone looking to make the next big mobile hit.