Choosing a web design company in El Paso for your business can be tricky. With so many options available on the internet, it's important to make sure that you do your research before selecting an agency to work with.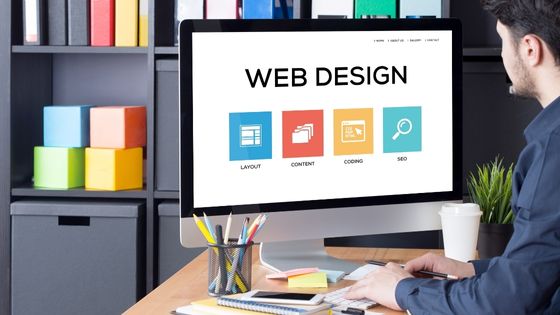 A simple Google search yields 1.8 million results for "el paso web design" alone! Again, it depends on where you're at in the process of developing a business, established agencies are a safe bet and have time-tested methods of delivering quality work. Newer designers with fresh ideas require more direction but they may bring more creative energy to the table. How do you know which partner will get the results you're looking for?
To help you in this process, we've made a selection process to define which are the best web design companies in El Paso. When we checked out web design services in El Paso, we took into consideration a lot of different factors.
How do we select the top three web design companies in El Paso?
1. Customers and portfolio
We reviewed their portfolio and based on the quality and size of their clients, we were able to put a rating in comparison with the other competitors. The portfolio is the best cover letter for a web designers team.
2. Google Reviews
We review the overall rating as well as the comments and sentiment of the comments left on Google reviews. We made an assessment of the veracity of the comments based on the profiles of the people who left these reviews.
3. Experience and certifications
We review how many years of experience the company has, as well as its members and their qualifications, and their certifications, which are a very important factor when selecting a web design company in El Paso.
The top 3 web design companies in El Paso
#1 – New Emage Web Design
New Emage is a web design company founded in El Paso in 2005, in this time they have worked with companies and organizations worldwide, but they have never stopped offering their services to small and medium businesses, promoting through technology and creativity the growth of businesses and organizations.
Founded: 2005
A comment from their clients: "Its professional staff has taken my business to a higher, better level. Right after I hired them, the traffic dramatically increased landing with potential clients. My telephone did not stop ringing!!!"
Website: https://newemage.com/
#2 – HelloAmigo
Hello Amigo is a brand agency that provides smart branding, programming and digital advertising technologies to power their clients' brands, operations and engagement. They use these technologies to make brands smarter, more efficient and more visible.
Founded: 2013
A comment from their clients: "Their real strength is the creativity of their team and the quality of their designs."
Website: https://helloamigo.com
#3 – Phidev
Phidev helps all types of organizations who are passionate about technology, and who believe that the web and mobile phones are changing how we live, work and run our businesses for the future. We sit with people to learn about their business problems and challenges, then we provide elegant, beautiful web/mobile strategies and solutions to help them find ways to grow – from ideating, content creation, and even app development.
Founded: 2008
A comment from their clients: ""They've been able to do whatever I need."
Website: https://phidevinc.com/
How to Choose a Top Web Design Company in El Paso?
Picking the right web design company El Paso can be hard. But it will either make your website a success or simply leave you with nothing more than an online failure. Before you can begin a web design project, you need to understand exactly what your site will be used for. If you are unsure, talking to an agency expert should help.
It is so important to review a web design company's work portfolio before hiring them, including their digital products. Experience also speaks louder than words, which is why it is critical to thoroughly check out the company you are about to hire. This demonstrates its style, design, and technological expertise. The best web design agencies will take on this process for you because getting the brief right from the start can help you to save money in the long run. This will also provide you with a higher quality result.
Then you need to decide what budget you'll be working with for your web design project. If the price seems too high, just talk about scaling back the size or scope of your project to a more affordable price point. Though, make sure to plan ahead so you can deal with any unforeseen circumstances
Getting feedback from prior customers as well as looking for reviews on independent sites is always a good idea. This is to say nothing of the importance of visiting Google My Business and making sure your company is reputable. Social media is a great place to evaluate potential agencies and a complete open venue for them. You can get an idea of how their rating is, comments made on the site, etc.
Tips for you to select the best web design company
Now that you know who the best web design companies in El Paso are, follow these three recommendations when hiring them.
Ask them about their web design and development process.
Web design and development is one of the most integral stages of any project. Whether it's a new website, an e-commerce store, or a mobile app, the initial design has a huge impact on how well it communicates your message to your audience.
How a company approaches web design and development can tell you a lot about them. It helps you keep realistic expectations as well, as it shows critical milestones midway through the process. You also get an allotted number of revisions each time."
Get On Board With Realistic Expectations
Any professional web design company will walk you through the process of designing and developing your website, explaining what needs to happen for the project to be delivered on time.
It's not uncommon for companies to periodically update you about the process and require your feedback at each stage. If feedback is delayed, it can prolong the timeline
Decide Your Budget For The Ideal Website Design
The last and most important tip is to have a budget set for your next website design project. Before you sign on to any design company, know how much money you want to spend on the project.
It's always a good idea to have a budget in place before choosing a web design company. Knowing the 'what', 'how much' and the services they can provide is important before you get in contact. They provide packages with fixed or flexible prices.
If you find a price that matches your requirements, don't wait a second before contacting them. Get yourself connected with one of their experts and the project can start!