If you are experienced in the field of engineering, you may reach a point in your career where you feel you have done everything. When this is the case, you may decide to open your own engineering firm instead of simply retiring. This is a great option for those who bore easy and enjoy having a project on the go and a goal to work towards. But what steps need to be taken when starting an engineering firm?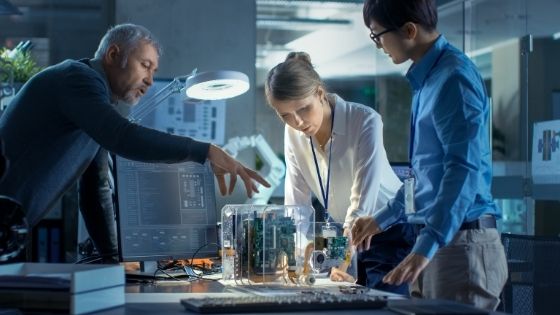 Select a Specialized Field
Engineering is such a varied field and in order to make an impact in the business sphere, you will need to narrow down your interest. To have reached this point in your engineering career, you will have studied for years and so it is wise to specialize your career in your trained field. Specializing in a particular field will influence your clientele to trust you more as they will be confident that you are knowledgeable and experienced.
Make a Business Plan
Once you have selected your field of interest, you can begin to draw up a business plan. This will need to address the estimated capital that you will need in the initial stages, the location of your business, your target clientele, your marketing approach, how many employees you will need, and your goals for the first three to five years.
Secure Financing
Starting your own firm can be an expensive process and you will need to secure the funds to do so. You will need to pay for employees, equipment, permits, and licensing and might consider a business loan to help you with this. Alternatively, you could look into business partners, credit cards, personal savings, and SBA loans. A successful firm will typically be able to pay these back with ease.
Register Your Company
In such an elaborate field, you will want to gain some credibility for your business by officially registering your company. In order to do this, you will need a Tax Identification Number and an Employee Identification Number. Overall, this process should be complete in a matter of days.
Find an Office Space
Whether you purchase or rent an office space, it will be a necessary component to the functioning of your engineering firm. You will need to hold business meetings, sign deals, and facilitate other business-related matters.
Hire Employees
When finding employees for an engineering firm, you will require a very specific set of people with training in the field. To narrow down your search, you may use UK engineering recruitment agencies, as they will take charge of the screening process so that you do not have to. This will save you from wasting your time with candidates who do not have the necessary training or experience.
Advertise Your Company
No new company can make an impact in the business sphere without ample advertising. You need to make consumers aware of your service and find a way to ensure that they remember you. Digital advertising is the most accessible form of marketing in this day and age through search engine and social media ads. If you want to be noticed, you need to infiltrate this circle.
Conclusion
Of course, starting any business is a lengthy and complex process and should not be entered into lightly. These steps are a guideline for what is typically required when opening your own engineering firm but, in practice, this is much more elaborate. Particularly for an engineering firm, your knowledge and experienced will have to be unmatched to be successful. The keys to success are planning, focus, and determination, with these in mind you will be closer and closer to success.