Studying brings a lot of challenges, so first-year students are often overwhelmed with their new responsibilities. They have to process much information and perform successful essay writing in various disciplines. Indeed, now students can benefit from online sources to conduct research and save a lot of time. Still, they want not just to develop their knowledge but also improve their achievements in education. For this purpose, we present ten tips you can use to optimally reach your studying goals.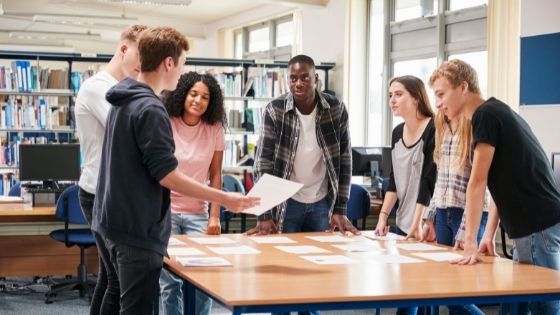 1. Always remember the deadline
Delaying the task's completion till the last minute is the worst tactic you could choose while searching for better grades in class. To be on time with everything, you should strictly plan your days, weeks, and month. Control your time with such mobile applications as School Planner, Any.do, or TickTick. These tools work as reminders, planners, to-do lists, and calendars.
Spread your tasks wisely and define how much time you should spend on each. You can even plan your writing process for better productivity. For instance, set a time limit for research, writing the first draft, editing, and rewriting. Give a maximum of an hour for each step and see how you can finish your essay in one day.
2. Keep your studying area organized
Everyone wants to run away from an untidy place where everything is just a mess, right? So, you are no exception. Clean up your studying corner, get rid of all the trash, and leave only necessary stationery supplies. Your desk should be a place that welcomes you back. It is also the place where you can take inspiration for new ideas for your projects.
Luckily, many YouTube bloggers share their recommendations on a makeover. You can watch IamJustOlena, Thomas Frank, and Seed Successful You videos where you can enrich your understanding of how to find extra storage and re-organize your stationery.
3. Read relevant literature
When students prepare for classes, they mistakenly start to look for every possible book, article, or document to seem more competent. Actually, there is no need to dig through all the sources to get essential knowledge. First of all, you need to get a basic understanding of what you learn about and present it in a simple and concise explanation.
Try to describe each topic clearly before starting your project. Find everything from the list of recommended literature, and if you don't have it, get the assistance of your teacher. When you select some references and want to extract quotes from your assignment, ask your teacher's advice first and see what you can include in your work.
4. Develop your writing skills
It is difficult to improve your studying results if you don't work on your writing. Develop your style by implementing daily writing habits. If it is hard for you to write on a certain topic, try expressing thoughts. Some people practice with morning pages and others write at evening about the events of the day.
Don't avoid the opportunity to share your knowledge about a specific topic in a special notebook. For instance, you can start your project on a topic that touches you without waiting for a special assignment from the teacher. Thus, you can develop your writing style without being afraid of evaluations. After two or three regular writing sessions, you become more confident in delivering ideas.
5. Dedicate more time to research
Some students neglect the researching process and start with writing what they know. Their knowledge might not be enough to reveal the topic properly. For this demand, students need to spend more time collecting facts and information about their assignments. When students usually find evidence for their essays in books, you can work with different research methods.
For example, when you write a lab report, you will use the experimental method, and if you work with a compare and contrast essay, you can survey various groups of people whose opinions differ. Also, you can interview a special person who is acknowledged in your study or provide your analysis with graphs and numbers. As we said earlier, avoid using too much literature, video links, or articles. Select two or three valuable sources to support your project's idea.
6. Edit your texts with peers
Asking for a peer's response could significantly impact your educational achievements. It helps you to analyze your text better and improves your communication skills. Work on grammatical, spelling, and punctuation issues together to learn from them and not repeat them in future assignments.
Usually, students get lower grades on their papers because of the wrong formatting style. Follow strict guidelines of the citing style you are assigned to (MLA, Chicago, APA, Harvard, or another) and let your teacher check it before printing the final version.
7. Walk with a notebook
This great habit could significantly impact your studying process. When standing at a bus stop or waiting your turn for the doctor, you can always get a great idea to use in your essay. However, if you don't have a notebook and pen at hand, you can easily forget it.
Indeed, many modern students today like the old school method of noting thoughts briefly, but those who don't like writing by hand can try such mobile applications as Evernote, ColorNote, or Google Keep.
8. Develop a healthy lifestyle
It is hard to concentrate on your studies if you have pain in your back. Think about your body condition first because it is an important part of improving your studying habits and other aspects of life. Get your doctor's assistance on daily exercise, a nutrition plan, and other recommendations you can use to make yourself healthier, happier, and ready to brainstorm.
9. Always ask questions
It is an essential part of research when managing any assignment. For instance, when you need to investigate a psychological topic or write a lab report on chemistry, you should always clarify with your teacher what exactly you should include in the project. Don't be shy of asking any questions concerning your subject and strictly follow the instructions. After you learn to stick to guidelines, you can always add creativity to your studying process, whether you're writing a charity essay or preparing for an engaging speech or presentation.
10. Focus better
Concentration is one of the hardest skills to develop today; still, it plays a central role in the studying process. If you want to finish your tasks as soon as possible without sacrificing quality, focus on the current task for a limited amount of time. Such applications in your smartphone as Focus To-Do, Forest, and Study Bunny will help you to increase concentration and productivity.
Final Words
Using these ten simple but important tips, you can see how to become more engaged in the educational process. Don't make a high grade the most vital achievement; instead, set a goal to gain new skills and knowledge on your particular subject. It will help you not only to become a successful student but also a recognizable specialist in your professional field.