Unveiling the Vision for Your Sanctuary
Bathroom remodeling is akin to creating an oasis within your home. A place where you can retreat, rejuvenate, and relax. The first step in any remodeling project is to conceptualize your vision. What do you want this private sanctuary to look like?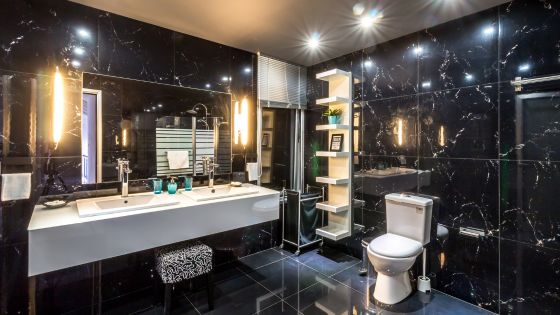 Take some time to consider the elements you would like to include. Perhaps you're drawn to a spa-like setting with a large soaking tub, a rain shower, and a sauna. Or maybe you prefer a minimalist design with sleek lines, frameless mirrors, and a floating vanity. Your dream bathroom could even have an antique feel, with a clawfoot tub and vintage fittings.
Whatever your vision, it's important to define it clearly at the outset. This clarity will guide your decisions throughout the remodeling process.
The Power of the Right Products
Selecting the right products for your bathroom remodel is paramount. High-quality fixtures and materials not only ensure longevity but also add a touch of luxury.
Consider the type of bathtub that would best suit your needs – freestanding or built-in. Opting for top-tier brands for faucets and showerheads can elevate the overall aesthetics. A dual sink vanity unit might be ideal if you share the bathroom with a partner.
But remember, it's not just about the look – comfort and functionality are equally crucial. For instance, radiant floor heating could be an excellent addition for those chilly winter mornings.
Color Theory in Bathroom Design
Choosing the right colors can make all the difference in setting the mood for your bathroom. Soft, pastel shades or earthy tones often work well, creating a serene and inviting atmosphere.
On the other hand, a bold color palette with vibrant hues can make your bathroom stand out. An accent wall or patterned tiles can add personality and depth to the space.
Remember, your bathroom should be an extension of your personal style. So don't be afraid to experiment until you find a color scheme that resonates with you.
Accessorizing Your Space
Accessories are the secret ingredients that bring your vision to life. Plush towels, elegant soap dispensers, stylish robe hooks – these seemingly small details make all the difference.
Consider adding artwork or potted plants for a touch of nature. Candles or diffusers can add a sensory experience to your bathing routine.
These elements not only add personality to your bathroom but also enhance its luxurious feel. So take your time when choosing accessories – they are the final strokes on your masterpiece.
Hiring the Right Professionals
At this point, you might wonder how to bring this all together. The answer lies in finding the right professionals who can translate your vision into reality. Expert remodeling contractors St George Utah, for instance, have the skills and experience to handle such projects with finesse.
They can help you finalize your design, choose the right products, and manage the construction process efficiently. Hiring professionals can ensure that your remodeling project runs smoothly, without unnecessary stress.
Navigating the Remodeling Journey
Once you've hired professionals and finalized your design, it's time to embark on the remodeling journey. This journey involves demolition, construction, and installation of new fixtures.
Be prepared for some disruption as your existing bathroom is transformed into your dream space. But remember, the end result will be worth it – a personal sanctuary where you can relax and unwind.
A Final Word
Now that we've walked you through the process of luxury bathroom remodeling, you're hopefully better equipped to begin this exciting journey. It's not just about renovating a room; it's about creating a personal sanctuary that reflects your style and caters to your comfort.
With careful planning and the right professionals by your side, your dream bathroom can become a reality. So go ahead, start envisioning your perfect space today! Remember, the bathroom is more than just a utilitarian space – it's a canvas for your creativity and a reflection of your personality.