Brochures are one of the most important parts of the traditional printed marketing collateral and even in an era of digital marketing initiatives, businesses are not hesitating from using brochures as a part of their marketing strategy. It doesn't matter which type of business you are running, which industry you are in, or which type of marketing strategy you are using, a brochure can always fit like a glove in your marketing goal and give expected results.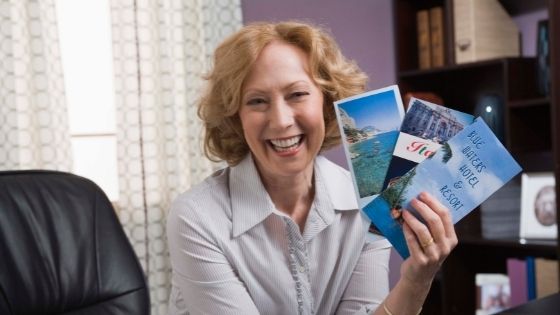 Brochures have survived the test of time because they have been always considered as a collective item not only because of their appealing visual effects but also because of the detailed information they provide regarding a product or service.
But the benefits of a brochure are not a secret and therefore almost all the businesses out there use it as a part of their marketing strategy. And therefore, if you want to embrace the perks of a brochure then you must learn how to design an impeccable brochure so that it can stand out among the rest. Keep reading to stay illuminated.
Here are some of the best brochure designs that you can use to stand out from the crowd.
Go dark
Black is not only one of the most sophisticated colors but it is also used to draw attention without putting in much effort. By using bold colors on a dark base, you can always make people succumb to read your material and you can also make the material pop up from the page. Well, the same strategy can be used in the case of brochures.
Instead of using funky and light colors, you can ask your brochure maker to stick with a dark shade or simply black color as this will make your brochure look sophisticated and more people will be interested in reading it.
In addition to this, you can also use glow-in-the-dark ink and it will make your brochure readable even in the dark. Some of the entities that love using glow-in-the-dark ink are movie theaters, nightclubs, and even restaurants.
Rejuvenate the geometry
Many people think that when it comes to the geometry of the brochure they always have to stick with the traditional rectangular shape. When it comes to brochure design then you should never confine yourself to traditional practices as this will limit the ways through which you can make your brochure stand out from the rest.
You can ask your brochure maker to come up with new shapes and sizes as the market is flooded with rectangular-shaped brochures and your brochure should never get lost in the crowd.
You can choose a die-cut museum brochure with a gatefold or you can simply choose a square brochure along with stylish design and modern looks. This is just a glimpse of geometry options that you can experiment with while designing a brochure for your company.
Shift to an iron cross
The iron cross is basically a type of fold that instead of opening inwards, opens outwards from the middle along with four outside panels that make a cross shape. This is how this unique fold got its name.
The iron cross is still one of the best-kept secrets in the world of print marketing as there are only a few marketers who truly understand the effectiveness of iron cross. If you are going to use this type of fold then the reader will have to put minimum effort in opening the brochure and reading it.
Integrate with digital marketing
If you are really interested in getting the best results from your brochure then you need to start working on integrating your brochure with your digital marketing strategy. For example, you can customize the brochure or the content inside the brochure according to the browsing history of the recipient or the type of items they have in their shopping cart.
It is the power of variable data printing that allows you to come up with customized brochures printed by a brochure maker. For example, if a person has spent a whole week adding and removing lighting gear on your website that person would love to receive a brochure containing information about the lighting gear.
You just have to choose the right method of collecting data related to the potential customers on the digital platform and then use that data for customizing your brochure. This is going to increase the efficiency of your brochure and the customers will get to know that you really care for them.
There are many businesses out there that are streamlining their marketing strategy with the right type of brochure and if you want to stand out from the crowd then you must use the tips mentioned in this blog post while designing a brochure.