Every home or business owner across the country runs into required home improvements, aesthetic upgrades, and miscellaneous repairs. A roof completes the house's structure and provides shelter, shade, warmth, comfort, and a complete sense of mind for the property and its inhabitants. The problem is while a roof is meant to sustain long life, it won't last forever, and when things begin breaking down or wearing in – you may end up in quite the predicament, to replace the roof or not to replace the roof and prolong the list of repairs.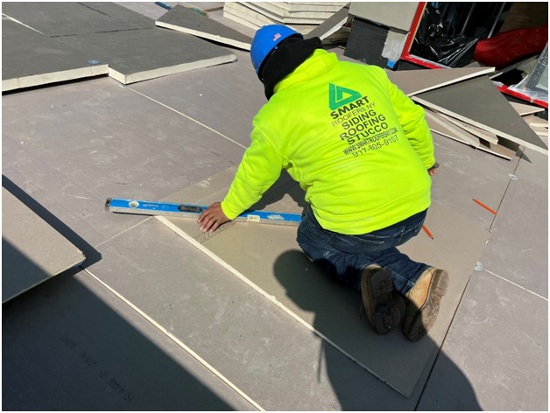 In New York, residents face wet, cold winters and sticky summers – those elements are another factor in the aging and function of roofs. NYC roofing companies have long been in business to provide their friends and neighbors with their knowledge and skill in repairing, replacing, and maintaining roofs across the city. When you notice a leak, missing shingles, difficulty with your energy bill and energy efficiency, or any repeated need for repairs – it may be time to officially consider installing something new in place of the sturdy structure that once served your home or business well.
Current Roof Conditions
You will need to assess it from every angle, and it doesn't hurt to consult with roofing professionals for their expert opinion on the matter. Sometimes things are more prominent, and in other cases, the issues are subtle but just as catastrophic. You must analyze the details and goals you want to achieve by installing a new roof. Check out all of the following:
Age in contrast to the projected lifespan of your roof.
Visible damage or bald spots in your shingles or throughout your roofing materials.
Plants, Moss, and Algae are all signs of moisture, which could indicate mold.
Sagging, lagging, or pitched roof.
Leaks into the attic or through the ceiling.
Understanding Roofing Material Options
Making a complete replacement and choosing to install a new roof is a significant project that cannot be completed without the help of roofing specialists. You may be daydreaming about the final project, but that doesn't show up overnight, and that requires serious dedication and attention to detail. Consulting with the pros will help you gain clarity on current damages and conditions, options moving forward, pricing, timeline, and materials. The materials that go into supporting your roof should be sustainable, durable, and sturdy – as they are meant to provide shelter and safety for your entire household.
Understanding how to choose the perfect roof type and roofing materials is essential to the replacement process. Roofs are a serious commitment and a long-term investment in your home's value and aesthetics! You will want to assess the materials in part by determining what you would like to prioritize in a roof – are you hoping to upgrade from your original materials, do you need something for durability, or do you want to use eco-friendly options? Your roofing contractor should provide many options and suggestions with your budget and priorities in mind.
Evaluating the Cost
Budgeting matters, especially when you live in New York City – while residents are lucky to have some concept of rent control, the cost to purchase a home or condo is astronomical compared to other states nearby. Every household or business has a fixed monthly budget for their bills, goals, wants, and necessities. When you grapple with roof repairs or damage, they are not always something you can plan for. If your roof replacement is planned or unplanned, it will affect the budget, but it is essential to work with your roofing team to ensure you stay within your designed pricing limit while still maintaining your roofing wants and needs!
Preparing for the Details
Many little details can become an oversight when installing a new roof for your property. It is easy to see past these sorts of things because, as a consumer, you are just looking at the result; however, it takes a little while to get there. You should continually assess the projected timeline and goals around daily scheduling for the roof replacement – generally, they take 3-7 days, but that can easily change if they run into mold, significant structural damage, or other unforeseen circumstances with materials.
Be prepared for the noise because building and piecing together a new roof isn't the most silent process. This may be an obvious factor, but it may not be something you consider when prepping for the start of the project. All the details should be reviewed upon your consultation and estimate, and you can continue to ask questions along the way with your roofing contractor or personal roofing consultant!
Finding the Perfect Roofing Contractor
Choosing the perfect roofing company for your project is one of your most significant decisions. Start scoping locally, check references, get a referral if possible, and list the priorities or characteristics you desire in your roofing team. You are privileged with many options living in New York, so you can gain multiple estimates and undergo a few consultations to compare the pros and cons of each company or contractor you meet with.
Smart Roofers NY offers premium, professional roof replacement services to their fellow residents of New York City and neighboring communities. As licensed, bonded, and insured roofing contractors locally – their team offers various roofing services. It is always their priority to deliver complete and utter satisfaction to every client. When approaching any roof replacement, you must have a local and reliable roofing contractor that you can trust and depend on. Working with professionals will upgrade your comfort, security, home, and business!