So, you're a wannabe kitchen superstar? You've got the best nonstick cookware, the snazzy apron, the lovely kitchen, and some time to commit to making amazing food. Now what?
Well, now you have fun!
It's time to fill your life with inspiring cookbooks, culinary-themed blogs, and podcasts. In addition, it's a really good idea to follow the best of those in the know about food – chefs. They can offer a range of cook-alongs, recipes, lifestyle specific culinary tips, and more. All you have to do is follow the type of chef that inspires you to whip up a storm.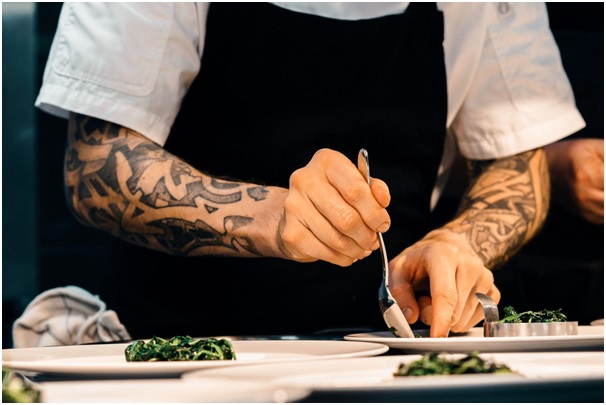 To help you find the right inspiration, we've got the lowdown on six amazing chefs to follow if you want to improve your cooking skills:
1. Jenner Tomaska
Jenner is from Chicago and works predominantly within fine dining circles. For this reason, he is not the chef for you to follow if you want hearty family-friendly meals. Instead, if you want to learn some challenging and impressive kitchen skills and you're a bit of a dinner party performer, this is the chef for you to draw your inspiration from.
2. Gaz Oakley
Statistics tell us that yearly growth in the realm of vegan and plant-based products has grown 21% (vegan products) and 58% (plant-based). The market has clearly responded to so many of us eating less meat and dairy for animal welfare, health, and environmental reasons.
Whether you're vegan, flexitarian, or a Meat Free Mondayer, you should be following Gaz Oakley. He's on Youtube and Instagram, has a blog, and he's an author too. He creates a wide range of vegan meals, but if you're a PB fitness enthusiast, you'll particularly love all the high-protein recipe ideas he's well known for.
3. Georgina Hayden
Georgina Hayden is an award-winning writer and cook, with roots in Greek Cypriot cooking. Her recipes are largely Mediterranean, and you can see them on Youtube, Instagram, and her blog. Georgina is the chef for you if you want to make delicious, colorful, family-oriented meals everybody will love.
4. Nisha Katona
Nisha Katona is an author, chef, TV presenter, and owner of several restaurants in the UK. The core of her work is around Indian cooking, with a focus on making it more accessible to those who are new to it or who find it difficult. Think incredibly delicious, colorful, crowd-pleasing dishes that are often highly cost-effective once you've stocked up on the requisite spices.
5. Bingeing with Babish (Andrew Rea)
Chef Andrew Rea recreates food you have seen on TV and in films, down to every minute detail. Along with these exciting recreations, you will see all kinds of great basic cooking tips and knife-skill tips, which are very handy if you're a beginner.
You will find his content mainly on Youtube. He's a great chef to follow if you feel inspired by detailed culinary creativity.
6. Cooking with Dog
A more unusual option, but a popular one nonetheless, Cooking With Dog is a collection of narrated videos showcasing authentic Japanese recipes. The host of the show is actually a dog named Francis, and the chef is a lovely lady named 'chef' whom we know nothing about. It sounds weird, but somehow it just works.
Are You Ready to Cook Up a Storm?
Why not follow some of our amazing chefs above to get inspired in your own kitchen? Soon enough, your culinary skills will be improving at speed, and you'll be making delicious dish after delicious dish to delight and surprise family and friends.