The world of fashion is always on the move, and this season's footwear trends are no exception. From classic styles with a modern twist to innovative designs from brands like Crocs that redefine comfort, the footwear landscape is brimming with exciting options. So whether you're a fashion enthusiast or simply looking to refresh your shoe collection, here are the top six must-have footwear trends of the season that you won't want to miss.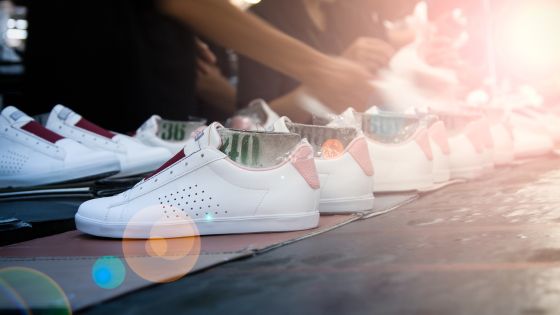 1. Comfort with a Twist: Crocs Revolution
Comfort and style often find themselves at odds, but the latest footwear trend aims to change that. Crocs, a brand known for its unique clogs, has undergone a transformation that fuses comfort with contemporary design. These lightweight and flexible shoes have become a fashion statement, offering a range of vibrant colours and patterns that cater to diverse tastes. From the classic clog silhouette to sandals and slides, this trend emphasises both comfort and individuality.
2. Sporty Chic: Elevated Sneakers
Sneakers continue to reign supreme, but they're taking on a more elevated look this season. Think chunky soles, intricate detailing, and a fusion of sporty and chic elements. These sneakers effortlessly transition from the gym to the streets, making them a versatile addition to any wardrobe. Whether you opt for bold colours or understated neutrals, elevated sneakers add a touch of edge to your outfit while ensuring all-day comfort.
3. Minimalist Elegance: Strappy Sandals
When it comes to warmer weather, strappy sandals are a go-to choice. This season, minimalist designs take centre stage. Thin, delicate straps in neutral tones create an elegant and timeless look. These sandals pair well with everything from flowy dresses to tailored pants, making them versatile for various occasions. So whether you choose flats or opt for a slight heel, strappy sandals exude effortless sophistication.
4. Retro Revival: Platform Loafers
Retro fashion enthusiasts will rejoice at the return of platform loafers. Combining the classic elegance of loafers with a bold platform sole, this trend adds a unique twist to a timeless silhouette. Platform loafers blend comfort and style effortlessly, making them a great choice for casual and dressed-up looks. As such, choose from patent leather finishes, suede textures, and an array of colours to embrace this nostalgic yet contemporary trend.
5. Nature-Inspired: Woven Textures
Bringing a touch of the outdoors to your footwear collection, woven textures are a standout trend this season. From woven leather mules to intricately designed espadrilles, these shoes infuse a sense of natural beauty into your ensemble. The tactile appeal of woven textures adds depth and interest to your outfit, making them a favourite choice for those seeking a bohemian or rustic aesthetic.
6. Futuristic Flair: Metallic Accents
For those who love to stand out, metallic accents are here to dazzle. Whether it's subtle hints of shimmer or bold, reflective surfaces, metallic detailing adds a futuristic flair to your footwear. From metallic-trimmed sneakers to strappy sandals with metallic embellishments, this trend adds a touch of modernity and playfulness to your look, ensuring you'll turn heads wherever you go.
Conclusion: Embrace the Season's Footwear Trends
As the seasons change, so do our style preferences. From the comfort-driven revolution of Crocs to the elevated sophistication of platform loafers, the top must-have footwear trends of the season cater to a diverse range of tastes and occasions. Whether you're embracing sporty chic, minimalist elegance, retro revival, nature-inspired textures, or futuristic flair, each trend brings its own unique charm to your ensemble. So, go ahead and step into the new season with confidence, embracing the footwear trends that resonate with your personal style and celebrating the blend of comfort, fashion, and innovation.