Shangri-La Singapore is one of the best hotels in that country. Why is it so? The hotel is an all-in-one needs in one place. You can get yourself one-stop shopping experiences on Orchard road and the best entertainment in the hotel with all of the facilities. Of course, not to forget the restaurant and bar too.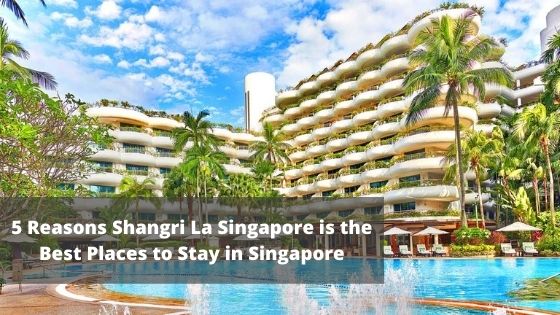 In Singapore, there are many hotels with the best quality. Especially when you look for hotels around Orchard Roach, you will find many options to stay. For example, there are Four Seasons, Grand Hyatt, Shangri-La Singapore, and many more.
So, what makes Shangri-La Singapore so special? Here's the reason why!
Perfect Location
Located in Orchard Road, Shangri-La is one of the best in the town. Surrounded by lush gardens and tropical paradise, this luxury hotel is like the center of the city. Not only that, Shangri-La is also surrounded by malls that make the place only 5 minutes from the hotel. For business, the hotel is in the heart of Singapore Central Business District.
Unique Building
Shangri-La hotel is one of the most unique buildings in the country. The hotel is divided into three towers, they are Tower Wing, Garden Wing, and Valley Wing. The Tower Wing is built contemporary, the Garden Wing gives you scenery of the oasis, and the Valley Wing is situated in the elegant-classic vibes.
On their own lush tropical gardens, the hotels have a gigantic collection that consists of more than 130,000 types of flowering trees, fruit trees, aquatic plants, tropical flowers, and Asian herbs.
Various Rooms
By the three-tower Shangri-la hotel, it means the hotel also gives you various kinds of rooms. You can choose to stay at the Garden Wing room for an ideal relaxation retreat with warm interiors and a balcony for enjoying the view of the tropical breeze. But, if you go for a business trip, you can stay at Horizon Club for the elegant and luxurious feeling of stay.
Not only for alone or couples, but you also can't get your family up to Shangri-La with the spacious Tower Wing suite with separate living space and bedroom and the ultimate room is you can get three-bedroom suites with fully furnished apartment-like and surrounded by bougainvillea planters.
Best Facilities
In Shangri-La, you will get as many facilities as you need in one place. For your spa and wellness, you can enjoy the Chi spa, the luxurious spa treatment, and a place for personal peace and well-being. They got their best and most skilled therapists that will be caring and treat you well. For the sports club, the hotel provides you group yoga that is called 'Kundalini Yoga'
There is also a 24-hour gym, tennis court, and swimming pool that you can enjoy daily when you stay in Shangri-La.
Enjoyable Food and Drinks
In Shangri-La, you can enjoy all-day dining with 16 theater kitchens at the 'Line' for breakfast, lunch, and dinner with a la carte or buffet style. But, if you look for a traditional taste, you can go to Shang Palace to enjoy your Cantonese food at lunch and dinner time served by an award-winning chef.
If you love to eat Japanese food, they also have a Nami restaurant that serves sushi, sashimi, and omakase by Shigeo Akiba that can be enjoyed indoors or outdoors.
The best part is, Shangri-La gets you 'The Rose Veranda' a place to enjoy your tea time and serves you the international high-tea spread with premium tea for your enjoyable drinks.
So, that is all the best thing you can get from Shangri-La. If you want to spend your holiday there, you can book it from Traveloka App or Web.
At the tip of your finger, you will get the best price and the best services from Traveloka. You can pay for your room by using various payment options methods from ATM transfer, credit card, and internet banking.
The best part is, you can get your special discount with the promo code for the hotels' book. Go book your room at Shangri-La hotel on Traveloka and enjoy your holiday trip to the best hotel in Singapore.