Everyone is getting in on the custom packaging game. Here's why your small business needs to as well. Read this article to find out the nitty-gritty details!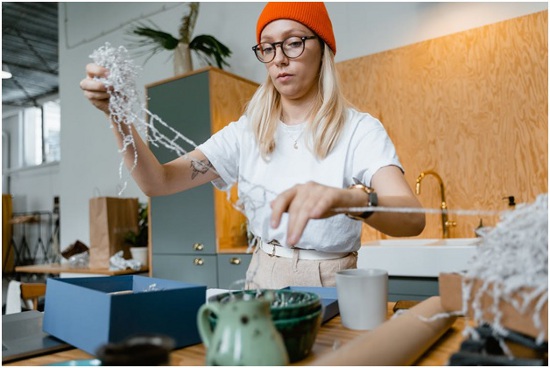 What do you think of when someone says they plan on buying an iPhone? You immediately envision the iconic and sleek packaging. You imagine someone unboxing and stripping away the tape to reveal the desired product.
That's the power of good packaging. Apple's presentation is part of the consumer experience. The company has gone above and beyond to ensure an unforgettable unboxing experience. You might ask, How can small businesses compete? We're glad you asked!
The Power of Customized Packaging
You might think only big corporations can afford to customize their packaging, but that's not true. You don't need to sell thousands of units every year to offer "exclusive packaging." All you need is custom printed tape.
Everyone is jumping on the custom packaging game. It's hard not to. Artisans on Etsy want their names etched on every part of their work. Small businesses love adding a personalized touch to their packaging.
Just like digital marketing, customized packaging can bring a stream of new customers. Online designing tools and services have made customized packaging easy for small businesses. With custom packing tape, you can get in on this creative revolution.
What is Custom Packing Tape?
Let's put it this way. It's an affordable way to get strong brand loyalty and secure product placement. Custom packaging elevates stock packaging. Here's why the traditional alternative no longer delivers.
Stock packaging has become generic. You can pick it up from anywhere and send it to your customers. It's unmarked and brown. The corrugated boxes are not easy on the eyes either. It just offers this generic unboxing experience. There's no element of surprise.
Also, this packaging is cheap. And not in a good way. It comes in limited shapes and sizes. If you're trying to build a brand, this won't do. You want to nurture connections every step of the way. Customers expect refined packaging from a good brand.
Custom packaging like tape is tailored by the brand with the customers in mind. It's meant to elevate the user experience. The packaging mirrors your brand image and colors. You can display your logo and evoke your brand purpose.
Custom packaging allows you to explore your creative dreams. So if you want your customers to recognize your brand from the get-go, invest in custom packing tape. It may be the "wow factor" your packages need.
5 Benefits of Custom Packing Tape
Custom packaging can benefit your small business in a multitude of ways. Here are the top five reasons why you should invest in custom packaging tape!
1. It Creates a Worthwhile Touchpoint
What goes on behind the scenes of your business? How do you leverage social media to ensure your products reach the right customers? How much time do you put into getting the product to the end-user?
Businesses spend a lot of time ensuring the packages are being sent to the customers fast. However, that doesn't create an emotional connection with your users. They don't want to spend a few extra cents on the packaging. Don't fall into that trap.
Many businesses fail to realize that custom packaging is essential for business. You need to create a strong impression from the get-go. How can you do it within the first few seconds they receive the box? With custom packaging, of course!
Now, you might ask, are there cost-effective ways of achieving this? You bet there is! Just invest in custom packaging tape. You will create an impression without spending a lot of money on the packaging. It's a nifty way to get better engagement.
2. It Protects Your Products
Custom packaging tape adds an extra layer of security to your goods. Standard packing tape will do. But the custom one will reinforce it. You'll get to use the materials you want to ensure the durability of the product.
The tape helps your products stay in a fixed position during delivery. All the goodies remain in place as they're in transit. Moreover, you can customize it to warn delivery men about how to handle the products.
For example, let's say you're delivering fragile goods such as mugs or glasses. If you use a custom tape that says "fragile," the delivery company will immediately handle it with care. The minimized damage will drastically improve your reviews.
Custom tape along with custom packaging works even better for online clothing stores. Online clothing stores spend a lot on building their websites to attract more customers and increase their reach. However, aside from customer service and the quality of the product, people also look forward to creative packaging.
3. It Promotes Consumer Satisfaction
It's difficult to ensure 100 percent customer satisfaction, and that's okay. However, you leave little room for disappointment with custom packaging. You don't want that feedback for your brand.
Many customers won't come back to your business if you have poor packaging, even if they're happy with the products. So allow them to connect with your brand.
Use a sleek design and pick vibrant colors for your custom packaging tape. Add personalized messages or your brand tagline to show them you placed some effort into this. These little touches are important for small businesses. It may change consumer shopping behavior.
4. It Gets You More Brand Ambassadors
Word-of-mouth is still one of the most effective marketing strategies. Custom packaging tape might turn your one-time purchaser into a stalwart brand ambassador.
Frequent shoppers live for the unboxing experience. Many shoppers wait for their packages and admire the effort that goes into them. If they like it, they might even share a picture of it. You're inadvertently investing in advertising!
Custom packing tape is an excellent way to get your brand to buyers without spending too much money. Why should you spend huge amounts of money on advertising when you can do it so cost-efficiently? Reach more customers the smart way!
5. It Gets You More Business
Custom packaging helps you get customers to return to you. It's more effortless to sell to an existing client than to a new one. Don't waste an exorbitant amount of money on gaining new clients. Retain your old ones instead!
Focus on building brand loyalty. Repeat businesses are only made when you make a great first impression. Give your customers something to look forward to. Design a memorable experience.
Build a cohesive brand image with these tiny details. They should feel excited when they see your packaging on their doorstep! These personalized designs will help you go a long way.
Final Thoughts
Now you know why small businesses need to invest in custom packaging tape. It's the little things that matter. You can throw in some seasonal packaging changes for some variety. Or invest in stickers. Customers will come back for more of your products!