There are several reasons why you may want to create some lighting for your garden. Whether you are trying to set up your garden for an evening party or trying to enjoy the outdoors during summer, there are creative ideas which you can use to have a beautiful sight.
Summer is here, and you feel like your garden is the best place to host a party. Prepping your garden will require you get creative with outdoor lighting and light spreaders. Outdoor lighting ideas can be battery operated lights or as simple as candle holders. They are all creative ideas that can add sheer elegance to your garden.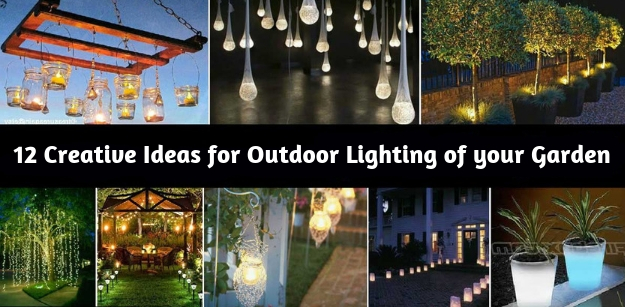 There are a few factors that determine the kind of decoration or creativity you can put into your garden lighting. The size of your garden and your access to power can determine the lightning in your garden. A small garden that requires close sitting can make use of simple litter spreaders or battery operated lights or solar lights while a bigger garden can use more advanced and powerful options. Also read, 9 Outdoor Security Lighting Techniques To Deter Crime.
No matter what your garden space is like, there are creative ideas that can turn your garden into a cozy place to have a beautiful evening relaxation. The goal is to make your garden more inviting than ever. Follow these creative ideas to create beautiful garden lights
Mason Jars
You can go a little vintage with Mason jars. They are commonly used in homes, bars, and restaurants. They are a very creative lighting idea for your garden. It requires less time to put them together. You also don't have to worry about resources because you will need just a few to create a mason jar.
To create mason jar lights, you need a single jar glass which you can get from antique stores or kitchen supply stores around you. Find a solar lid and a piece of metal wire. This sophisticated garden light is just very easy to make.
Hanging Tealight Candle Chandelier
This simple chandelier is just perfect for your garden. It requires just a little creativity from you. Place tea candles in a birdbath filled with water to create a small firepit. It doesn't require any wiring which makes it easy to be placed just anywhere in your garden. Glass jars with layered with sand can hold the tea candle light enough to create beautiful lighting for your garden. The tealight candle chandelier is an inspiration for a perfect romantic evening.
Colorful Votives
Votives are beautiful, especially in color varieties. It makes them absolutely gorgeous for your garden. Colorful votives are a beautiful, sophisticated and a pretty easy way to light up your garden. You can suspend the glasses from tree branches, decorate table tops with them or set them on windowsills at the background.
You may decide to use the Votives alone or use them to complement other lighting options. However you choose to use them, they always create a touch of style.
Paper bag light
This is a really playful lighting idea. Bags of beautiful and creative lights are hung around the garden to create a unique lighting effect. It's a simple project that can create a feeling of goodness and bright, cheery ambiance. Make it amazing by creating bags of bright colors, and you can achieve something calmer by using lighter colors like pink, cream, or light gray. For a high spirited inspiration, mix and match the colors. Whichever way you choose to go, it will definitely come out great.
String Lights
String lights are a simple yet amazing lighting idea for your garden. They create a beautiful atmosphere when you wring them around tree shrubs and branches all around your garden. When string lights are ties to your garden trees and branches, they create an illusion of fireflies.
Uplighting
If you are looking to have a statement lighting in your garden, you may want to consider the beautiful and creative uplighting idea. Place lights under the trees and flowers, and you can also have light against your garden walls. It makes the whole place bright and sharp. For a striking garden design, you might have to go with uplighting.
Cyclists Chandelier
Enough of the regular outdoor lighting styles. The cyclist's chandelier is a cool lighting idea to spice up your garden decor. It's totally different from the conventional lighting styles. Having a gathering under light wheels can get your guests talking about it for long. To create this, bulbs are simply attached to a bicycle wheel. It is a perfect option for a large garden.
Magical Glowing Flower Planters
Glowing pots create fantastic lighting. Anyone seeing them for the first time would think they were placed in your garden by aliens. If you are looking for a unique garden light, you may want to consider these magic pots. They create an instant stunning effect on your garden. They are pretty in daylight and even more dramatic at night.
Electric Wreath
Wreaths are not meant for Christmas or festivities alone. They serve as a great home decor that you can bring into your garden for an elegant and evergreen atmosphere. Attach count lights to your wreath and suspend it across your garden.
Well-Lit Party Pergola
Lighting your garden with well-lit pergolas is a great way to spread elegance across the entire space. A pergola is beautiful on its own, adding a touch of creativity to it can create a spark beauty in your garden. Suspend the pergolas over your tables and add them to paths leading to your garden.
Fabric lamps
This is creativity at its peak. Nothing brightens your garden like fabric lights. These brilliant creations help you to recycle old clothing and fabrics. Create a fabric lamp with different colors and textures.
Japanese Lantern
Japanese lanterns are chic and can add life to your garden. They are simple and can make your garden look like a palace entrance.
Whether you are looking for a classy or unique creative light spreader idea. These 12 ideas will suit your needs perfectly.
Apart from Japanese lantern which is cutting the edge these days you can also go for traditional lanterns people used decades ago. It will enhance the beauty of your garden and give it traditional retro look as well. More these orthodoxical lanterns are going to give a unique appearance to your garden and people will definitely copy your idea. You can also ask for garden and tree professionals El Dorado Hills for such more creative ideas regarding lightening of your garden.