Moving to a new location can be difficult and overwhelming at first, especially if you're relocating to a different state or territory. You may worry about how you're going to transport all your assets to your new home.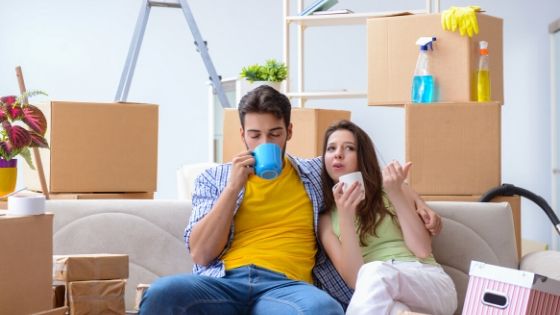 However, moving is exciting and if you plan your relocation correctly you won't stress as much. From finding proper moving equipment namely ratchet straps and large trucks to transport your belongings, to furnishing your new home, let these following 10 tips assist you.
1. Structure a Moving Plan
When you're set to move hundreds if not thousands of kilometres away from where you are it can be a huge task to take on. Your long-distance move will require a well-structured plan.
Write down how you'd like to schedule your move in chronological order, so you don't feel overwhelmed with the workload.
2. Always Stay On Schedule
You don't want to do everything at the last minute because this will cause unnecessary stress for you and your family. So after you've structured your moving plan you must stay on schedule.
It's not ideal to make changes as you go, because some dates are non-negotiable. For example, if you have children school enrollments are on a time sensitive basis. Therefore, make sure you stay on track.
3. Get Quotes from Moving Companies
It's going to cost a lot of money to move long distance so it's important to try and save as much as you can. Look for multiple moving companies and then get quotes from them. Compare all the quotes you receive so you can pick the cheapest one. You must get the quotes at least a month before your move so you can stay on schedule.
4. Hire a Moving Company to Assist You
When you've found the cheapest moving company, offering the best service, hire them to transport your goods to your new home. It's important that the company is reputable and trustworthy, so it's guaranteed they won't rob you of your belongings.
Simply read reviews and testimonies from other people who've used their services to ensure you can trust the company.
5. Ensure the Moving Company Has the Correct Equipment
Moving long distance is going to require many ratchet tie downs to secure your belongings. You don't want to get to your new home only to find that half your assets are damaged. Make sure the moving company has all the safety equipment required to transport your goods safely.
Ratchet straps are a common use for safety when transporting goods because they're durable and secure heavy items. These straps are used to tie down your fridge, lounge suites and other heavy furniture. The straps will prevent these items from shifting or breaking other goods while the truck is moving.
6. Update Your Personal Information
Since you'll be changing your address you'll need to start updating all your personal information on bank accounts, loans, driver's license and other important documents. Start doing this even before you move so that when you're settling in, you don't have to stress about it.
7. Make an Inventory List
When people move long distance some of their items are shipped to them and it's not uncommon that goods can be misplaced or lost. It's crucial that you make an inventory list of all your belongings so you can check that all the items are accounted for when you arrive at your new home.
If you find that some of your belongings are missing, contact the moving company you opted to assist you. Items that are shipped are packaged in containers that have shipping numbers so the company will be able to trace your goods through their computer systems.
8. Plan Where all Your Belongs Will Go in Your New Home
Once you've arrived at your brand new home, picture where all your items will go. This is a fun task because now you get to decorate your house and make it feel cosy.
9. Downsize to Make Space in Your New Home
Sometimes when moving into a new place it may be smaller than your previous house. You may have some trouble placing all your items so perhaps it's time to downsize. Get rid of unwanted items such as clothes, old containers without lids, tables, chairs and bookcases you don't need.
Alternatively, sell your large furniture so you can purchase smaller items that fit better inside your home. Downsizing will make your home more streamlined and organised.
10. Communicate Where You Want Your Belongings Offloaded
To make it easier for you to place heavy items in the correct locations ask the MoversRun to put your belongs in the rooms where they need to be unpacked. So, your TV and lounge suite should be placed in the living room and your fridge must be placed in the kitchen. This will make unpacking much easier for you because you won't have to move heavy items into place.
Final Thoughts
Are you ready for your big move yet? We hope these 10 tips helped you structure an excellent moving schedule. Remember to plan everything in advance so that the process isn't stressful. Good luck with moving to your new location.