Marketing is constantly shifting, and one of the most significant shifts in the last few years has to do with video content. Many more people, especially millennials and Gen Z, prefer videos to textual media. It therefore follows that video marketing should be an integral part of your digital marketing strategy.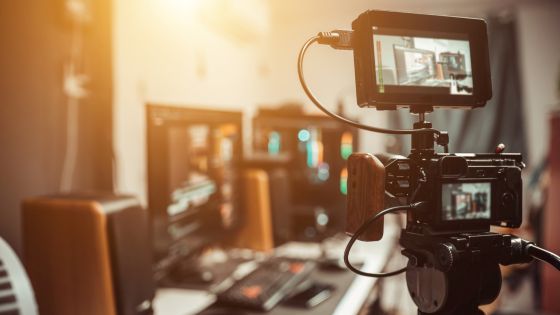 The problem is that other marketers have realised this and are also leveraging video marketing in their strategies. The next thing to think about becomes, how do you ensure your videos stand out in such a competitive landscape? An excellent way of doing this is by engaging the services of a cinematographer or DOP.
What is a DOP?
A DOP, a director of photography or cinematographer, plays a critical technical and creative role in film, television, and, in this case, video marketing. In short, they are responsible for a film or video's visual look. They primarily work alongside a director to visually tell a brand's story while achieving the desired mood and look of the production. In marketing, as in film and TV, there are several reasons why you should involve a cinematographer.
They Create High-quality Visual Media
Cinematographers are highly skilled professionals who understand the nuances of lighting, composition and using creative camera techniques. They will bring all their skills and expertise to your project, creating highly appealing and engaging content that helps your business or brand achieve its marketing goals.
By using their services, a director of photography can help you elevate the production value of the marketing videos you put out in front of your audience. Your videos will seem more polished and will therefore be more impactful. In addition, they will make your brand or business look better as people will see that you care about how you are perceived through the media you post.
They Are Better Visual Storytellers
Anyone can shoot and post a video on social media or one of the numerous video-sharing platforms. Apart from high-quality audio and visuals, the other thing that will be missing is the storytelling element.
Storytelling is important in marketing because it captures your audience's mind and takes them on a journey. That journey might be to tell them about the brand and its product or services, or it may be to lead them to convert. Either way, how you create and present your story to your audience will determine how well it can help you achieve your goals.
A cinematographer London is adept at using different visual elements to convey emotions, narratives and brand messages. A cinematographer can develop a visual language for your brand or work on one with you to ensure it aligns with your brand identity, marketing goals, and the journeys you want to take your audience on. Their creative choices can enhance the storytelling aspect of all your visual media and help you capture the attention and interest of your target audience.
They Ensure Brand Consistency
There are numerous brands whose videos everyone recognises before they see the brand's name within or at the end of the video. This is achieved using consistent branding. The right British cinematographer can help you establish a consistent visual style that you can use across your video marketing campaigns. They can do this by maintaining a consistent aesthetic, colour palette, and mood, helping you create a cohesive brand identity that resonates with viewers. This consistency builds brand recognition and trust, as explained in our brand example above, and contributes to the overall success of your marketing efforts.
The Right Cinematographer Can Help You Stand Out
In a competitive business environment and landscape, you need to find a way to stand out and differentiate yourself in your offerings and how you market yourself. Video marketing differentiation helps you stand out among your competitors, and you can achieve it with the help of DOP filming.
They can do this by helping you establish a brand aestheticor by bringing a fresh and unique perspective to your videos. This unique and creative perspective can help you create visually unique and memorable content. Using creative camera angles, innovative compositions, and compelling visuals can help you stand out while capturing the audience's attention and leaving a lasting impression.
They Help Businesses Increase Engagement
An experienced cinematographer also ensures that all video content you post captivates viewers and keeps their attention as long as possible. Professional cinematography can create visually stimulating, immersive, and enjoyable videos to watch, which leads to higher engagement. This increased engagement can lead to higher retention rates, better brand recall, and improve viewer engagement with your marketing message.
Professional cinematography is becoming important for businesses that want to stand out as video marketing becomes more competitive. Hiring an experienced British cinematographer allows you to leverage their experience and knowledge in your video marketing to stay ahead of the competition.