Nowadays, businesses worldwide are increasingly using Google as a document management solution. If you are already using Gmail, you must be aware of its innovative and powerful productivity-boosting features. Despite this, most of us utilize only a few document features offered by Gmail, owing to a lack of awareness or lack of time to learn about Gmail's latest features.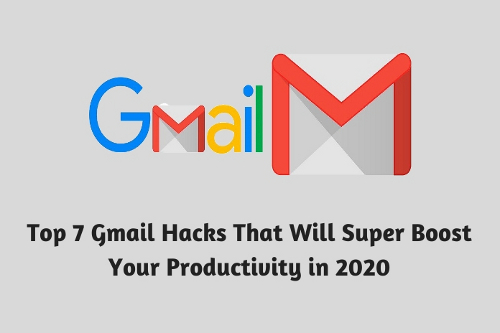 In this post, we will shed light on the top seven Gmail hacks that you can use right away multiply your productivity. So, here we go!
Gmail's Undo Send Email Feature: With Gmail's undo send email feature, you can now recall a mistakenly sent an email or document. To utilize this useful feature, you need to go to your Gmail settings to activate the 'undo send' option. Once you activate the feature, it shows you an 'undo send' option for 5, 10, 20, or 30 seconds after you send an email. sIdeally, you should give yourself 30 seconds to avoid misfired emails and save yourself from embarrassment.
Gmail's Unread Message Icon: Keeping your Gmail account open in a browser tab tempts you to check your Gmail inbox time and again, and distracts you from concentrating on the current task at hand, which in turn, kills your productivity. With Gmail's Unread Message tool, you can keep all distractions at bay. Once you activate this tool in your Gmail setting, you can quit your old habit of clicking on your Gmail now and then for checking the number of unread emails. Google's unread message tool helps you enhance your productivity significantly. You just need to follow the steps below:
Go to your Gmail settings;
Open the Labs tab;
Keep scrolling down to the bottom of the page till you find the 'Unread Message' icon;
Activate the icon; and
Save the changes.
Once you enable this tool, it displays the number of your unread emails on the tabs icon. Thus, instead of checking your Gmail Tab from time to time, now you can open the tab only when the icon notifies you about new messages.
Check emails from Other Accounts: We all know how difficult and time-consuming it is to manage and check multiple emails. To make things easier for you, Gmail has introduced another new feature that helps you manage your multiple email IDs from a centralized mailbox. You just need to link your email accounts to Gmail. Once you activate this feature, you do not have to log in to each email account separately for reading new messages. You can simply log into your Gmail account and pick the email ID of your choice to read and respond to your emails. What's more, you can also unlink the email addresses by adjusting your Gmail settings.
Disable Gmail's Inbox Tabs: This is perhaps the best feature offered by Google. Gmail offers four automatically enabled tabs— primary, social, promotions, and updates. However, if you do not want to clutter your Gmail with unwanted tabs, you can get rid of them with just a few clicks. For example, if you do not want to see promotional emails, you can disable the promotion tab by changing your Gmail's inbox settings. What's more, you can also opt for a completely tab-free inbox simply by altering your Gmail settings.
Send Large Attachments via Google Drive: Normally, Gmail enables you to send 25mb attachments via your email. However, it also allows you to share files and images of larger size via Google Drive. All you need to do is log on to your Google Drive account, and upload the relevant file/files to your Google Drive. Once the files get copied to your Google Drive, click on the compose message icon in your Gmail, type the required text, and click on the 'insert files using drive' icon. Slot in the files that you want to share and send your email.
Check if someone else is using your Gmail account: Email frauds/ theft are becoming rampant across the globe. To combat this grave issue, Google has been continuously taking stringent measures to reinforce its security features, so as to protect your Gmail account from hackers and spammers.
To stop someone else from accessing your Gmail account, Gmail allows you to keep an eye on your account usage so that you can view the recent activity of your account to ensure there is no suspicious activity. To check your Gmail account login activity, scroll to the bottom of the page till you find 'last account activity' on the bottom-right corner and then click on 'details' to view your sign-in history.
Make Phone Calls via Gmail: Last but not least, you can now make audio and video calls to your contacts, right from your Gmail inbox. Just download Gtalk audio/video plugin and make calls free of charge. All you need is a headset to make phone calls to any corner of the world. To place a phone call, log in to your Gmail account and click on the 'make a call' link on the bottom-left corner of your inbox. Enter the phone number you want to call and tap on it.
These unique features introduced by Gmail make it the most sought-after project management software among businesses across the globe. We hope the seven Gmail hacks shared by us will help you make the absolute most out of your Gmail account.