Property owners seeking to improve real estate enjoy numerous available options. Yet one of the best (according to experts in the construction field) involves replacing vinyl siding with stylish stone veneer. What makes this investment so attractive? Should you consider undertaking this remodeling project? This brief article explores the pros and cons of stone veneer upgrades.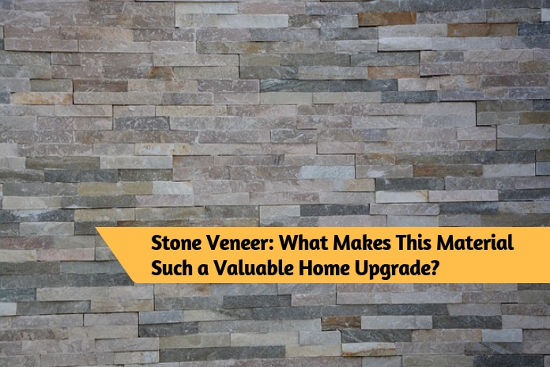 Know Your Marketplace
First, as with any home improvement, homeowners considering installing stone veneer should take the time to gain familiarity with their local realty market. It usually makes sound financial sense to discuss your project with an experienced builder and/or a trusted real estate broker in your community. While remodeling often raises property values, not every residence experiences gains from every improvement. Many factors impact the desirability of a refurbishment project.
The use of stone veneer on residential exteriors proves exceedingly trendy in 2019. Remodeling, a magazine dedicated to home improvement issues, recently presented data suggesting substituting just under $9,000 worth of concrete faux-stone veneer for vinyl siding results in a 95% return on investment at the time of re-sale in some locations.(1) This figure compares favorably with many other popular home renovation projects. Before making this effort, of course, homeowners benefit by conducting research into realty values (and Homeowners Association rules, if applicable) in their neighborhoods. Diligent fact checking prevents expensive mistakes in the home building and remodeling field!
The Enduring Appeal of Stone Surfaces
Adding stylish stone veneer surfaces to some properties significantly enhances "curb appeal". Today, several factors account for this situation. First, fine custom homes often utilize stone or stone veneer exteriors. Adding this type of surface to a vintage home supplies a quick, convenient way to upgrade the appearance of some properties. Stone conveys qualities of permanence and solidity, characteristics often desired in upscale dwellings.
Second, stone veneer (like vinyl aluminum siding) offers important maintenance advantages. Wood frame homes with wooden or clapboard siding inevitably experience deterioration over the course of time as a result of weather impacts. Rain, sleet, hail and high winds leave visible marks on wooden surfaces. By contrast, stone and faux-stone concrete veneers tend to withstand water and wind well. A skilled home builder using these materials creates an eye-catching structure offering both beauty and long-lasting durability.
Prioritize Home Upgrade Opportunity Costs
Another important consideration relates to the opportunity cost of undertaking a stone veneer home upgrade project. Given your available budget for undertaking building improvements, will the addition of attractive stone veneer deliver a sufficiently significant boost in curb appeal to justify making this change to the residence? While modernizing a kitchen or adding an extra bathroom might not yield the same high level of ROI upon re-sale, in some cases basic improvements might actually offer a better value from a purely marketing standpoint.
For example, the owner of a two bedroom one bath home in a neighborhood consisting largely of three or four bedroom, three bath homes might face a longer period of property "holding" time by choosing not to add a bath as a home upgrade. While exterior improvements help bring prospective home buyers through the front door, these types of renovations may not overcome the absence of standard features in some locales. The wisdom of adding stone veneer in this sense sometimes depends upon the homeowner's unique real estate circumstances.
Evaluating Available Stone Veneers
As you evaluate your home's suitability for a stone veneer exterior, give careful consideration to budget issues. Many faux stone/concrete veneer improvements cost under $10,000. However, some manufacturers use more expensive components than others. Popular options include natural stone veneers, manufactured stone siding, polyurethane faux stone siding, stone cladding, and stone veneer panel siding.(2) It makes sense to work closely with your builder to confirm the availability of specific types of stone veneer products in your area. Make sure you know the price ranges for different materials before calculating a final budget.
For example, in some communities, the wide availability of one specific type of stone helps create demand for certain faux veneer surfaces. An HOA may even require the use of a particular type of stone. Selecting the most popular materials for your region holds benefits. Whether local home seekers in large numbers prefer granite, slate, limestone or other styles could make a difference in the marketability of your refurbished residence at some future point in time.
Use Stone Veneer to Boost Curb Appeal
Today, fashionable stone veneer exteriors enhance numerous properties. The beauty of this feature, coupled with its maintenance advantages, makes it a welcome improvement. Home sellers may discover they significantly upgrade the exterior of a residential property by employing this popular building material!