If you publish content online, then you, like millions of other online publishers, are in a challenge to make your content appear on the first page of search results. For many, this challenge is a conscious one, and everyone will try to apply all the SEO tricks under their sleeve to ensure their content ranks highly and gets more visibility.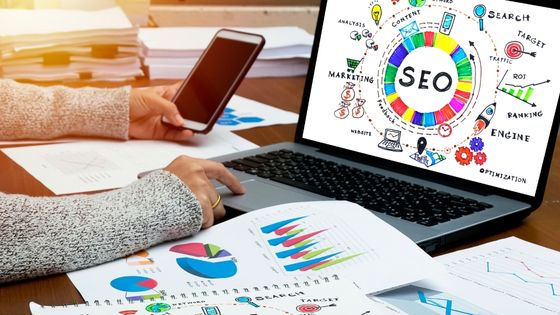 WorldOMeter reveals that the number of blogs published daily is well over 4.5 million. With this statistic, it is agreeable that your chances of ranking highly get slimmer with the sun rising, so you need to find new ways to improve your content strategy. Social media, along with the use of a social media analytics platform, plays a vital role in improving your SEO. This article highlights some practices you can use to achieve this.
1. Create High-Quality Content:
The bots and algorithms used by Google and other search engines to index websites are developed to identify relevant content that addresses search queries. These bots and algorithms have also become smarter. If keyword stuffing was a trick used by content writers that worked before, now using it is bad news for your SEO. There are better ways to rank higher, but keep in mind that you will need more than consistent posting to improve your SEO through social media. It would be best if you took the time to research and produce content that properly understands your audience's problems and offers possible solutions. To create high-quality content, do in-depth research. Take your time to get to know your target audience, what they are more interested in, and whom you are trying to reach. Find and include relevant keywords. Add pictures and other visual materials to make it easier to understand. Research competitors' content and make it more up-to-date by covering more grounds. The process can seem complicated, but you can learn a lot along the way. Do not be intimated, try out something new, and see what works best for you. The end result will indeed justify the means.
2. Prioritize Social Media Marketing:
As you measure the traffic coming to your website, monitoring your social media activities (engagements, reach, profile visits, etc.) is essential to improve your SEO. Rather than trying different social media strategies hoping to boost your SEO by luck, you can measure your social media activity to find the strategy that works for your brand. To effectively understand your search engine performance, you will need to employ the services of professional and reputable digital marketing agencies. These agencies provide SEO consulting services and can help you create effective strategies to achieve your marketing goals.
3. Build Relationships:
You owe it to your customers to cultivate healthy relationships with them if you want to earn their trust and loyalty. Building a relationship with your customers is often overlooked, but it is very important. It allows you to learn their pain points and find a unique way to present a solution and an offer they can't resist. Constantly engage them by asking questions, replying to comments, and asking for their opinions. You should undoubtedly pay attention to any negative feedback you may receive, as you can learn and improve from them. Do not ignore, or delete negative comments you come across. That will do more harm than good to your brand. However, keep in mind the difference between unsatisfied costumers, and trolls. Engaging with hateful, disrespectful comments can often be a waste of time.
After your audience, there are other people that you can benefit from a relationship with them. Influencers are such people. They have a large and active followers count, and working with them can help you communicate your brand message to this audience, and get them to be aware of your brand.
4. Optimize your Profile:
Your social media profile is one factor that can make or mar your online visibility. You need to build your profile such that it can correctly attract the right audience and give them a reason to patronize your brand. When people search for businesses in your niche, many results will appear, but correct profile optimization is what puts you at the top of those results. Your social media profile is like a resume or a business proposal; it's what prospective customers will use to evaluate your business before making buying decisions. Make sure that your profiles and pages look trustworthy, so that potential customers don't leave before even considering making a purchase. Ensure that the information on your social media profile correlates across the website and all your social media accounts. Some other ways to optimize your profile are uploading a high-quality profile picture, using hashtags, having a simple, strong bio that gives all relevant information needed about what you do, contact information, and add a link to your website.
5. Boost Content Lifespan:
Content is life. But life can be short-lived, and you don't want to create such content. As you use social media to increase SEO, your goal is to create evergreen content that will stand the test of time and remain relevant years after it has been published. The key to creating long-lasting content is to ensure that your content is easy to engage with. You want to content with your audience so that they find the content interesting, and they are more than happy to like, share, comment, retweet, or follow your account. Content that can successfully do this even after several years of being published is content that solves a prevailing problem, shed light on a sketchy topic, or connect with the audience on a personal level. You will get more engagements, backlinks, and patronage if your content falls in any of these categories.
Although there is no proof to confirm that social media directly impacts your search engine ranking, increased engagements can make your brand more visible and boost your SEO. Now that you have a better understanding of strategies you can use, it's left to you to find a digital marketing professional and begin implementing these strategies.