Having a stylish garden can not only create a more pleasant space for homeowners to enjoy, but it can also add value to a property. This is why a lot of homeowners choose to invest in garden makeovers, and one feature that is a popular choice is having decking installed. This can help to break up the garden and make it appear more attractive. You do need to think carefully about how your new deck will fit into your outdoor space, however, and the quality of the materials used for longevity. So, whether you are a landscaper who is designing an outdoor area for clients, or a homeowner looking to fix up your garden yourself, here are some key considerations you will need to make when fitting decking.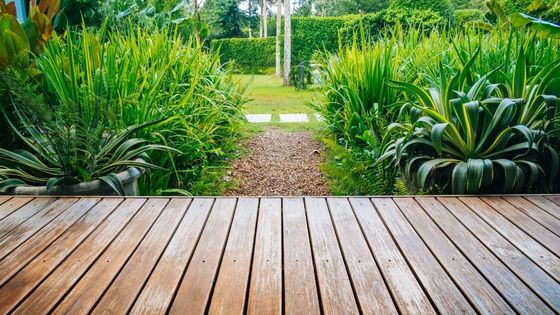 The Position of the Deck
Many people will choose to have decking situated close to the house, stepping out onto it as they exit through the backdoors of their property. This can be a good choice, but it isn't the only place to have a deck installed. If you would like to use this space for sunbathing, you might want to pick a section of the garden that is exposed to sunlight for most of the day. If it is going to be used as a space for outdoor dining and entertaining, having the deck positioned closer to the property so you can access the kitchen easier will be more beneficial. You should also consider the size of the deck you want to be installed and how this will impact the rest of your outdoor space. If you can't decide the size of the deck and where you want to build it, you can talk to professionals deck builders in Kansas City, Merriam, or other places near you, who are experienced in deck building and will give you the best solutions for your property to look organized.
Decking Materials and Maintenance
You will also need to consider the materials you choose to use for your decking and the maintenance work involved to keep it at its best. Timber decks are a common choice, but they will need to be treated with a wood sealer at least every three years to stay in good condition. For more durable decking, you may want to consider composite deck boards. They are becoming increasingly popular, and although this material can come at a higher cost, it may be worthwhile if you want reduced maintenance and for the deck to last longer. You will also need to invest in top-quality screws and nails that can endure the weather so your deck can remain secure.
Your Budget
Speaking of costs, it is important to consider your budget before you start shopping for decking, as some materials and the size of your deck can all impact this. It can also be wise to shop around to find better deals on materials and installation, so do take the time to consider how much you can afford to spend on your new deck, particularly if it is part of a bigger garden renovation project.
If you are considering having a decking put in your garden or are discussing this with a client as a landscape designer, make sure you keep these considerations in mind to get the best results.