When it comes to the Australian bakery or cafe staples, cinnamon scrolls are always at the top of the list. Not only are cinnamon scrolls quick and easy to make, they also compliment many drinks and pastry options, making them the perfect baked good to slot on to your cafe or bakery menu.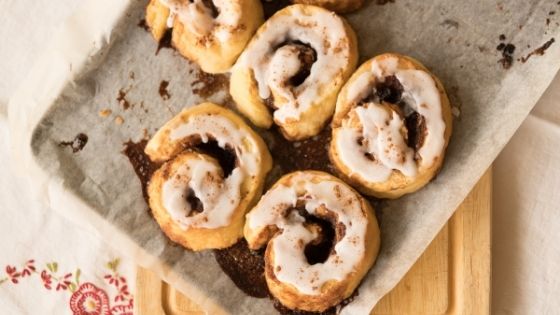 If you are looking to add cinnamon scrolls onto your cafe or bakery menu, below is a fool proof recipe on how to make delicious cinnamon scrolls!
When it comes to baking supplies wholesale, buying in bulk might be the difference between success and failure. The importance of business-to-business partnerships is what builds a reliable relationship between supplier and customer.
Ingredients You'll Need
Of course, the first thing to keep note of when making cinnamon scrolls is the ingredients list. Making cinnamon scrolls is not too different from any other bun or roll and hence, the ingredients required for the dough is quite self explanatory.
To make the dough for 12 cinnamon scrolls, you will need:
Two and three quarters cup of all-purpose flour
A quarter cup of granulated sugar
Half a teaspoon of salt
Two and a quarter teaspoons of instant yeast
Half a cup of whole milk
A quarter cup of water
Three tablespoons of unsalted butter
One large egg
To make the filling, you will need:
Three tablespoons of unsalted butter, softened to room temperature
One tablespoon of ground cinnamon
A quarter cup of granulated sugar
To make the icing, you will need:
One cup of confectioners' sugar
Half a teaspoon of pure vanilla extract
Two to three tablespoons of strong brewed coffee
Steps to Make Your Cinnamon Scrolls
Whisk your flour, sugar, yeast and salt together in a bowl
Add melted butter, milk and water and an egg to your dry ingredients and stir until it becomes a soft dough
Knead your dough for three minutes and then wait for it to rise for ten minutes
Separate your dough into 10 to 12 even rolls
Mix your cinnamon and sugar together and sprinkle it onto your rolls
Cover your rolls with aluminum foil or plastic wrap for one and a half hours to let it rise
After your rolls have doubled in size, bake it for 25 minutes at 190 degrees Celsius and take your rolls out of the oven once lightly browned
Whisk your icing ingredients together and drizzle it on top of your cinnamon scrolls
Serve and enjoy!
Note, the above recipe was taken from blog site Sally's Baking Addiction. While the recipe shows that cinnamon scrolls are certainly easy to make, the process is in fact quite time consuming. As a result, a simpler method to make cinnamon scrolls may be worth considering, such as using frozen dough.
Using frozen dough speeds up the baking process for your cinnamon scrolls extensively, and for cafe and bakery owners, may also save you on time and costs. If you are looking for cinnamon scroll frozen dough, have a look at Suprima Bakeries' selection here!