The kitchen is the heart of every home. It's among the largest spaces in a home and features various designs. As a result, interior designers admit the kitchen is one of the most challenging rooms to design. The space requires a practical and creative approach. Unfortunately, most kitchens are cluttered and ill-designed. The biggest flaw is often storage. Below is a simple guide to space-saving hacks for kitchens.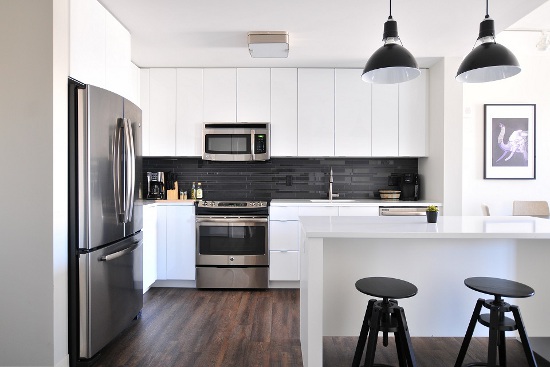 Cabinets and Drawers
Kitchen cabinets are central to the design of any kitchen space. They are designed as storage units to hold different items, but their function goes beyond storage. The cabinets also have a large visual print and contribute to the overall design of a kitchen.
Kitchen cabinets differ in size, material and design. Primarily, the cabinets are categorised as base cabinets, wall cabinets, and freestanding cabinets.
Base cabinets are the industry standard. They are installed underneath the kitchen countertop and usually offer the largest storage space. Moreover, you can install base cabinets on your kitchen island. If you want to declutter your kitchen, base cabinets are great for putting away big items. For example, custom designs can house dishwashers and ovens. This means more space in your kitchen.
Wall cabinets are also great for putting away items. Although the compartments can't accommodate large items, they can house some appliances. For example, you can move your microwave to a low wall cabinet and clear your kitchen countertop.
Drawers
Unlike cabinets, drawers have smaller partitions and a pull-out function. They are great for holding small items, like kitchen utensils and cutlery. A combination of cabinets and drawers is what you need to maximise storage.
Hooks and Screws
Kitchen wall hooks are an excellent hack for storing cutlery and crockery. The hooks use dead space on the kitchen walls and wall cabinets. Moreover, suspending items frees up countertop space and improves access. Some of the common designs include hook rails and screw hooks.
Hook rails are great for holding crockery. S-hooks are used on the rails to organise and suspend the crockery safely.
Screw hooks may not be ideal for heavy crockery, but they can hold kitchen towels, a light chopping board and some utensils.
Dish Racks
A dish rack is a great fitting for saving countertop space. It dries utensils and holds dishes that are in frequent use. Most designs are compact and feature a stainless steel design. However, modern designs are larger but maximise on fitting into dead spaces.
Over-the-sink kitchen dish racks save space by occupying the sink basin rather than the countertop. The design also allows users to continue enjoying the sink's functionalities while holding utensils.
Double and triple-tier dish racks are another option for holding utensils. The design has special slots for plates, cutlery and other utensils. Multiple tier dish racks have a sturdy design to hold your utensils safely. The stainless steel build is the most common design, but hard plastic is also popular.
Declutter
As you try to find places to store items in the kitchen, remember decluttering is a great solution. The kitchen is known for harbouring a lot of useless items. For example, old utensils can sit in your cabinet for years without seeing the dining table or kitchen countertop. Therefore, it's crucial to put out what you don't use and reduce the clutter in your kitchen.
Pantry
If you have a pantry, it's easy to save space. Pantries allow the installation of large cabinets and other storage fittings. The room can hold anything from sacks of flour to kitchen appliances. Anything that needs to remain out of sight can be kept in the pantry.
Space-saving hacks for kitchens restore life to the space and create the best environment for preparing great meals.