Ratchet straps are a great supporting element in transporting, loading, and unloading goods and products. Ratchet straps have a significant role in ensuring that you and your employees have maximum safety when transposing goods. So, when you are buying a ratchet strap, there are some considerations that you have to always keep in mind. Be it your first time or "nth" time purchasing a ratchet strap, in this post, there are minute details that would help you make the right purchase.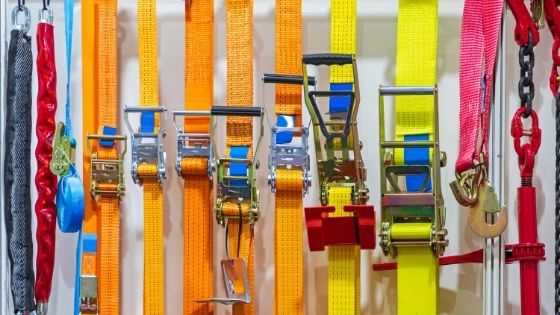 So stick to this post till the end to see how retractable ratchet straps should be purchased.
Factors Affecting Your Choice of Buying a Ratchet Strap
1. The Strength Limit of the Strap
One of the essential things that one should not forget when buying a ratchet strap is to look for its strength limit. Irrespective of the fact that you need it for heavy or light good lifting, there should be a safety check to test its strength limit. All straps have a Working Load Limit that can determine how much strength it has to hold weight. So, when you buy a ratchet strap, check the label to find the detail about the WLL of the product.
2. The Length and Width of the Strap
As important as it is to know the strength limit of the ratchet strap, it is equally vital to check the length and width of the strap. The strap should not be either too long or too short. If you have a longer strap, it will flap in the wind, making it hard for you to transport the goods on your cargo. Similarly, if it is too short, it will not be able to properly strap and hold your cargo in place. On the other hand, retractable ratchet straps are adjustable according to your needs, and therefore, they are preferred over tie-up ratchets for more flexible working.
3. The Ease of Working
If you don't feel comfortable holding a ratchet strap and working with it, there is no point in buying it. So, it would be best if you looked for ratchets that have good designs and comfort. Besides, a ratchet that has a pull-up and pull-down handle is best for your use.
4. The Hook of Your Ratchet Strap
The hook of a ratchet strap is the most crucial part of it as it holds the good. If the hook design is such that it can easily let the goods slip away, then it does not make a perfect fit. Instead, it would help if you looked for a j-hook or a snap hook before buying the ratchet strap.
Additionally, when you buy a product, you'll be able to see that the effects, usage, and other information regarding the product are mentioned on its label. And you should thoroughly read all the given information before finalising any product. Besides, if you are shopping online, you can get both product details and reviews on the site to understand the use, purpose, and quality. However, make sure you read the terms and conditions of the company as you may want to exchange the ratchet strap if it doesn't justify your expectation.
Hopefully, you have found enough information on how to buy a ratchet strap. Ensure you follow every instruction so that you can experience maximum safety and comfort while performing your job with 100% accuracy.