Marketing automation software is a complex platform that helps businesses recruit new customers, increase marketing efficiency, and analyze lead behavior and campaign effectiveness. This software gathers leads, establishes relationships with individuals and groups of customers, and takes them along the sales funnel. B2C and B2B firms wishing to grow their operations find marketing automation software an essential tool.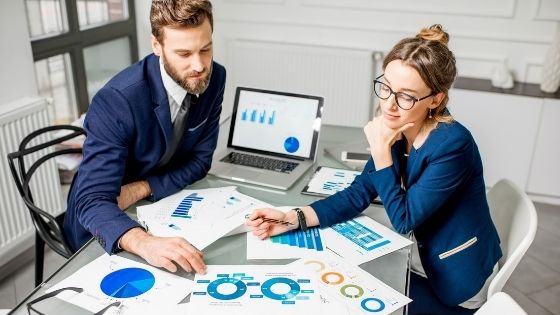 Search engine marketing (SEM), Email marketing, social media marketing (SMM), web analytics, multi-channel marketing, and reporting tools are all included in the package. Many marketing automation solutions provide features that teach marketers how to develop efficient marketing strategies. Marketers may use these tools to quickly collect customer data from various sources, create multi-channel strategies, and aggregate and analyse customer insights to increase conversions and revenue.
So, without any further ado, glance at the five best-automated marketing reporting tools for professionals.
HubSpot Marketing Automation
In terms of features, HubSpot's Marketing dashboards and reports is one of the most powerful solutions on this list. It also has the most popular consumer feedback, sitting in the G2 Crowd quadrant's upper right corner.
Of course, HubSpot offers a comprehensive growth suite, including sales, marketing, and support tools that interact seamlessly with HubSpot's CRM. Having all of your data and growing activities in one place may open up a world of creative automation options that would be difficult or impossible to achieve if you used different solutions.
HubSpot's marketing automation features a convenient visual board on which you can create basic or complex conditional processes on your own.
Improvado
Improvado is a marketing analytics application designed for executives in the advertising and analytics industries. The platform enables marketers to consolidate all their data into one location without logging into each platform separately. Manual reporting is obsolete thanks to real-time automated reporting and dashboards.
Improvado was created to address the problem of marketing data. It integrates with almost every platform a marketer will ever need, including ad tech platforms like Facebook Ads and Google Ads, along with website analytics, SEO, marketing automation, email, and CRM.
Furthermore, the integrations are extensive, allowing you to access statistics at the campaign, ad set, and keyword levels, as well as view ad creative across multiple channels, all from one dashboard. As a result, you can quickly identify performance anomalies, as well as improve campaigns and channels faster than ever.
ActiveCampaign
ActiveCampaign's category-defining customer experience automation platform (CXA) is used by various businesses to communicate with their clients efficiently. Organizations of all sizes can segment and personalize across social, email, messaging, chat, and text using the platform's 500+ pre-built automation that integrates email marketing, marketing automation, and CRM. Microsoft, Square, Shopify, Facebook, and Salesforce are among the 850+ connectors used by ActiveCampaign's clients.
ActiveCampaign was founded primarily to provide a great customer experience beyond traditional marketing channels such as email. Delivering a tailored, high-touch experience is easy initially, but additional channels, teams, locations, clients, etc., become necessary as a company grows. The complexity of managing connections becomes too much to handle, and the personalized connection doesn't scale.
Connecting data sources, communication channels, and teams with ActiveCampaign and the customer experience automation (CXA) category and helping companies create relationships with customers that span the customer lifecycle.
Marketo
Marketo is, without a doubt, among the most established tools and well-known marketing automation solutions, with a comprehensive set of features that assist marketers in managing email campaigns and give great sales tools. It also offers a marketplace called LaunchPoint, which has dozens of connectors.
Marketo is ideal for businesses that want to use all of the tool's features beyond simple marketing automation. It isn't the costliest tool, but it isn't the least expensive either. If you aren't using the system's sophisticated features, you can accomplish equivalent results using one of the less expensive tools. Do you want to start with the fundamentals and go to more extensive features soon? Then it could be wise to start with a product like Marketo, so you don't have to migrate all of your data and campaigns afterward.
Cyfe and Supermetrics
For advertisers and marketers, Cyfe is one of the greatest all-in-one dashboards. They integrate with the majority of social media, analytics, and CRM platforms on the market. Cyfe creates a dashboard using these interfaces that demonstrate how changes in one activity affect outcomes in another. All of these can be done without switching between 10 different tools.
Everything can be tracked, from social media to Google Ads (previously known as Google Ad Words), banking, and sales. You may construct multiple dashboards based on your goals or team using custom report generation and dashboard management.
Cyfe is an excellent option if you're searching for a reporting solution that can combine the power of many data sources. It also doesn't hurt to provide a free version, allowing you to try things out before committing to a purchase.
Supermetrics is similar to Cyfe in that it collects data from a variety of sources and consolidates it into a single complete display. However, instead of having its platform, it uses Google Statistics Studio to display metrics and data. Supermetrics can automatically aggregate data from PPC, SEO, social, and website analytics, performing all heavy tasks for you.
You may schedule reports to be gathered, filtered, and delivered in CSV format to your mailbox. Don't you have time to check the platform? Then simply set and forget these reports, and they'll be on your doorway when you least expect them. You may analyze traffic, users, and spending across all advertising campaigns on one dashboard with cross-platform reporting modules.
Conclusion
So, these are the top five automated marketing reporting software that professionals can use and gain huge benefits. Such software is often confused with other solutions due to its extensive features like email service providers, workflow automation, social media automation, customer relationship management (CRM), project management, and even data visualization applications. As a result, marketing automation technologies may become highly effective and valuable for businesses.