When choosing a headstone for a loved one, there are many different types to choose from. From traditional gray granite to the beautiful bahama blue granite headstone, there is something for everyone. This blog post will look at the various headstone options available and help you decide which one is right for you.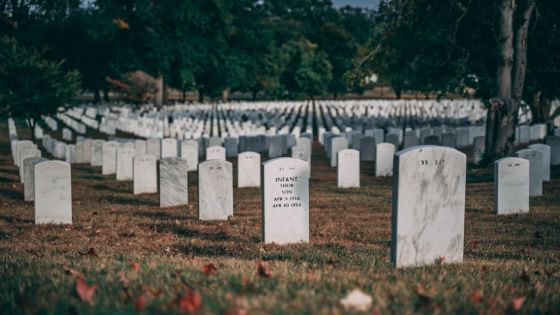 Upright Headstones
Upright headstones are the most popular style and come in various shapes, sizes, and materials. Upright headstones are typically taller than other types and can be customized with details like photos, engravings, and inscriptions. Upright headstones are traditionally made of granite or marble, although many cemeteries also allow for other materials such as bronze, steel, and wood. Upright headstones are often chosen for their classic look and ability to stand the test of time. They also typically require less upkeep than other headstone styles and have a more permanent feel.
Beveled Headstones
Beveled headstones offer a simple, elegant look. A beveled headstone is cut at an angle, with the front surface sloping backward. They are usually square or rectangular and are made of granite, marble, or sandstone. The surface of a beveled headstone may be polished or brushed to give it a smooth finish. It can also be carved with intricate designs such as a name, date of birth, date of death, and religious symbols. Beveled headstones come in different sizes and shapes and can be personalized with engravings, photographs, and mementos. They are durable and can last for years with proper maintenance. They provide a classic and timeless look that will stand the test of time.
Flat Headstones
Flat headstones are a simple and timeless option for anyone seeking a traditional cemetery marker. This stone is often the least expensive option, making it an attractive choice for individuals with a limited budget. A flat headstone is a stone slab laid horizontally on top of a grave marker or pedestal. The stone can be either granite or marble and can be cut in various shapes and sizes. Common shapes include ovals, rectangles, and circles.
The most popular flat headstones have a glossy finish and deeply carved lettering. The lettering may include the deceased's name, dates of birth and death, and a short phrase or saying. The stone can also include other information, such as family crests, symbols, or pictures. Some stones may even include a small vase for flowers or trinkets.
Flat headstones provide an elegant yet simple memorial for a loved one. It is important to remember that flat headstones are not as durable as other types of headstones, so they may not last as long over time.
Slanted Headstones
Slanted headstones, also called sloping markers, are becoming popular among families who want something unique and eye-catching. This headstone is typically constructed from granite and features an angled top.
Slanted headstones offer the same level of customization as other types of headstones and monuments. They can be engraved with text or images that honor and commemorate the deceased. Families can choose from styles, such as single, double, or triple-slant designs.
They also allow families to choose an attractive and budget-friendly memorialization option. Slanted headstones are usually less expensive than upright headstones and can be installed in various locations, including gravesites, gardens, and cemeteries.
Ledger Headstones
Ledger headstones, also known as grave markers, are a type of headstone that lies flat and flush with the ground. It is usually made of granite or marble and has two pieces with an inscription carved on them. They mark a single grave, which is why they are called single headstones. In some cases, a small vase can be placed in front of the marker to provide a place for flowers to be placed.
Ledger headstones are popular for those looking to create a more traditional look in their cemetery plots. They have a classic appeal that evokes a sense of history and honor. The name "ledger" comes from the idea that the stone is "ledgering" or recording the memory of the deceased, making them a special and meaningful choice. They also offer ample space for personalization, allowing you to include a personalized message or favorite quote that honors the deceased.
They are an excellent way to honor your loved one while creating an elegant and respectful atmosphere in their resting place.
Grass Markers
Grass markers are a type of headstone that is installed directly into the ground, often without a base. The markers are usually made of bronze or granite and have a rectangular, flat shape. Grass markers can be customized with artwork, text, symbols, and more. They are designed to blend in with the landscape and provide a discreet way to mark a grave site. Due to their low profile, grass markers may be easier to maintain than other headstones. They can also be used in places where traditional upright headstones are not allowed, such as on a lawn or cemetery.
Bottom Line
When choosing a headstone for your loved one, many options exist. When making your decision, think about the size and shape of the headstone, its materials, and the words you want to be inscribed. Most importantly, choose a headstone that best reflects the personality and life of your loved one.