While decorating your house, put enough thought into your upholstery, just as you would for your walls, flooring, etc. Get started by shopping for cotton curtains. They come in various colors, keep your rooms cool and airy, and are easy to maintain. Since cotton performs well in warm, humid climates, it is the perfect fabric for Indian houses!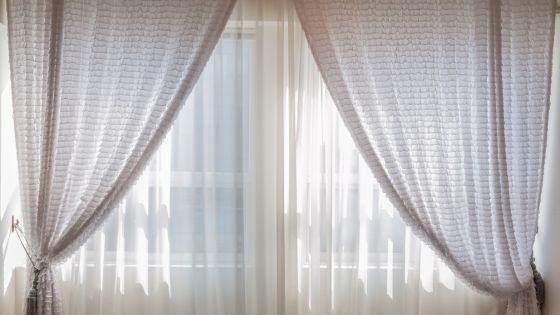 The following tips will help you pick the perfect cotton curtains and make the most of them:
1. Dimensions
Measure the length and width of your window frame and add a few inches to the dimensions. Those are the measurements you should look for while buying curtains to ensure the windows are covered, as picking curtains that match the exact size of the frame might leave gaps.
Alternatively, you can select curtains that fit the width but are 1-2 feet longer than the window. This adds depth to your room and makes it appear more spacious. However, make sure the curtains end at least six inches above the floor. This allows easy cleaning and maintenance and lends a smart, crisp touch to your interiors.
2. Colors
While picking cotton curtains, it is crucial to choose the right color. Since lighter colors allow more light to penetrate the curtains, you can select pastel shades for rooms with ample sunlight. Darker colors are better for indoors or for rooms that do not face open, sunny areas.
Additionally, you should choose a shade that complements the interiors. Pick a matching color to achieve a uniform layout, or go for a contrasting color for a more dramatic look.
3. Line your curtains
Curtain liners are the perfect blend of style and functionality. Adding fabric liners to your curtains blocks external sounds and ensures better insulation, as the heat gets trapped between the curtains instead of entering the room. Liners also add an elegant touch to your curtains and drapes. You can pick from tube, locked-in, and detachable linings.
4. Select an attachment style
Selecting the right cotton curtains is not enough; you must also decide how to hang them right. Here are a few attachment styles you can check out:
Tab tops: Tab tops are small loops on the top of the curtains. These are convenient and low-maintenance. Plus, some curtains come with differently-coloured tabs to add a contrasting touch to the design!
Rod pockets: These are the easiest style of curtain to make. They conceal the rods, which give a clean, clutter-free look. However, the pockets make it difficult to draw the curtains back and forth, so these might not be a good fit for windows that you open on a daily basis.
Curtain rings: Most curtain rods come with matching rings, so these are relatively easy to install. Rings allow you to draw the curtains seamlessly and are a low-cost option.
5. Choose the right thickness
Cotton curtains come in different levels of thickness. You can choose from sheer, semi-opaque, and blackout curtains. We recommend picking sheer curtains for living rooms and balconies as they allow plenty of natural light into the space. On the contrary, blackout curtains are perfect for bedrooms as they block the sunlight, ensuring you sleep well every night! You can also mix different opacities if you plan on layering your curtains.
Elevate your home decor with chic cotton curtains that not only keep your space cool and breathable but also add a touch of style to your interiors. Embrace the versatility of cotton curtains and make your house a fashionable oasis of comfort and charm.