Whether you are a new nurse or considering pursuing a graduate degree to advance your medical career, there are many nursing paths that offer exceptional opportunities.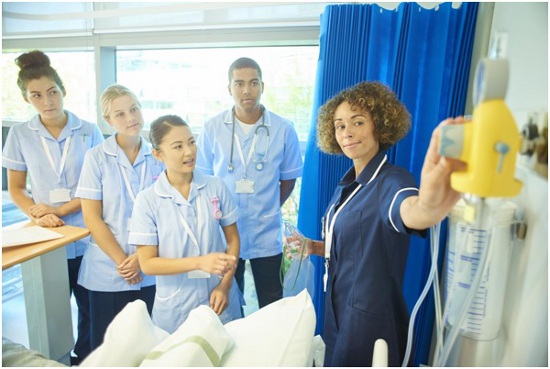 For those looking to move into nursing who already have a Bachelor of Science degree in another field, one route to entering into a nursing career is to pursue a UIndy online degree through an accelerated program.
From direct patient care to earning a doctorate in nursing, this is a career path that allows you to go anywhere you desire.
Registered nurse
Registered nurses are the best patient advocates as they practice bedside nursing and have enhanced clinical skills. As a registered nurse, you can work in almost any hospital unit, private medical or surgical facility, school or outpatient clinic. By taking vital signs, administering medicines and performing physical assessments, you keep the care team informed of how the patient is responding to the prescribed care plan.
Nurse practitioner
The role and responsibilities of nurse practitioners are exploding. As a nurse practitioner with an advanced degree, you have many of the same responsibilities as doctors. In many states, you can see and diagnose patients, order lab tests, prescribe medicines and handle all the primary care for patients of all ages.
Nurse manager
Some nurse managers rise through the nursing ranks to handle administrative tasks in nursing homes, medical care facilities and hospital units, while others earn a higher-level degree to attain this position. Either way, nurse managers are essential coordinators who handle all the organizational activities of a medical facility.
Nurse educator
Nurse educators are on the front lines of helping new nurses adapt to the demands of nursing. They serve as mentors, advocates and teachers to help new nurses and new-to-a-facility nurses learn the practices and procedures of that medical setting. Nurse educators can work in hospital, academic and diverse medical settings to ensure nurses have the support they need to perform their jobs well.
Home health nurse
Home health nurses provide one-on-one care for patients in their homes. They take vitals, check medications, change dressings and alert doctors to any patient concerns. They can choose to assist elderly people, post-surgical patients, pediatric patients, new mothers or others. This vital role is a crucial connection between patients and their care team.
Telehealth nurse
A telehealth nurse operates under the guidance of a doctor or nurse practitioner to monitor patient health and provide care through video chats, phone calls and online chats. This is a growing segment of healthcare that provides mental health services, routine health services such as medication renewals and preapprovals for surgeries, and post-surgery care. Some telehealth nurses also handle sick patient calls, so patients don't have to travel to the doctor's office.
Travel nurse
Travel nursing can be a great fit for people who love to travel and can be flexible in their working environment. As a travel nurse, you would spend a certain amount of time in one place where there is a nurse shortage. Your role is to jump right in and help however you can as you learn their practices and procedures as quickly as possible. The best travel nurse candidates love ongoing change and can adapt quickly to a new medical unit.