A personal loan is an unsecured loan taken by individuals from banks or non-banking financial companies (NBFCs) to fulfil their personal expenses. It is a multi-purpose loan that can be used for various purchases and expenses such as medical contingencies, weddings, debt consolidation, home repairs, big-ticket purchases, travel, etc. This loan is provided by financial institutions is primarily based on the applicant's income level, repayment capacity, employment history, and credit history.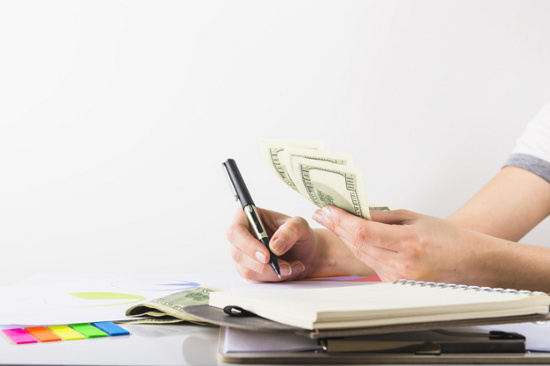 Unlike a car loan or a home loan, a personal loan does not require the borrower to secure an asset to the lending institution. As no collateral is required, in case a borrower defaults, the lender has nothing to auction to recover the outstanding dues. Thus, the interest rates on these loans are comparatively higher than that of secured loans. Also, the eligibility criteria in terms of credit score and income of the applicant is quite stringent.
Net Monthly Income is an Important Eligibility Factor for a Personal Loan Approval
The reason why an individual's income is given importance for obtaining a personal loan is because the bank or NBFC wants to be sure that the applicant has the ability to pay the EMI (equated monthly instalment) on time, ruling out any risk of defaulting. Other reasons behind considering an individual's monthly income before sanctioning a loan amount are:
Higher the income, greater will be the borrowing capacity of the applicant.
The customer will be much more flexible with the selected tenure (1 to 5 years or 12 to 60 months).
The individual will have a better access to loan plans having the feature of lump-sum payments.
Financial institutions can offer competitive interest rates.
There is no standard income parameter to analyze an individual's suitability for an unsecured loan. But the lender will definitely want to know if the person has defaulted in past on any loans or currently paying EMIs for any. Thus, banks and NBFCs will also consider the person's ongoing loans and other financial liabilities, along with the income to finalize a loan amount.
How Much Can One Borrow?
So how to judge how much one can borrow from a financial institution? The answer is – based on lender's discretion and eligibility criteria.
Most banks and NBFCs will want an applicant's monthly net salary to be at least Rs. 20,000 or Rs. 25,000 to borrow a loan up to Rs. 12 lakhs.
Personal loan maximum loan amount is usually restricted to Rs. 25 lakhs, yet, some lenders can offer a higher amount to eligible candidates.
The minimum borrowing amount is Rs. 1 lakh, but again lenders can offer a lower amount as well, depending on the loan scheme chosen by the candidate.
What is the Ideal Debt to Income Ratio?
To get the best personal loan offer, an individual must maintain a credit score above 700 or as close to 900 and not have too many ongoing loans. To minimize the risk of default, financial institutions keep the loan EMIs to about 45% to 60% of monthly income of the applicant. For instance, if a person's monthly net income is within Rs. 25,000, probability is that EMI amount would not be more than Rs. 12,500, which is approximately 50% of the individual's monthly income.
Which Are the Top Banks and NBFCs to Offer Personal Loans in India?
Here is a list of top banks/NBFCs offering personal loans in India and their monthly income related eligibility criteria.
Banks
Minimum Monthly Income Required
Maximum Loan Amount
HDFC Bank
Net monthly income of salaried people must be Rs. 15,000 to Rs. 20,000 to avail a loan in Delhi, Mumbai, Chennai, Bangalore, Hyderabad, Kolkata, Pune, Cochin, and Ahmedabad.
Up to Rs. 15 lakhs.
Bajaj Finserv
Net monthly income for salaried people must be Rs. 30,000 to Rs. 40,000.
Up to Rs. 25 lakhs.
Axis Bank
Net monthly income for salaried individuals should be at least Rs. 15,000.

Net annual income of self-employed individuals must be at least Rs. 2 lakhs

Up to Rs. 15 lakhs.
ICICI Bank
Net monthly income of salaried people must be Rs. 17,500.

Net monthly income of salaried people residing in Delhi or Mumbai should be at least Rs. 25,000.

Net monthly income for salaried people residing in Chennai, Kolkata, Hyderabad, Pune, or Chennai must be Rs. 20,000.

For self-employed individuals (non-professionals) the annual turnover should be Rs. 40 lakhs.

Turnover of Rs. 15 lakhs for professionals.

Profit should be at least Rs. 2 lakhs for self-employed people and proprietors (excluding tax).

Profit for non-professionals, excluding tax must be Rs. 1 lakh.

Up to Rs. 20 lakhs for salaried people and Rs. 40 lakhs for doctors. The maximum loan amount for self-employed people is up to Rs. 30 lakhs.
State Bank of India (SBI)
Net monthly income must be Rs. 7,500.
Minimum loan amount for term loan is Rs. 24,000 and maximum is 24 times of net monthly income, with maximum Rs. 15 lakhs as the loan amount.

For overdraft, minimum borrowing amount is Rs. 10 lakhs and maximum is 24 times of net monthly income, with Rs. 15 lakhs as the maximum amount.

How to Select the Best Personal Loan Scheme?
It is good to compare the offers of various banks and NBFCs, before settling for a personal loan scheme. Some of the factors to keep in mind when deciding on a loan provider include loan tenure, loan amount, processing fees, interest rates, etc.
Typically it takes 2 to 4 working days for the loan disbursal if all the documentation is in place and the loan is approved. The amount is either deposited directly to the borrower savings account, electronically or he/she receives an account payee cheque/draft equivalent to the loan amount.
To Conclude
A borrower's current financial liabilities (unpaid loans, ongoing EMIs, outstanding credit card dues) directly impact his/her repayment capacity. Thus, a person from a higher income bracket with low or no amount of unpaid dues will have a higher chance of getting a personal loan or a desired loan amount, than the one from a lower income bracket and greater financial liabilities.