Business Intelligence or BI is a combination of business-related analytics, data mining, and visualizations, tools and infrastructures, and practices that help and cater to making organizations more efficient and data-driven. When a company has a comprehensive view of its data and uses it efficiently to drive change, adapt quickly to market changes, and eliminate inaccuracies.
The modern business intelligence market is rapidly gaining momentum, as more companies realize the importance of BI. BI can support and allow companies to make the best decisions for the company, by analyzing and studying existing data with that of the company, all studied within the context of that niche industry.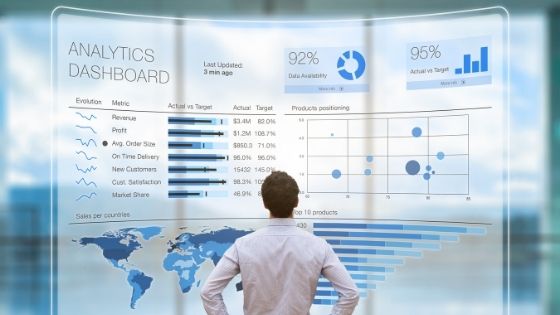 Analysts leverage BI to offer superior performance and stand up against competitors while helping the company's functions run at maximum efficiency. It can also be leveraged to spot market trends with ease, which can be used for increasing sales and revenue.
Here are a few benefits of Business Intelligence that massively support and uplift companies:
Determine ways to boost profits.
Examine the behavior and buying patterns of your customers.
Compare information with that of rivals.
Monitor and improve efficiency.
Determine the chances of success.
Recognize industry dynamics.
Identify concerns or problems.
BI Market Size and Trends Influencing It
The global Business Intelligence and Analytics Software market is expected to grow at a CAGR of 5.9% between 2021 and 2026, from USD 23940 million in 2020 to USD 33770 million in 2026.
The following are the major factors driving the Intelligence and Analytics Software market size:
Focus on Digital Transformations
Growing Investments in Analytics.
Demand for Data visualizations
Cloud adaptation and increased need for data generation.
Growing demands for data visualization to enhance the ability in making business decisions are projected to drive the growth of the business intelligence market size. Data visualization tools are used and integrated by organizations and business verticals to interpret data with ease and extract influenceable business knowledge.
Cloud tools also allow companies to provide cost-effect and scalable solutions to analyze and process data. Businesses can easily identify market drivers and KPI's through BI solutions, due to the visualization capability.
It allows for easy removal of redundant or inaccurate data, uncovering of patterns, market trends, techniques, and observations that can positively influence the market size of BI.
The business intelligence market size is immensely driven by the global, widespread use of e-commerce and the increase of SME-based data-oriented models. The strategy of Business intelligence motivates and drives decision-makers to make strategic, data-driven decisions in a manner that ensures high-quality services and higher customer service.
The Future Scope of business intelligence
The Business intelligence market is constantly evolving in response to changing business needs and technological advancements. Companies need to recognize that machine learning and artificial intelligence will continue to evolve and advance and that they will need to incorporate AI-derived insights into a larger BI strategy.
In their attempt to be more data-driven, all collaborative efforts between organizations will increase as well. BI allows users to monitor revenue in real-time, discover insights into consumer behavior, forecast earnings, and much more.
BI has been embraced by a variety of sectors, including banking, insurance, and oil, and more are entering every year. BI systems evolve in response to emerging technologies and user creativity.
The size of the industry grows with increasing ventures investing in analytics. As companies understand the importance of BI, it evolves to help companies to adapt to changing market trends, changing demands, and more.