It is a widely accepted fact that the process of taking loans from banks is highly rigid and time-consuming. However, there are some that do not know about the effect this rigidness has had. A company was established that has grown tremendously over the decade. Immediate lending is now a viable alternative to conventional bank loans. Here is an insight into how it works and why it is perfect for young working professionals in their 20s.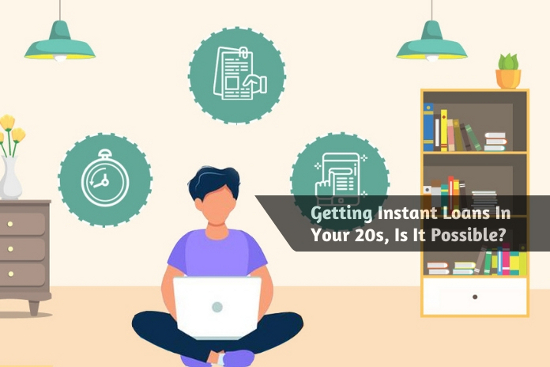 What are instant loans?
Instant loans are a type of unsecured personal loans that provide you with a short amount of cash taken to fund personal requirements like financing a vacation, filling up for wedding expenses, renovating your house etc. Being true to their name, these loans are known for their quick approval and disbursement. While they may have similarities with personal loans taken through banks, instant loans are financial products exclusive to online lending apps. These apps allow you to avail an instant personal loan without the requirement of any collateral. Hence, the first thing that you need to do to get an instant loan online is download any of these apps.
Features and benefits of Instant loans for young professionals
The financial product known as loans has evolved into numerous types, each with its own terms and conditions. These types include student loans, car loans, debt consolidation loans, etc. Even though it remains borrowing money in its essence, instant loans are far apart from any of these loan types. The reason for that is the higher number of benefits they offer. These benefits include:
• Minimal documentation
Applying for an instant loan require minimal documentation as compared to other loans. You can apply for these loans through an instant loan app and submit the documents there as well. Hence, taking an instant loan not only reduces your documentation but also your effort. While it may differ across various online lenders, the basic requirement of documents for an instant loan is Aadhaar card and PAN card as proof of identity and income.
• No collateral
Simply put, instant loan apps do not ask for collateral or any other form of security to provide you with a loan. This is especially advantageous for someone in their 20s looking to borrow money because they may not have any asset to pledge as collateral.
• Simple processing
Instant loans are simple and easy to get. All you need to do is to apply online through the website or app of an online lender. Hence, if you are looking for a quick supply of cash you can simply fill an online form and submit documents. Usually it depends on the process of different online lenders, but processing for these loans takes as less as 2 minutes. Moreover, instant loans are disbursed directly to your bank account as quick as 30 minutes.
• No restrictions on how to spend
When you apply for an instant loan, the lender cannot restrict you from spending the funds as per your wishes. This is not the case for most loan types offered by banks where a car loan can only be used to purchase a car.
• Eligibility
It is often the case that lenders shy away from granting loans to young working professionals in their 20s. The reason for this is that many of these applicants have never taken any form of credit before, hence, have no credit history. Lenders consider such applicants to be risky borrowers.
However, that is not the case with online instant loan apps. These apps do not evaluate credits scores or credit history to measure eligibility of an applicant. While eligibility criteria differ from lender to lender, the basic criterion is that the applicant should be between 21 to 65 years of age and should have a minimum monthly income from an authentic source. Essentially, all these instant loan apps need to grant you a loan is to verify is that that you are a working professional capable of entering legal contracts and repaying the loan.
How to apply for instant loans?
In order to avail instant loans, you only need to follow a few simple steps. Loans are provided on the basis of basic details and documents. Here is a quick overview of how you get loans quickly:
Download the app suitable for you and complete the setup and KYC.
Enter your personal details like birth date, income, Aadhaar card details, PAN card details, and any other information that may be required.
The next step includes filing in details of the amount you wish to borrow along with the loan's tenure.
The app will deduce your eligibility based on the information you have provided and inform you whether you are eligible for the loan or not.
Once you have received approval for the loan, the amount will be transferred to you directly in your bank account.
Why every 20 year old should take instant loans
There is a long list of apps that provide instant loans with ease. The use of these loans depends entirely on your imagination. You can make important bill payments or pay for the expenses of the trip that you have waited so long to go on. In case you want to check thoroughly what you are getting yourself into, you can check every little detail about the app and their loans. As for all the little details that these apps may need from you, your Aadhaar Card and PAN card will do just fine. Once you have provided these documents, all you need to do is follow the simple instructions of the loan application.
Whether you decide to go on a shopping spree, celebrate with your family, or go on a vacation, don't let your finances hold you back. With easy documentation and quick disbursal, a personal loan is your ideal friend when you need to bridge the money gap. And in this digital age, you can get an instant personal loan disbursed in 30 minutes.