Vibrations when driving can be due to a number of factors apart from the road surface. If your car has a persistent noise or vibration then you may have a problem with the tailshaft. The same applies if you put your vehicle through the rigors of recreational driving, such as Rock Climbing or Drag Racing.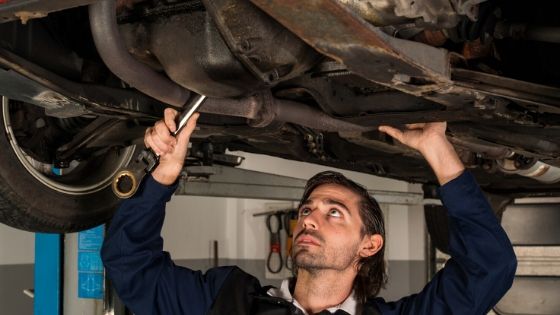 Whether it is servicing, repairs, replacement or a custom build, your vehicle's tailshaft needs to be correctly balanced in order to prevent any damage or breakdown when driving. This work should be undertaken by an expert in tailshaft repairs who has the right tailshaft balancing equipment for your vehicle. There are several Tailshaft balancing services around, and it is worth a little research to find the right one.
Here are 5 Tips on Choosing Tailshaft balancing Service
1. Accreditation and Experience
Before entrusting your vehicle to any mechanical workshop, make sure that they are Authorized and Accredited to undertake the work. Find out how long they have been in business, and what qualifications and training they have had, including how much experience they have had with vehicles of your make. If they have accreditation from a reliable industry organization such as the Institute of Automotive Mechanical Engineers (IAME), this tells you that they value the work that they do by making the effort to abide by the Industry Standard. It also means that they are prepared to be accountable for the quality of their work.
2. Mechanic must have a Good Working Knowledge of your vehicle
Find a professional service with experience of the manufacture of your vehicle; and be prepared to provide the working history of your car.
A good tailshaft balancing service will ask questions about your vehicle and the driving conditions that it undertakes, as well as any modifications – past and future.
Special driving conditions require adjustment to the vehicle's transmission components and strength, which also impacts upon the balancing of the tailshaft before it is installed. The more knowledge that the mechanic has been provided with will help to prevent any mistakes or returns.
It is vital that the mechanic has top quality professional knowledge of tailshaft servicing and balancing, but they also need a good working knowledge of your vehicle. Knowing the driving conditions and how you use your vehicle, informs the mechanic of what the best components and plumbing requirement are for your vehicle, as well as information input for digital balancing and driving analysis.
3. Mechanic must have the Correct Equipment
The tailshaft balancing service that you select must be well prepared to do the job. Look at the condition of the workshop, and the state of the spare parts shelves.
Professional tailshaft balancing services will be fully equipped with top quality parts and components, along with high performance cutting edge diagnostic equipment to provide reliable precision work to ensure that your vehicle will drive efficiently.
Check that their equipment is proven quality, has the capability to operate to the standard that your vehicle requires and is well kept.
4. Guarantees, Warrantees & Quality Assurance
The tailshaft balancing service workshop should be prepared to provide guarantees for work done, Ask for a written quote before agreeing to any work on your vehicle.
Look at the nature of the guarantee offered and make sure that the work is being done to the highest industry standard. You want to be assured that the company will rectify any issues due to poor workmanship, deficiency or fault with their equipment. Also, check that parts and components are covered by the manufacturer's warrantees.
5. Workshop Efficiency
Visit the workshop and take note of how well run it is. Do they keep the workshop tidy, with dedicated places for tools, equipment and spare parts? In other words, does the workshop operate in an efficient, orderly manner? An orderly workshop is often an indicator that the owner and staff take care with what they do.
Are there other vehicles in the workshop? What is the vehicle turnaround, and how fast? Look to see that work is undertaken in an efficient orderly manner also. if the workshop is chaotic, it is easy to make mistakes, especially if there is a backlog of vehicles waiting.
When contacting the workshop, ask what the lead time is to book your vehicle in for the work, and how long they will require to do the work. An efficient workshop will be able to give you a reliable estimate of how much time it will take to do the work and when is the best time to book it in.