Home renovation is one of the most satisfying feelings as it helps you translate your vision into reality. Whether it is the paint or the colour of your side table, the tile you choose or the little trinket you add – everything adds up! Renovating your house need not be heavy on your pocket, you can easily renovate your space while staying well within your budget. This can be done by making certain small, but highly impactful changes in your space that can add splendour.. Here are some useful tips and tricks: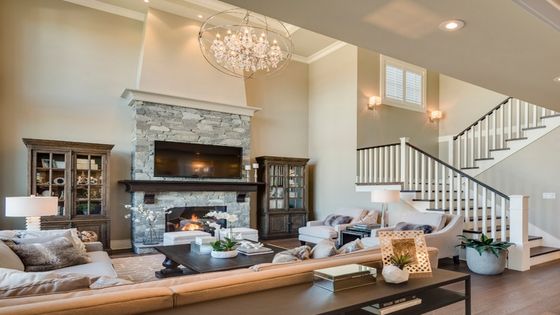 String Pearls For Curtain Tie Back
Simplicity is in the details. If you like a dainty, delicate and very subtly royal ambience, you can add some string pearls for your curtain tie back instead of the usual Velcro ones that come with the curtain sets. Subtle pastel shades like baby pink, lavender, mint greens would be great colour palettes if your curtains are ivory, white or beige. For darker shades of curtains go with whites or bright and popping colours for the pearls to stand out and make a statement.
Changing The Lighting
Lighting can make or break the look of the space. A statement light fixture adds more depth to the space and your choice of lighting can also make a space look bigger or smaller. Use multiple sources of light, depending upon the size and design of your space. Along with wall light or statement lights you can add spot lights and table or standing lamps to light up each and every corner of your space. Adding energy-efficient LED bulbs can also help you in saving your energy bills.
Accent Wall
Add some drama to the space by making an accent wall in your space. It instantly uplifts the space with a pop of color or an eye-catching design, especially if you opt for wall tiles to create your accent wall designs.
Accent Ceilings Are The New Accent Walls
Why restrict drama to accent walls only? You can bring that drama to your space in the form of accent ceilings as well! Darker ceilings with light walls can have a great impact on the overall look of the space. Colours such as mahogany, magenta or brown can be used to enhance the beauty of the ceiling, without overwhelming the space.
You can change the look and feel of your space by incorporating these little changes and additions – without having to break the bank. The first task is to understand the space and size of the room, and accordingly, you can choose décor pieces that will complement the design aesthetic as well as the other decorative pieces. A tiny change here and a small trinket there can change the look of the entire space!
Create A Mirror Wall
Mirrors are a great addition to your interior décor and a great positive vastu addition (depending on the direction you place them in). Mirrors can also create an illusion of a bigger space. They reflect the natural sunlight, making the room brighter and in turn, making it look bigger and more spacious. You can either go for vintage wall hanging mirrors or a plain standing mirror, whichever suits your space the best.
Work Of Art With Tiles
You can even dedicate an entire wall to something very artistic. You need not necessarily hang up paintings for your wall to look artistic; you can always create a piece of art by designing something of your own with tiles. You can use mosaic tiles as they are smaller sized and easier to install in such projects. To choose the right tile, you need to understand which one is better – glossy finish versus matte finish tiles. Once you have got the basics and foundations right, with the right color palette and design, you can create an artistic wall of your dreams.
Space For Houseplants
Plants bring in positivity in any space they are placed in, be it commercial or residential. They boost your mood, productivity, creativity, concentration levels, they clean out the indoor air by absorbing toxins, and producing more oxygen. And these are just a select few advantages of adding plants to your space. If you have enough space to spare, utilise them for your houseplants. Use small to medium-sized planters and add plants that are easy to maintain. If you are a novice, start with plants that need minimal attention like cacti or creepers, and if you are a pro, you can opt for bigger plants. This will create a very cosy and green corner in the house.
Hiding Wire Clutter
Every house has a bunch of wires cluttered everywhere and it's not a pretty sight. It is also something that you cannot avoid in this age of technology. Do not hide your wire clutter under the carpet or a rug, since it can be dangerous. You can do simple things like clipping the wires together, hiding them behind your tables, putting them in a box and covering it with a lid. Small acts like these can easily reduce the physical and visual clutter in your space and provide you with a crisp and sleek look.
Repainting Your Walls
In due course of time, walls tend to lose their sheen, and understandably so! Every so often, it is a good idea to repaint the walls or add an interesting wallpaper. You can go for different colours that are in line with the theme of the house or you can spice things up by going for a glossier or matte finish of the same colour. These subtle changes can have a great impact on the overall look of the space.
Floor-To-Ceiling Drapes
Large windows are a blessing to any space. They allow ample light to flush the room and make the space feel brighter and bigger. A well-lit room is a happy and positive space. When you have French windows, you can enhance the effect of its height with floor-to-ceiling drapes; it gives a feeling of a huge, vertical room. They instantly add depth to the space and give the space a Scandinavian vibe. Minimalist yet maximalist!
Accent Table
Accent tables are a decorative yet functional addition to the interior of the house. Depending on the size of the table, you can place it conveniently in the living room or even your bedroom. You can either keep it plainly for decorative purposes or you can use it to hold newspapers, magazines and the likes. Wooden, metal and glass accent tables are the more popular choices with homeowners and designers alike.