If you live in a country like India, you need some sort of a cooling device almost throughout the year. However, using space coolers and air conditioners for long durations is not only extremely expensive but also incredibly harmful for the environment. This is where fans come in as cheaper and more environmentally friendly alternatives. Fans are much more energy-efficient than coolers and ACs, making them a wise choice for both economic and ecological reasons.
The markets are flooded with a range of fans in various different styles. From ceiling fans to wall fans, there is a variety of fans available to match different needs. One such style is pedestal fans.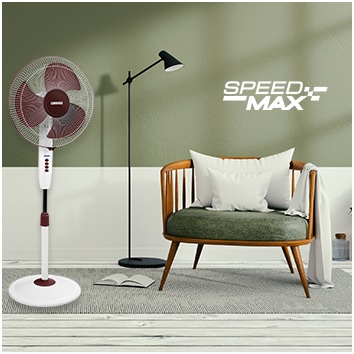 Pedestal fans are essentially portable, standing fans that can be placed directly on the floor without any complicated installation. These fans are a preferred choice for outdoor spaces and can be a great solution for places where a ceiling fan cannot be installed.
Let's look at a few more advantages of owning a pedestal fan.
# 1 Convenient and Portable
One of the most notable benefits of pedestal fans is their portability. This implies that, unlike ceiling or wall fans, pedestal fans may be moved from one room to another. This enables you to use the same unit in numerous rooms of the house while saving money on several fans.
These fans are also ideal for outdoor situations where a ceiling or wall fan cannot be installed. For example, if you want to cool off your patio or balcony, a pedestal fan is your best choice.
#2 Simple to Install and Maintain
Pedestal fans also have the benefit of being simple to install and manage. In fact, they require very little installation. They are ready to use after being plugged into a power outlet. Furthermore, because of their simple construction, these fans require no maintenance and may be used for extended periods of time.
# 3 Multi-Purpose
A pedestal fan may serve several functions in your home. They may be used as an additional cooling device to boost the efficiency of your air conditioner and coolers. Furthermore, many efficient pedestal fans may be utilised independently and effectively circulate air to produce a comfortable environment.
#4 Available in a Variety of Attractive Designs
Pedestal fans are available in a variety of styles, and you may select the ones that best complement the décor of your space. This allows you to eliminate unfavourable features in your space and ensures that the overall design is in sync. You may also find some lovely patterns that will go nicely with a range of décor themes. The Luminous Speed Max Fan is one such choice. This high-power fan has a sleek, minimalist appearance and may help create a relaxing, cool environment without taking up much room in the space.
# 5 Cost-Effectiveness
Another wonderful advantage of pedestal fans is that they are inexpensive. These fans are reasonably priced on the market and may help you save money on maintenance expenditures as well. Furthermore, because the same fan can be used in different areas around your home, you don't need to purchase several units for each location.
Aside from that, certain high-power pedestal fans, such as the Ferrari Pedestal by Luminous, are so powerful that they may help you minimise your use of air conditioners and room coolers, resulting in a considerable reduction in your utility expenses.
So, these are some of the most important benefits of pedestal fans that make them an ideal choice. However, it is critical to choose reputable brands such as Luminous to ensure that you get your hands on dependable items that last a long time and run smoothly. Brands such as Luminous provide a variety of economical yet efficient pedestal fans that can be used in both homes and workplaces.
Visit their website to learn more about their products.