Fantasy sports is a multi-billion-dollar industry now and if you want to be a part of this industry and make money, you should be aware of some tips and tricks. There are many sports that people play in the virtual world, but cricket has emerged as the most favourite one coming next to football in terms of popularity. As a cricket game needs a team of 11, a perfect dream 11 prediction is important for success.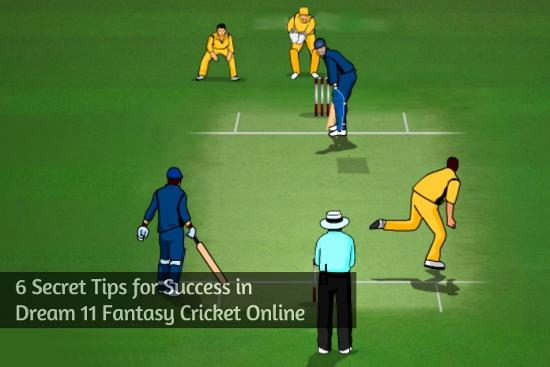 Here are some tips that will help you get success in Dream 11 fantasy cricket online.
Choose the Right Game Format
The game of cricket is played in multiple formats, including One Day, Test Match and the most recent and popular addition of 20-20. You can participate in any format you want, but the best way to win is by choosing the format that is 'in season'. This enhances the winning chances because as a particular format is in season, there is ample of latest information available for it, which will help in picking the right squad.
Selection Strategies
As different nations and teams follow different selection strategies, you should keep that in mind while making your pick.
Put the Power of the Internet to Your Benefit
You might be good at the game of cricket, but still, you need all the current and relevant data to make your pick. The internet is always full of all relevant details like the pitch and weather conditions, player's profile etc. This information has a great impact on the outcome of any game. You can put this extensive database to your benefit to arrive at your dream 11 predictions.
Social Media is Another Important Tool
Many current and ex- cricket professionals are very active on social networks. They often write blogs and columns and promote these on their social networks. They have vast knowledge and experience of the game. Their writings help in getting a hang of things and making the right pick. At times, they are also open to giving some free advice to their readers, which can be of great help in taking the call.
Several Bookmaker Accounts
If you are serious about making some good money through fantasy sports betting, have several accounts. This helps in odds value hunting, which is finding the best odds for a given match.
Be Disciplined in Money Management
As they say, 'a penny saved is a penny earned', not losing money unnecessarily is very important. Follow a 3-5% rule by not wagering more than this amount on any one bet. Don't wager on uncertain bets; put only small amounts on most matches and make a kill when you get the right opportunity.
Don't put your money on every bet, but search for ones that offer the best value. Choosing the right team is not very difficult if you have a good understanding of the game. To help you make your pick, the above-discussed tips will be quite helpful and help you in placing your bets on fantasy cricket successfully.